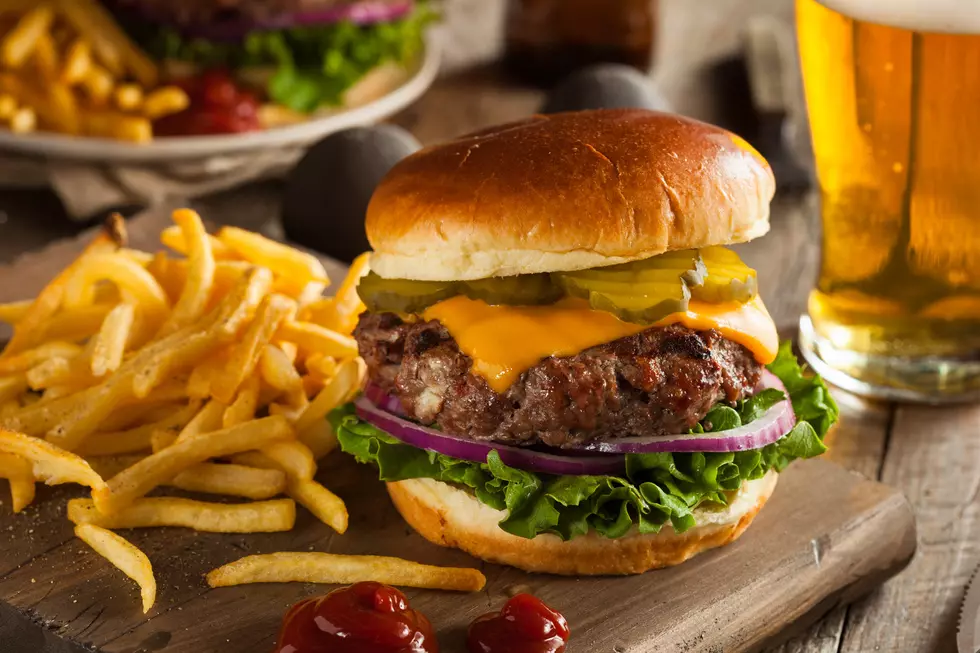 Get Your Southwest Oklahoma Burger Card Today
bhofack2
Every financial institution in the world always preaches the value of savings. Buy low, sell high. A penny saved is a penny earned. Get while the getting is good, etc... It's solid advice.
We are living in an unprecedented time of rampant inflation and economic instability. Fuel prices have us paying outrageous prices at the pump and it has risen the cost of service goods like electricity and trash collection. Because you need a truck to deliver goods for nearly everything, even our food is experiencing a record hike in prices, but the Southwest Oklahoma Burger Card is a deal set in stone at an unbelievably low price.
Eight epic burgers from local Southwest Oklahoma restaurants for only $24.99... That's only $3.12 per burger. No fancy talk, no swindle, simply eight burgers for $24.99 from eight awesome eateries in the area.
It works like every "card" deal you've bought from every family-friends kid doing a school fundraiser. You literally get a card, present it at each restaurant, and with this card, you can enjoy a mouth-watering burger from each of the local establishments listed below.
Ball's Cafe 
202 James St, Sterling, OK 73567
Good for one (1) cheeseburger 
If you're a fan of good old-fashioned country cooking and even better service, Ball's Café is the establishment for you. They offer breakfast, appetizers, sandwiches, and more, but the real star is their delicious burgers.
Kraven Kafe
Hwy 19 East, Apache, OK 73006
Good for one (1) small cheeseburger
Enjoy delicious American fare in a comfortable and casual environment. With great specials and top-notch service, you'll be back time and time again.
Lil' Mama's Café
712 C Ave, Cache, OK 73527
Good for one (1) hamburger 
Small town charm? Check. Friendly staff? Check! Lil' Mama's Café has everything you need for a tasty meal in a cozy setting.
The Apache Grill at The Apache Casino Hotel 
2315 E Gore Blvd, Lawton, OK 73501 
Good for one (1) hamburger
The Apache Grill features all of your favorite menu items including burgers and pizza, tempting sweet treats, and much more. Enjoy your food in the beautifully appointed Apache Grill or take it to go. Their all-day dining option is located just off the casino floor.
Ann's Country Kitchen
26020 OK-58, Lawton, OK 73507
Good for one (1) Medium Cheeseburger
Anny's Country Kitchen is a hidden gem just waiting to be discovered. With tasty burgers, sandwiches, and desserts, there's something for everyone!
Old West Bar & Grill
9201 OK-17, Elgin, OK 73538
Good for one (1) Clipper Burger
If you're looking for a good local family restaurant where you can enjoy authentic American dining, look no further than Old West Bar & Grill in Elgin, OK. You won't want to miss out on their hearty American breakfast or delicious lunch and dinner options. From saucy chicken wings to tender ribeye steaks, they have something everyone can enjoy.
Country Café
2602 SW Lee Blvd #1, Lawton, OK 73505
Good for one (1) 1/4 lb. cheeseburger
They offer breakfast and lunch all day with affordable prices, different specials every day of the week, and exciting non-menu items, so don't miss out! Stop by to see what they've got cookin' or enjoy a nice hot cup of coffee.
Comanche Burger Company at The Comanche Nation Casino 
402 SE Interstate Dr, Lawton, OK 73501
Good for one (1) Bacon Burger
Made to order for you to grab and go, this is gourmet beef, bison and vegetarian burgers at their best. Build your own taste-tempting creation from the finest choices of toppings (smoked habanero cheese, anyone?) and audacious house-crafted sauces like black pepper mayo or War Pony mustard.
If you have a family of four, invest your eating-out money in this to pay literal dividends. While it may be a crisp c-note up front, it'll save you in the long run, having to only buy drinks and sides when you all share a special family meal out and about on the town.
15 More Amazing Southwest Oklahoma Hole-In-The-Wall Eats
It's far too easy to be lulled into thinking the same old chain restaurants are the "good" places to eat across Southwest Oklahoma. You won't find a single franchise on this list. It's all locally owned, locally run, sometimes a little run down, but you'll agree the meals are outstanding when you walk away with a belly full of the good stuff.
Oklahoma Diner's, Drive-In's, and Dive's Guy Fieri Raved About On TV
We all know Guy Fieri is the self-proclaimed Mayor of Flavortown, and as such, we generally trust his discerning palate to guide us to the best food any place has to offer. At least the places he tends to go often offer up some really good eats, and in looking at this list, having eaten at most of these places a handful of times, he's not wrong. Here are the Oklahoma original restaurants that have been featured on Triple-D.
Oklahoma's Most Legendary Food Challenges
While you can certainly accept social trends in eating at chain restaurants for the rest of your life, you'd at least get a show with your dinner while watching the iron stomachs of Oklahoma tackle the biggest and most legendary food challenges at the various mom & pop restaurants spread all across the Sooner State.