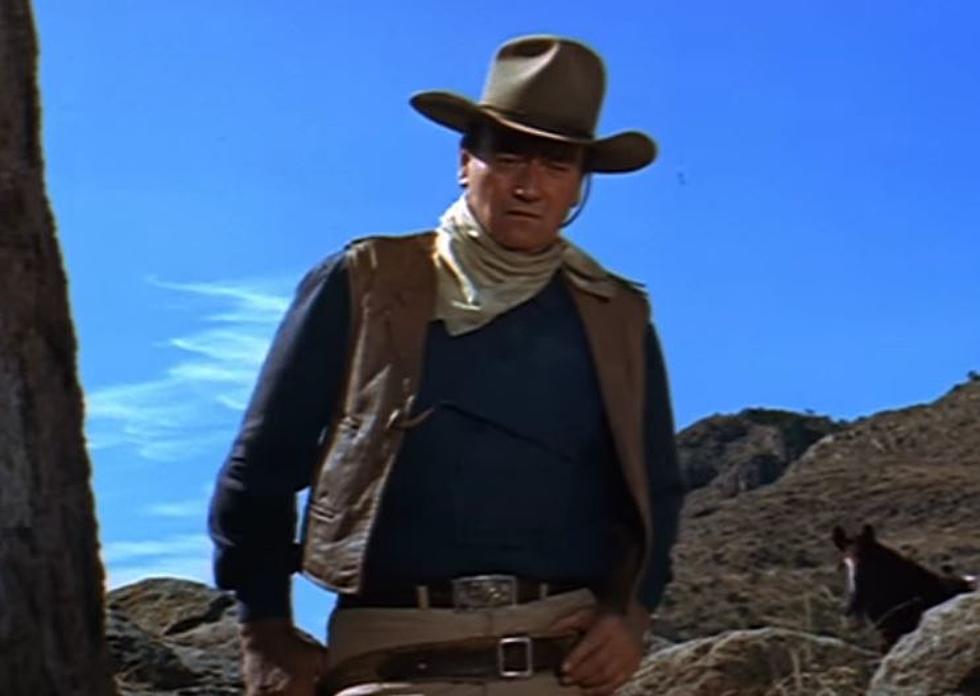 John Wayne Movie That Has Ties to Marlow Oklahoma
YouTube.com- Paramount Movies Digital
You might be surprised that there's a John Wayne movie that has direct ties to Marlow, Oklahoma. Yep, the same Marlow that's just a short 30-minute drive away from Lawton, Fort Sill.
It's one of my all-time favorite westerns, "The Sons of Katie Elder." Released in 1965 and starring John Wayne, Dean Martin, Earl Holliman, and Michael Anderson Jr. as the Elder brothers who reunite to bury their mother and right the wrongs of the past. Did you know it's based on a true story about the Marlow brothers?
A lot of the film follows the real-life story of the Marlow Brothers who were wrongfully arrested for rustling, horse theft, murder, and the most serious charge, killing a sheriff. The town of Marlow is actually named after them. Hit play on the official movie trailer for "The Sons of Katie Elder" for the basic story.    
Most of the movie was filmed in Mexico and the story takes place in Clearwater, Texas. They changed up the names and locations but it's all based on the Marlow Brothers: George, Charley, Alfred, Boone, and Llewellyn. You can get more of their story here. There's even a museum in Ouray, Colorado that has artifacts from some of the Marlow Brothers who eventually settled there after leaving Oklahoma.
If you've never seen the movie you have to check it out, it's a great film and one of my all-time favorites. Being a huge John Wayne fan it's really cool that there's a western that's based on a group of Oklahoma brothers. I think I'll head to Marlow and see if they may have some artifacts and additional history on the Marlow family. In the meantime, I'll re-watch "The Sons of Katie Elder."
John Wayne: An American Experience museum Ft. Worth, TX.
If you're a fan of the Duke you have to make the trip to Ft. Worth and visit the
John Wayne: An American Experience
museum. It's located in the Ft. Worth Stockyards at 2501 Rodeo Plaza. The gallery below isn't even close to half of what you'll see there. With 10,000 square feet and several rooms, the exhibit has everything from John Wayne's early childhood to his final days. You can get up close and personal with all the costumes, wardrobe, and props that John Wayne used in his films and throughout his career. Along with all the great displays throughout the exhibit, there are quotes from the Duke, interactive video and audio sections, and most, if not all of the walls are covered in photo murals and picture collages of the Duke.
Check out this Amazing Castle for Sale in Oklahoma
You could be the king or queen of this castle in Tahlequah, OK. It's an amazing home that features a 2 story 4 bedroom, 2.5 bath house along with a 2 story chapel on the property. There are lots of gardens, outdoor scenery, patios, a gazebo, and there's even a waterfall. It's the ultimate kingdom and it could all be yours for just $750,000. So are you interested? If so contact
Sherri Sanders of McGraw Realtors
for all the details.
The "Clint Eastwood: A Cinematic Legacy" exhibit Dallas, TX.
Top 10 most terrifying towns & scary cities in Oklahoma
While Oklahoma is well known for its beauty and friendly people there are a few places in the Sooner State you'll want to avoid. These are the most terrifying towns and scary cities in the state. It's not that they're bad places, or plagued with crime and other negative factors. The towns and cities below have one single thing in common. They all have active paranormal and supernatural phenomenons. From ghost stories to urban legends and tragic tales. A lot of these places are well known to those who live in Oklahoma and even all over the nation. If you're looking to get scared or do a little ghost hunting you can start with the list below.