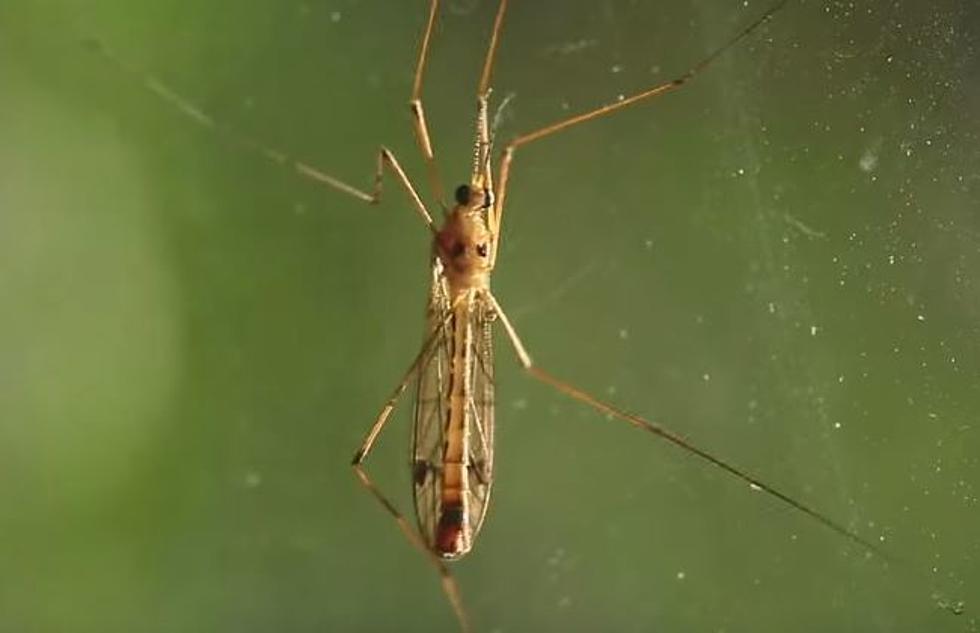 Oklahoma is Under Attack By Giant Mosquitoes AKA Crane Flies
YouTube.com- The Weather Network
Giant mosquitoes have invaded Oklahoma and engaged in an all-out war against mankind. At this time large portions of the Sooner State have been completely overrun and taken over by these big pesky winged pests.
It sounds like the plot of a B-Horror or campy Sci-Fi film, but unfortunately for us, it's reality. However, luckily for us, these huge flying insects that look like mosquitoes are totally harmless. They're actually crane flies.
There's a lot of misinformation about crane flies. Watch the video below to learn the truth
Here in S.W. Oklahoma, they're everywhere. Certain parts of the state have a heavier population of crane flies than others. It all depends on where you live and the conditions or weather patterns for that part of the state.
They may look menacing and are often mistaken as HUGE mosquitoes the crane fly AKA mosquito hawk is more annoying than anything else. Unlike a mosquito, they can't bite and they don't drink blood. You're safe.
Why are crane flies swarming the Sooner State? Hit play on the video below for answers
Due to the recent weather change and warmer temperatures crane flies are hatching in massive numbers and swarming the state. They can remain in larva stage for years until they eventually grow into adult crane flies.
At my house, they always seem to swarm the front door. Like moths crane flies are attracted to light so a porch light acts like a beacon. Then they end up inside and buzz around the house, especially the ceilings.
If your home and property are invaded by crane flies you can fight back and win the war
Other than being annoying the cranefly is harmless. They're an important part of the ecosystem providing other insects and animals with food. The cranefly's main job is being a meal to a hungry bug or bird.
The cranefly doesn't live too long once they've matured into adult flies. Usually, they only live around a week or two and that's if they aren't eaten first. So the swarm of crane flies in Oklahoma is coming to an end.
Take a tour of this epic Oklahoma 6.5 million dollar country club mansion
This EPIC-ESTATE is located at
3226 East 62nd Street in Tulsa, OK.
and is listed by
Stuart Gallagher
of
Coldwell Banker Select
. It's a HUGE 9,115 square foot 3 story home that was originally built back in 2010. It features 4 bedrooms, 7 bathrooms, a 5 car garage, and is centered on 2.11 acres. It's a one-of-a-kind Palatial Estate that's located right next to the
Southern Hills Country Club
right on the golf course's 12th tee box.
Check out the photo gallery below to take a quick virtual tour and see what $6,500,000 could buy you.
Oklahoma State Parks
Get out and enjoy one of Oklahoma's amazing state parks sometime. From the high desert of Black Mesa to the swampy lowlands and tall pines of Southeast Oklahoma, there's a place of recreation for everyone in the Sooner State.
7 Oklahoma "Must Experience" Drive-In Movie Theaters
If it's been a while since you've been to the drive-in movie theater or if you've never had the chance to go before, now's the time. Oklahoma has several drive-in theaters all across the Sooner State. Chances are you're close to one or close enough no matter where you're at. We have drive-in theaters in OKC, Chickasha, Tulsa, Guthrie, Poteau, Springer, and Shattuck. And that's just to name a few places where you can find them. So if you're looking for a nostalgic good time and an epic evening head to any of these amazing drive-ins.
Take a virtual tour of this massive 7.5 million dollar Oklahoma mansion
Take a look inside this massive Oklahoma mansion that's up for sale. This epic estate is one of the most impressive and expensive houses currently for sale in the Sooner State with a price tag of
$7,500,000
. This one-of-a-kind property is located at
6907 Avondale Drive, Nichols Hills in Oklahoma City, OK.
It's one of the most incredible and luxurious homes on
Zillow.com
and is listed by
Cole Strickland
of
Metro Mark Realtors
. This 6 bedroom, 9 bathroom 11,412 square foot multi-story home boasts all the very best in features and amenities. It sits on 1.7 acres and even has its own tennis court and swimming pool. That's just the beginning.
Scroll through the pictures below to take a virtual tour of this EPIC MEGA-MANSION in OKC.