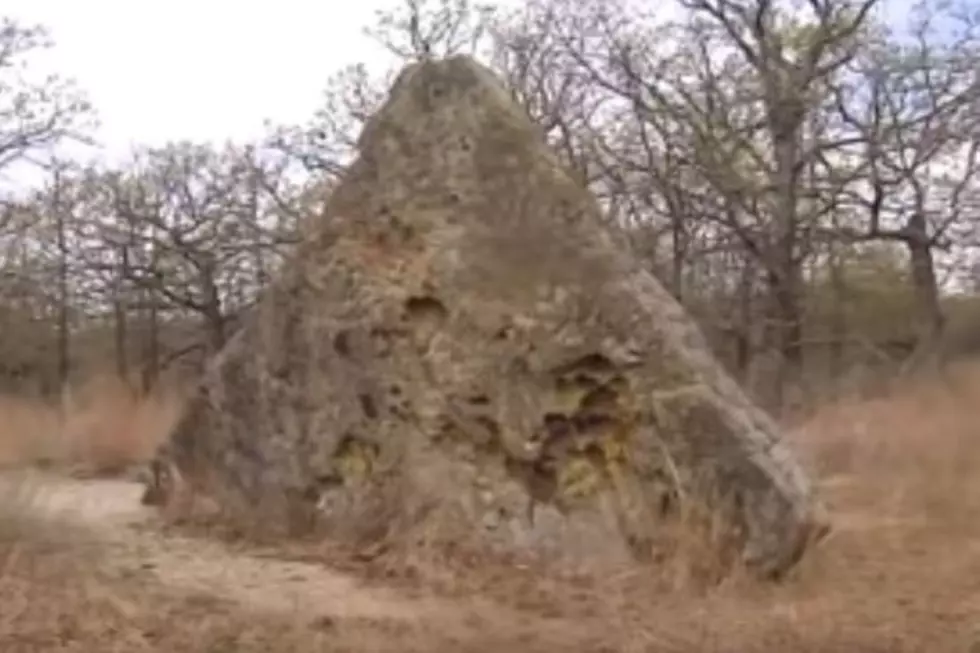 The Power of the Mystical 'Healing Rock' of Oklahoma
YouTube.com- DiscoverOklahoma
There's a strange and mystical rock formation in N.W. Oklahoma has been rumored to heal the sick and injured for well over a hundred years. People travel from all over the state and Nation to visit Healing Rock.
SCROLL DOWN FOR MORE DETAILS ABOUT OKLAHOMA'S 'HEALING ROCK'
You'll find this unusual rock formation in Skiatook, OK. which is about 20 miles or so outside of Tulsa in Osage and Tulsa County. Healing Rock also known as TeePee Rock is a very popular site at Skiatook Lake.
Watch the video below to learn more about the Healing Rock in Skiatook, OK.
TeePee Rock or Healing Rock was believed to have healing powers by the Osage and Quapaw Indians. With its distinctive triangular shape, it definitely stands out and it's easy to see why people are drawn to it.
HEALING ROCK OR TEEPEE ROCK IS RUMORED TO HAVE HEALING ELEMENTS
Originally it was thought to be man-made due to its shape. However, it's been confirmed that the rock is natural and wasn't cut or altered. Its unique shape was brought about by erosion, the elements, and time.
Hit play on the video below for more details on the Healing Rock of Skiatook, OK.
Even today there are people who swear that the rock does indeed possess healing powers and visit the site often to be healed of various ailments and conditions. Real or not it's a fascinating sight to see and beautiful.
YOU'LL FIND 'EALING ROCK ALONG THE WALKING TRAILS AT SKIATOOK LAKE
It's just a short hike to get to Healing Rock at Skiatook Lake. The path or trail is clearly marked with permanent gravel walking paths that will take you directly to it. If you're ever at Skiatook Lake check it out.
The Top 5 most frightening Oklahoma myths & monsters
These five frightening Oklahoma myths and monsters will keep you up at night. We're talking about pure nightmare fuel. No matter what you believe or where you live you aren't safe from these legendary fiends of absolute terror. You can find these sinister creatures in the deep woods, lakes, and even within city limits across the Sooner State. Even your home isn't safe from these monstrous beasts. If you've lived here for a while you may have heard of some, maybe even all of these mythological and supernatural monsters below.
Gallery Credit: Don "Critter" Brown
Top 10 terrifying towns & creepy cities in Oklahoma
While Oklahoma is well known for its beauty and friendly people there are a few places in the Sooner State you'll want to avoid. These are the most terrifying towns and scary cities in the state. It's not that they're bad places, or plagued with crime and other negative factors. The towns and cities below have one single thing in common. They all have active paranormal and supernatural phenomenons. From ghost stories to urban legends and tragic tales. A lot of these places are well known to those who live in Oklahoma and even all over the nation. If you're looking to get scared or do a little ghost hunting you can start with the list below.
Gallery Credit: Don "Critter" Brown
Oklahoma's Top 24 Terrific Towns & Prettiest Cities
It's the delightful double dozen, the top 24 most terrific Oklahoma towns and prettiest cities in the Sooner State. These incredible places are just as friendly and inviting, as they are beautiful and picturesque. While Oklahoma has more than just a few terrific towns and pretty cities these are the crème de la crème, and more than deserving of making the top 24 list. The list was created by using Google. It ranked each city by beauty, lifestyle, friendliness, scenery, entertainment, and overall positive feedback from those who have experienced their charm firsthand. Scroll through the photo gallery below to see the top 24 towns & cities in Oklahoma.
Gallery Credit: Don "Critter" Brown
Five epic & unusual Oklahoma Airbnbs you should check out
Take a break from the boring and ordinary and make your next overnight stay more spectacular and memorable. These rentals are a lot more than just a place to stay, all of them could easily be a vacation destination and experience all on their own! If you're planning a staycation or vacation in Oklahoma you should definitely check out these epic and unusual
Airbnb
rentals versus booking just a plain old room at a hotel or motel. You could make your accommodations a part of the experience itself by staying at any of these amazing places in the Sooner State.
Scroll through the photo gallery below to check them out.