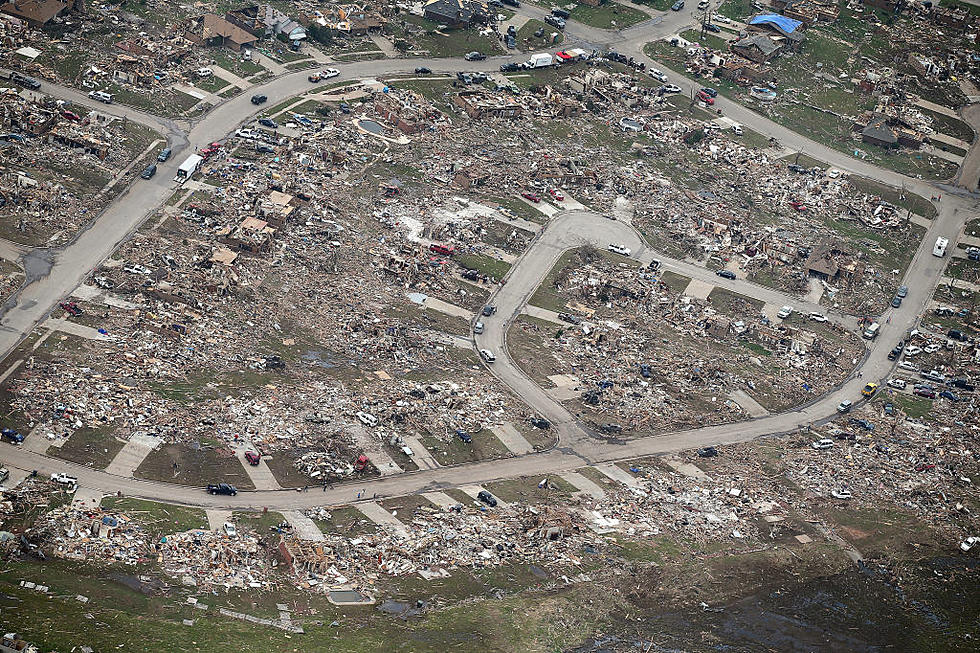 Oklahoma's Top Ten Deadliest Tornadoes
Getty Images
As February slowly warms up and thoughts of spring come to mind, it's only natural that the thought of 2023s tornado season lies silently in the back of your mind.
Oklahoma has had it pretty good the last few years. I know we've had our fair share of huge hail these last few years in SWOK, but all in all, Oklahoma hasn't experienced many destructive twisters in the last ten years or so.
Knock on wood...
Having experienced a record winter, an incredibly long and pleasant fall, and a brutal record summer all since 2020, many fear that we're due for a brutal spring any day now.
Fun Fact: While Oklahoma is known for our tornadoes, we've only had 13 total F5s in our recorded history... and of those, only half score a spot on the most deadly tornadoes list.
Also, the F-rating scale is based on damage... it actually has nothing to do with size or intensity...
For example, the largest tornado in the history of the world was recorded just outside of El Reno back in 2013. It was 2.6 miles wide at the ground and recorded the second-highest wind speed ever recorded... It was classified as an F3 because it developed and touched down in the middle of nowhere.
Here are the top ten most deadly tornadoes in Oklahoma's history.
10

In a super-weird series of weather events, this deadly F4 struck Bethany at 9:30 AM on November 19th, 1930... Just a week before Thanksgiving. It remains one of three "violent" November tornadoes in the history of Oklahoma.

It destroyed 110 homes and 700 other buildings, including a school that resulted in a deadly outcome.

23 people died and 150 were injured. Fortunately, in 1930 the space between OKC and Bethany was rural and uninhabited. The storm fell apart 28 minutes later before reaching Wiley Post Airport.

9

Likely the most recent tornado in our minds, the 2013 Moore F5 carved a mile-wide path seventeen miles long through the OKC metro.

1150 homes were damaged or destroyed during this tornado. Countless other buildings including the Moore Medical Center and two elementary schools.

While very sad, it was considered amazing that only 24 people died. It's often compared to Hiroshima in terms of damages that equated to $3billion at the time.

Most people credit modern meteorology and Moore's tragic history with tornadoes to the fact so many were prepared and protected with ample time to take shelter.

8

While it's hard to envision today, there was a sizable stretch of empty country between Moore and Norman in the 1890s. The path this F4 took then would be right along the Moore & Norman border today.

Oddly enough, it was the second of five large tornadoes to strike the area that day during a massive outbreak across the OKC metro.

This twister killed 33 people in a day when big families were the norm. 11 were killed in just one home.

7

Considered Oklahoma City's deadliest tornado until 1999, this F4 twister swept right through the residential heart of OKC.

35 people died, over 100 were injured, and even more homes and businesses were destroyed to the tune of $9million in 2023 dollars.

Not a lot of information is available for this particular event. Even a quick web search returns results of the even more devastating twisters of the last 25 years.

6

In terms of Oklahoma weather, every Oklahoman instantly knows what you're talking about when you say "May 3rd."

During a normal spring outbreak, this tornado formed between Chickasha and the OKC metro late in the afternoon and carved a 38-mile path of devastation across Central Oklahoma.

The mile-wide F5 destroyed 1800-ish homes to the slab and damaged another 9500 homes, businesses, apartments, churches, and public buildings across 5 communities in the hour and fifteen minutes it was on the ground. It killed 36 people and injured an estimated number in the thousands.

Recording the highest wind speed in history, it remains the most powerful tornado ever recorded on earth.

5

On April 27th, 1942, an F4 tornado ripped straight down Main Street in Pryor. It destroyed and damaged over 500 homes and businesses, killing 52 people in the short period it was on the ground.

As if the tornado wasn't bad enough, the torrential rains that followed flooded the town. Accounts say knee-high water flowed down Main Street immediately after the twister came through.

4

During another spring tornado outbreak, the Antlers F5 on April 12th, 1945 destroyed a third of their town.

Like most F5s, the devastation was unimaginable. The twister was so big, there was little to no debris left in its path. A completely clean sweep of the landscape.

379 homes and 259 businesses were destroyed. 69 people died and 353 were injured. 1500 people were made instantly homeless.

It would have made the national news had President Franklin D. Roosevelt not died that same day.

3

Just after dark on May 5th, 1920, the entire city of Peggs was destroyed in a matter of moments. That's the night a half-mile-wide F4 tornado touched down for five minutes. Just long enough to travel the length of this town.

30% of the population was killed. 40% of residents were injured. By the end of the chaos, only 7 damaged buildings were still partially standing in the community of 250 people.

 

2

During a tornado outbreak on May 10th, 1905, several large and violent tornadoes touched down across Southwest Oklahoma.

Luckily enough, most of them existed out in the uninhabited rural farmlands between towns, but the F5 that hit Snyder came in the night and took almost 100 lives.

Originally thought of as one massive tornado, the modern analysis determined the storm produced two different massive twisters. 97 dead, 57 injured.

1

What would eventually be called the 1947 Glazier-Higgins-Woodward Tornado Outbreak still remains the deadliest tornado event in Oklahoma history.

The supercell thunderstorm spawned 12 tornadoes along a 216-mile path from Texas, through Oklahoma, and into Kansas. While it mostly affected smaller rural towns across the plains, 116 people were killed in Woodward, Oklahoma when an F5 swept through the middle of town.

The devastation was so incredible with 181 people dead across three states, this was the tornado that inspired the National Weather Service to develop the tornado watch and warning system nationwide.

It still remains the 6th deadliest tornado in US history.