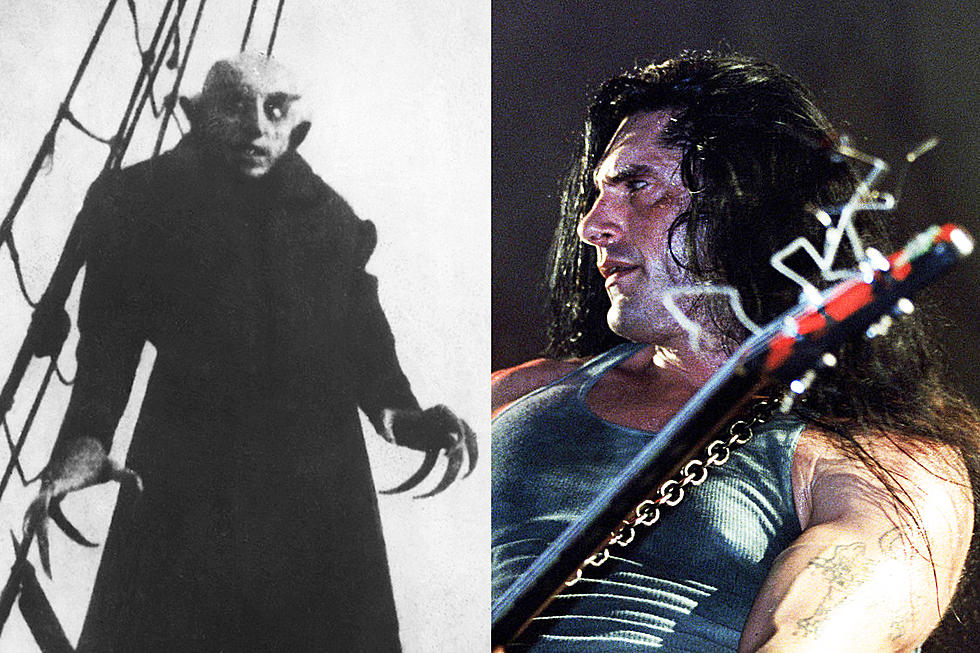 Celebrate 100 Years of 'Nosferatu' With Film Synced to Type O Negative Songs
Bettmann Archive/Getty Images / Paul Bergen, Redferns/Getty Images
On March 4, 1922, the historic silent horror film Nosferatu was released in Germany and, to celebrate its 100th anniversary, what better way for any headbanger to do so with the version of the movie that's synced up exclusively to Type O Negative songs?
It makes all the sense in the world, right? Peter Steele was so often (and still is) amusingly referred to as a hulking vampire — a seductive figure of the night who feasts on romantic companionship as it if were life-sustaining blood, or, in the case of the song "Wolf Moon," actual blood. Naturally, the flick unofficially adapted from Bram Stoker's 1897 Dracula novel and the stirring sounds of Type O Negative go together like sharp fangs and inviting necks.
Directed by F.W. Murnau and produced by Enrico Dieckmann, Albin Grau and Prana Film, Nosferatu is a 94 minute silent film starring actor Max Schrek as the indelibly haunting Count Orlok (the name given to the Count Dracula character and applied to Stoker's narrative). Shorter versions of the film, such as the one below which is synced to Type O Negative, and the abbreviated length has been attributed to the distribution of copies that were sped-up versions of the original.
Since it's release, Nosferatu has remained culturally significant for a full century and Count Orlok even famously appeared in three episodes of the long-running kids' cartoon Spongebob Squarepants  — "Graveyard Shift," "Night Patty" and "A Place for Pets."
While the cartoon made light of Count Orlok, his rat-like facial features, disturbingly elongated fingernails and slender frame remains one of the most genuinely unsettling characters ever committed film. It's been that way for 100 years and, in another 100, the same words will likely be uttered in tribute to this immortal work of art.
So, turn out the lights, get your black candles burning and raise a toast to the world-famous vampire flick Nosferatu and heavy metal's own beloved vampire, Peter Steele and watch the version set to 10 Type O Negative songs in the video below.
Songs Used in Type O Negative Overdub of Nosferatu, In Order of Appearance*
* not all songs used in their entirety
"Der Untermensch" — Slow, Deep and Hard
"Love You to Death" (edit) — October Rust
"Red Water (Christmas Mourning)" — October Rust
"Xero Tolerance" —Slow, Deep and Hard
"Glass Walls of Limbo (Dance Mix)" — Slow, Deep and Hard
"Green Man" — October Rust
"Christian Woman" — Bloody Kisses
"My Girlfriend's Girlfriend" — October Rust
"Die With Me" — October Rust
"Prelude to Agony" — Slow, Deep and Hard
1922 Silent Horror Film Nosferatu Synced to Type O Negative Songs
10 Must-Watch Horror Movies That Are Totally Metal
Type O Negative's Peter Steele Through The Years
When most people think of
Peter Steele
photos, a specific, well, centerfold photoshoot might come to mind. And while we can't publish those pictures (well, not exactly but we do have one little taste) here, we did collect a sampling of images of the beloved
Type O Negative
frontman through the years for your viewing pleasure.