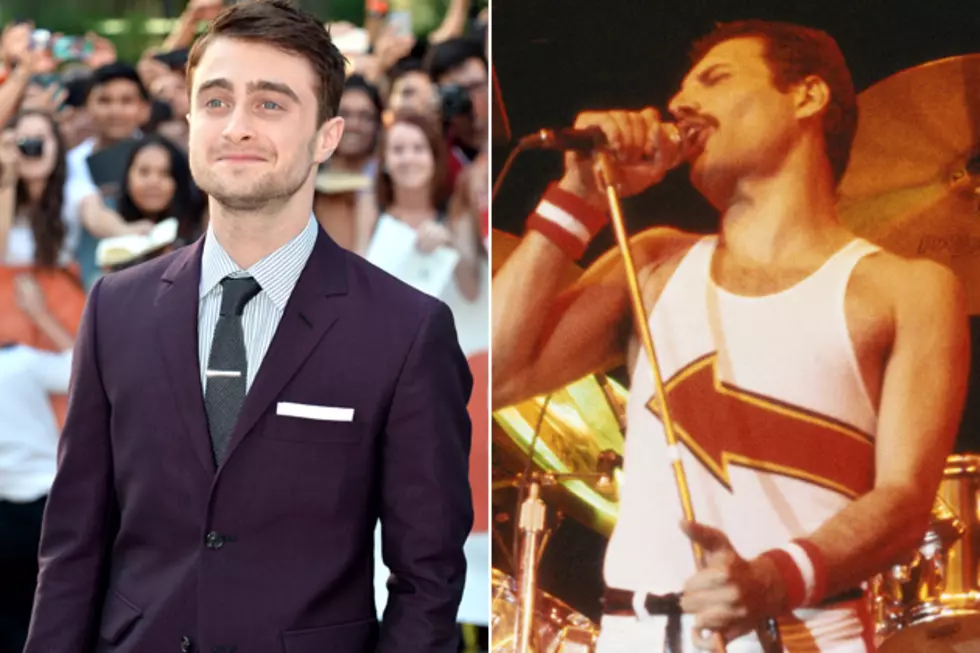 Could Daniel Radcliffe Save the Freddie Mercury Biopic? [UPDATE]
Getty Images
Following Sacha Baron Cohen's departure from the lead role in the Freddie Mercury biopic, the film's writer Peter Morgan was unconvinced the project would ever happen, but perhaps it can survive after all with a bit of magic. According to a report, Daniel Radcliffe is the next in line for the gig.
[UPDATE: The Wrap has debunked this report, with sources claiming that the surviving members of Queen haven't reached out to Radcliffe at this time. Continue on for the original story.]
Since the final 'Harry Potter' film, Radcliffe's career has been interesting to watch, to say the least, with roles in 'The Woman in Black,' his stage run in 'Equus,' and, more recently, 'Horns' and 'Kill Your Darlings.' The latter film, in which he plays beat writer Allen Ginsberg, could prove more useful than previously imagined, as the Daily Star reports an offer has been extended to the actor to play the iconic gay rocker.
Aside from being an outspoken LGBT advocate, Radcliffe filmed an explicit gay sex scene for 'Kill Your Darlings,' which should make anything the Freddie Mercury pic has to throw at him less intimidating. It's reportedly this performance in particular that intrigued the producers, who are ready to offer him big bucks to take the role. "Daniel has been told the part is his if he wants it," says an insider.
Cohen reportedly vacated the role after clashing with surviving Queen bandmates Brian May and Roger Taylor over the film's rating; Cohen wanted a hard R, while May and Taylor wanted to keep it PG-13. The band has given its full support in seeing this movie to fruition, providing the rights to use any and all music from its vast repertoire. David Fincher and Tom Hooper were both approached in the past to direct, though that position is also still unfilled.