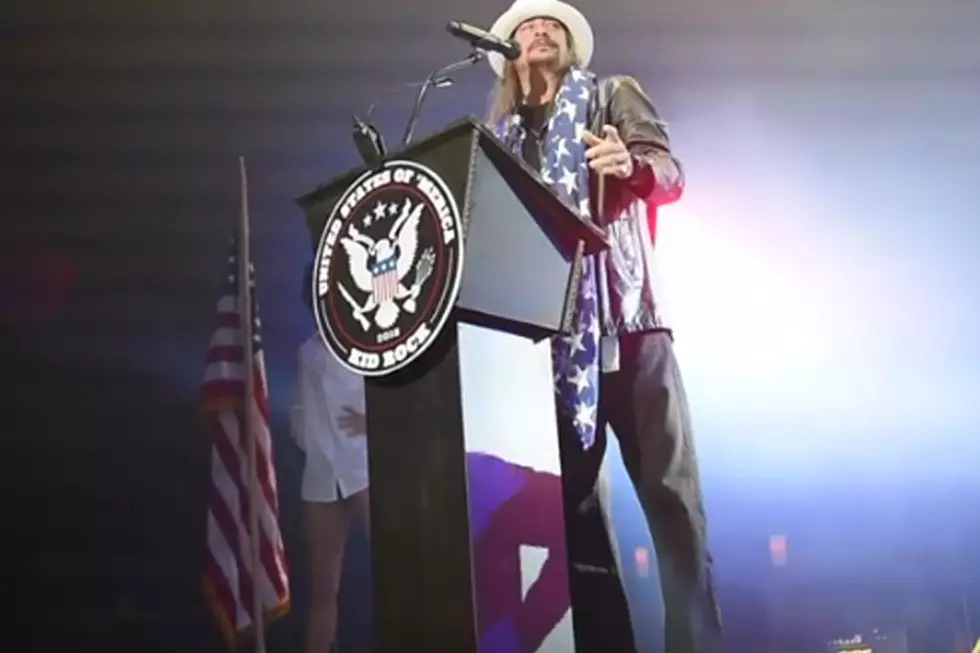 Kid Rock Tells Nazis and the KKK to 'Stay the F— Away' From His Senate Bid on Opening Night of Tour
YouTube
If Kid Rock isn't planning to run for the Senate next year, he's certainly playing up to the attention it's getting. He opened his tour last night at the Van Andel Arena in Grand Rapids, Mich., and gave a speech that took a shot at the alt-right.
You can watch it above.
After opening with "The Greatest Show on Earth," a recorded version of "Hail to the Chief" played. Surrounded by a pair of women holding the American flag, he stood behind a podium with his name and "United States of 'Merica" surrounding an approximation of the Great Seal of the United States. From there, Rock outlined his potential platform — in rhyme — emphasizing job training over welfare, going after deadbeat dads and the spell of mostly African American athletes who have refused to stand for the National Anthem in protest.
He took exception to those who would call him "racist" for this stance, adding that "I'm not PC" and railed against those who think they "have to remind me that Black Lives Matter." Then he said, "Nazi f—in' bigots and now again the KKK? [I] say, 'Screw all you a—holes. Stay the f— away!'" while flipping a double-bird. Rock concluded by imagining himself as the president before launching into "You Never Met a Motherf---er Quite Like Me."
Elsewhere during the show, he performed Rod Stewart's "Maggie May" and "Midnight Rider" by the Allman Brothers Band. And even though Ted Nugent has said that Kid Rock "ain't running for squat," Rock honored his fellow Michigander with a version of "Cat Scratch Fever" that segued into Stevie Wonder's "Superstition."
Kid Rock hasn't officially announced if he'll be seeking the Republican nomination for Sen. Debbie Stabenow's seat in Michigan, but the watchdog group Common Cause is taking him seriously. They recently asked the Department of Justice to see if the "Kid Rock for Senate" merchandise he's selling violates campaign finance law. His answer to them was "go f— yourselves."
Masterpieces: The Very Best Albums From More Than 100 Classic Rock Acts