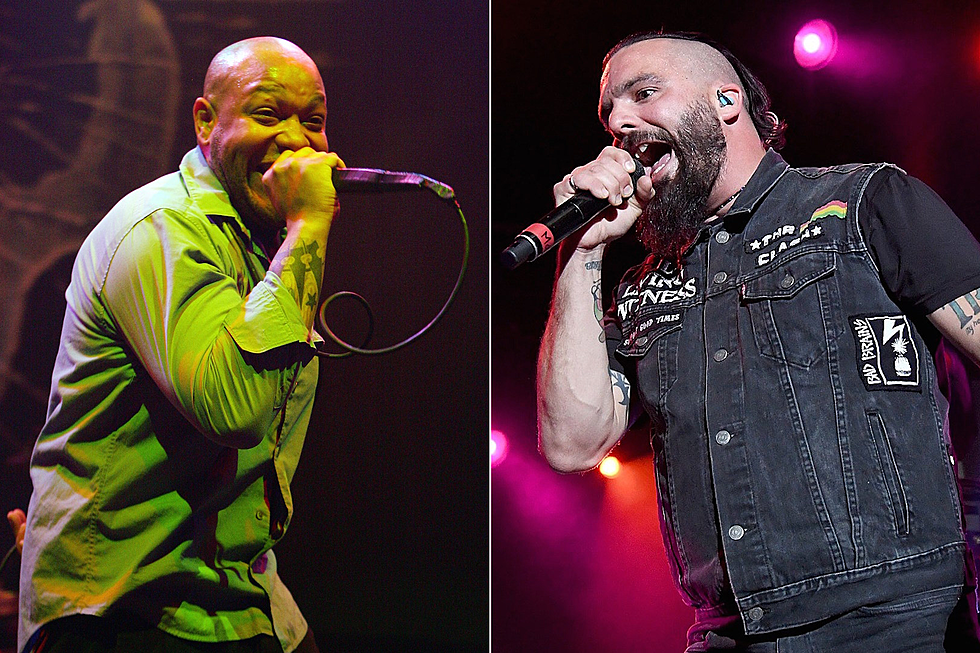 Hear Howard Jones Guest on New Killswitch Engage Song 'The Signal Fire'
Ethan Miller, Getty Images (2)
This is the moment Killswitch Engage fans have been waiting for since learning that former singer Howard Jones joined the band in the studio during the recording of the Atonement album, which was released today (Aug. 16). Listen to "The Signal Fire," which features both Jones and current singer Jesse Leach, below.
Last year, Leach had teased the song, promising that it was a "heavy shitkicker." The frontman was not full of false promise as "The Signal Fire" opens up with a guttural roar, double kicks and unchained energy.
The two singers each take a verse of their own, uniting on the chorus in sweet, sweet harmony, bridging both eras of Killswitch Engage's career.
At the beginning of 2018, Leach described what it was like to finally connect with the singer he initially had apprehension about replacing when he returned for his second spell fronting the metalcore giants. "Such good times last night man! At some point I'll talk more about it. I honestly didn't really know Howard as a person until last night," Leach said at the time.
"We've seriously just never hung out," he continued, explaining, "A lot of really crucial stuff was said and I made a new friend ... We have a lot in common, it's crazy! It was also nice to see all of the guys hanging out in the same room sharing stories and tons of laughs. The past is the past and when you let go of certain things, forgive and move on ... life gets a whole lot sweeter. Really really cool hangs, my heart is full today."
Since reconnecting with the band in the studio, Jones, who currently fronts Light the Torch, joined Killswitch onstage in London last summer and, more recently, at a festival in Canada. Both times, he sang "The End of Heartache."
Pick up your copy of Atonement here.
Killswitch Engage, "The Signal Fire"
See Killswitch Engage in the 25 Best Metalcore Albums of All Time