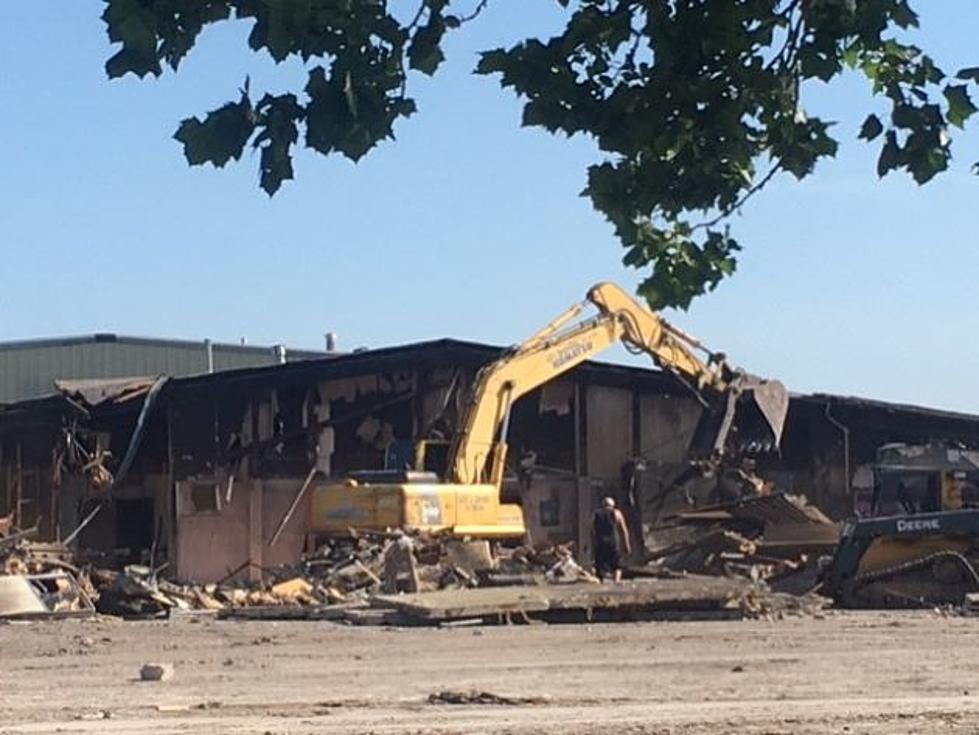 Lawton, OK. Says Goodbye to Park Lane Elementary School
TSM Lawton: Critter
It's the end of an era. Sadly the old Park Lane Elementary School on Lawton's eastside in the Park Lane neighborhood is being demolished. Say goodbye, soon there won't be anything left other than the memories.
SEE WHICH STORES & RESTAURANTS THAT CLOSED IN LAWTON WE MISS MOST BELOW
Construction crews began tearing down the old elementary school about a week or so ago. If you live in the Park Lane neighborhood near Avalon Street you've probably seen all the demolition equipment and activity.
Park Lane Elementary School at

4912 S.E. Avalon in Lawton, OK

. is being demolished
At this time we're unsure what if anything will be built on the site. It's possible that the land will eventually be repurposed for residential, but nothing has been confirmed. We're also not sure if the playground will remain.
SCROLL DOWN TO SEE THE MOST EPIC & LUXURIOUS AIRBNBS IN LAWTON, OK.
Park Lane Elementary School opened in 1970 and for 45 years served the Eastside neighborhood of Park Lane and the surrounding area. Sadly it was permanently closed back in 2015 and has remained empty since.
Park Lane Elementary originally opened back in 1970 and closed permanently in 2015
Park Lane Elementary, home of the Pythons is about to be no more. Construction crews are making short work of the old school and within a few short weeks, it will be completely gone. Maybe even sooner.
CHECK OUT THE TOP 24 PRETTIEST CITIES & TERRIFIC TOWNS IN OK. BELOW
It's sat empty for the past 8 years or so and has been the target of break-ins, vandalism, and even arson. Back in 2021, the school has severely damaged by a fire, get the details here. So it had to come down.
Pretty soon there won't be anything left of the old elementary school other than memories
After the fire, it was only a matter of time before the school was torn down and the land cleared. Not sure who owns the property, or what their future plans are but I guess we'll find out soon enough. RIP Park Lane.
KEEP SCROLLING TO SEE THE TOP 12 TRASHIEST TOWNS IN OKLAHOMA
I didn't go to Park Lane but I have a lot of friends and family who did. Either way, it'll be strange not to see it there or all the neighborhood kids on the playground if that too is removed. We'll see what happens next.
Closed Lawton Restaurants We All Wish Were Still Open
Do you ever get that bummer feeling when you're craving a meal that just isn't available anymore? Or better yet, not necessarily the food as much as the people and ambiance you grew up with? Hundreds of restaurants have come and gone in Lawton, Oklahoma, but here's a quick list of eateries we all wish were still around.
Oklahoma's Top 24 Terrific Towns & Prettiest Cities
It's the delightful double dozen, the top 24 most terrific Oklahoma towns and prettiest cities in the Sooner State. These incredible places are just as friendly and inviting, as they are beautiful and picturesque. While Oklahoma has more than just a few terrific towns and pretty cities these are the crème de la crème, and more than deserving of making the top 24 list. The list was created by using Google. It ranked each city by beauty, lifestyle, friendliness, scenery, entertainment, and overall positive feedback from those who have experienced their charm firsthand. Scroll through the photo gallery below to see the top 24 towns & cities in Oklahoma.
Look inside this Lawton, OK. 1.5 million dollar mansion
Take a quick virtual tour of this massive 1.5-million-dollar mansion in Lawton, OK. It's one of the largest, most luxurious, and most expensive homes on the market right now. It's truly a one-of-a-kind property that boasts 4 bedrooms, 5 bathrooms, and 5,900 square feet on 2 acres. It's located at
350 North West Hillary Road in Lawton, OK.
and for
$1,500,000
it could all be yours! This impressive home is one of the most epic estates on
Zillow.com
. It's currently listed by
Barry Ezerski
of
RE/MAX Professionals
.
Scroll through the photo gallery below and take a peek inside this 1.5-million-dollar mansion for sale in Lawton, Oklahoma.
Top 12 trashiest Oklahoma towns & sleazy cities
It's a top 12 list you don't want to be on. Unfortunately, these 12 towns and cities have been selected as some of the worst and by worst I mean trashiest and sleaziest in the Sooner State. These dirty dozen were selected by Google using factors like crime, violence, drug abuse, unemployment, income rates, and even the overall appearance of the town or city. It factored in things like rundown or abandoned properties and vehicles when ranking how trashy or sleazy a town or city is. Scroll through the photo gallery below.
Look Inside Lawton's most luxurious & beautiful Airbnb!
This amazing
French-style lakeside chateau
costs
$500.00 a night.
It's one of the most beautiful and luxurious
Airbnb rentals
in all of Lawton, Fort Sill.
It's a 4 bedroom 4.5 bath home
that can comfortably
accommodate 10 guests.
The home sits right on the waterfront of a lake with the backyard and patio facing the water. The entire home inside and out has an incredible atmosphere and breathtaking views. The outside spaces are as beautiful as the inside.
Check out the photo gallery to see what $500 a night will get you!
Take a virtual tour of the top 5 most luxurious & expensive Airbnb rentals in and around Lawton, Fort Sill
If you're looking for a place to stay for your next staycation. Or maybe you're considering coming to the Lawton, Fort Sill for vacation, military graduation, business, reunion, or family get-together you'll definitely want to check out these incredible Airbnbs. You could make your accommodations a part of the experience itself! Even if you're in town on business instead of pleasure staying at any of these homes would be a welcomed break from the same old, same old. These are some of the most luxurious and expensive Airbnbs in and around Lawton, Fort Sill. Some are in town others are in the mountains, Medicine Park, and Elgin, OK.