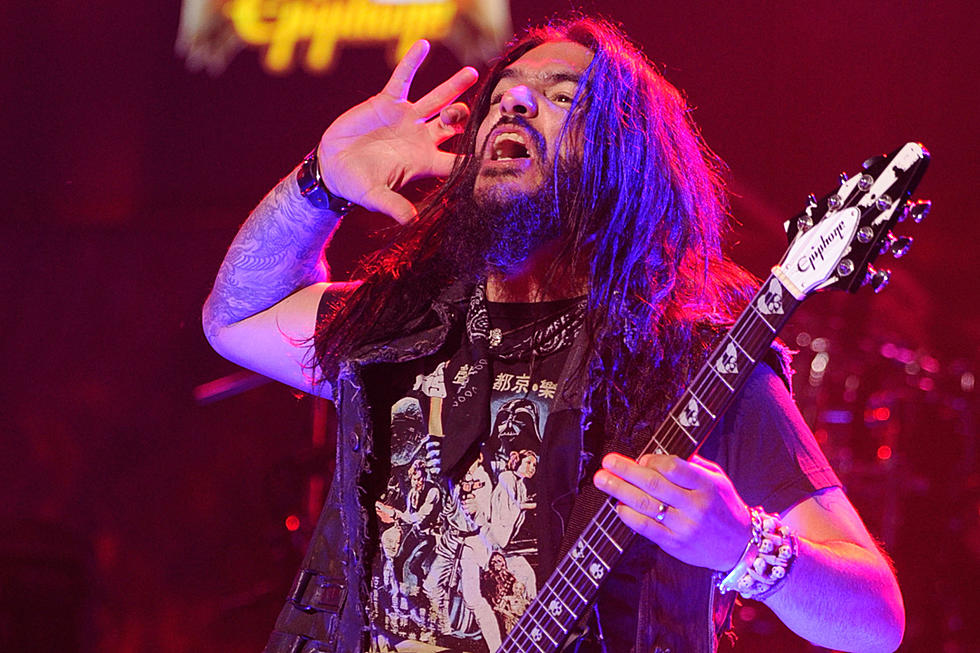 Machine Head Frontman Calls 1983 Metallica Gig His 'Beatles Moment'
Frazer Harrison, Getty Images
As James Hetfield, Lars Ulrich, Kirk Hammett and Cliff Burton tore into "Hit the Lights," the small Bay Area, California club that had been the site of so many Jerry Garcia Band performances was now home to a room full of sweaty headbangers. It was late November, 1983 and one of those young thrashers was a sixteen year old Robb Flynn.
"You always hear the older cats talk about seeing The Beatles on Ed Sullivan. A million bands started after that," the Machine Head frontman recounted on Speak N' Destroy, a podcast about Metallica. "'The 'Kill 'Em All for One' Tour at the Keystone Berkeley? That was my Ed Sullivan Beatles moment."
Flynn recounts how his dad drove him and his friend Jim Pittman to see Raven, Metallica, and local heroes Exodus. He was kind enough to drop the youngsters a block or two from the venue, to save them the potential embarrassment of being spotted getting out of a parent's car.
The guys followed Metallica over the crackly airwaves of KUSF FM, early demos and countless live recordings traded on well-worn cassette tapes via snail mail. After the show, the pair were determined to start a band of their own. "The whole way home, all we talked about was, 'We have to be in a band. We have to do shows. We've got to do something.' That [gig] was literally the impetus for us."
Soon, they were playing together in the band Forbidden Evil (later renamed simply "Forbidden"). After that, Flynn joined Vio-Lence. By 1991, he was leading modern metal masters Machine Head, whose 2018 album, Catharsis, debuted at Number One on Billboard's Current Hard Music Albums chart this week.
In the hour long discussion, Flynn spoke about coming of age in the Bay Area at the dawn of the thrash metal scene; discovering Van Halen, AC/DC, and Black Sabbath; the prominent role of future Megadeth leader Dave Mustaine in early Metallica; supporting Metallica on the World Magnetic Tour; the Metallica catalog; Jason Newsted's support of Machine Head; and his small role bringing Metallica and Slayer together to make those Big 4 shows happen.
"[When] the Metallica demo came out, it sounds super weird to say, but they were just this young unsigned band. [Jim] played me the song 'Whiplash.' I'd never heard anything that fast. Then we just went crazy. He found out about all these record stores in San Francisco. I was living in Fremont, which was just a boring gigantic suburb about 45 miles away. In 1981, without a car, we might as well have been in Nevada."
By the time of that fateful show at the Keystone Berkeley, Metallica was well into the touring cycle for their debut album on Megaforce Records.
"It was funny because we were liking Kill 'Em All, but you know, the songs had changed quite a bit from the demo, so we were like, 'Uh, I don't know about this,'" he admitted, with a self-deprecating laugh. At the show, the two wide-eyed teenagers met charismatic Exodus frontman Paul Baloff (who sadly passed away in 2002).
"I remember Exodus just killing it that night," he recalled with notable enthusiasm. "They had the buzz of all buzzes." They enjoyed Raven, but "Exodus and Metallica were clearly a nod forward into something that really had never been done."
Baloff wasn't the only young thrash frontman Flynn and Pittman encountered. "We got an autograph from Hetfield first thing. He was just out and about in the crowd before the show, in between bands, signing autographs. And then they went on."
The set list included all nine Kill 'Em All cuts (including Burton's legendary bass solo) alongside songs from Metallica's second album, set for release the following summer: "Fight Fire with Fire," "Ride the Lightning," "Creeping Death," and "When Hell Freezes Over," the instrumental which would become "The Call of Ktulu."
Incidentally, "Creeping Death" includes a reworked section of the song "Die By My Hand," which Hammett had written previously while still a member of Exodus.
To hear the entire in-depth interview with Flynn, check out Speak N' Destroy here.
Speak N' Destroy podcast guests have included M. Shadows (Avenged Sevenfold), Blasko (Ozzy Osbourne), Lzzy Hale (Halestorm), Jamey Jasta (Hatebreed), Mark Morton (Lamb Of God) and other hard rock and metal luminaries, all talking about the direct and indirect impact of Metallica on their lives.