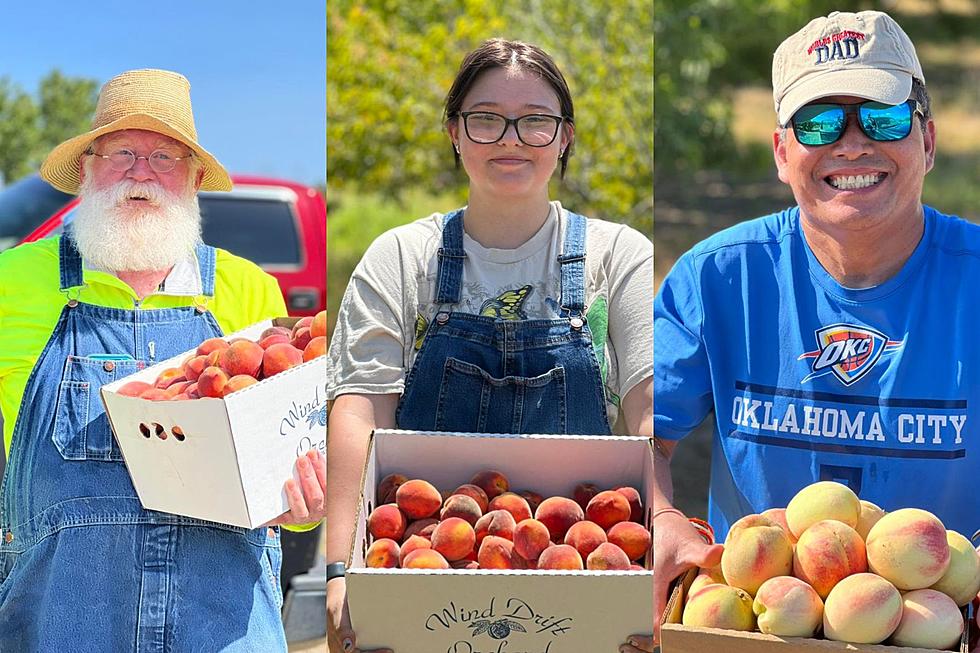 Pick Your Own Peaches At This Orchard In Harrah, Oklahoma
Wind Drift Orchards Facebook, Canva
One of the many things I love about summer is delicious fresh fruit. Watermelon, cantaloupe, grapes, strawberries and, of course, peaches. And a fun fresh fruit outing for families in Oklahoma is a visit to the Wind Drift Orchards in Harrah, Oklahoma, where you can pick your own peaches!
According to its website, Wind Drift Orchards has two peach and nectarine orchards in Harrah, Oklahoma. You can pick your own peaches at the orchard starting in mid June and through early September. Wind Drift Orchards offers 38 varieties of peaches! My mouth is watering just thinking about biting into a juicy, sweet peach.
Wind Drift Orchards offers all things peach!
Wind Drift Orchards also has other peach-items for visitors to enjoy, including peach lemonade, peach tea, peach jam and jalapeno peach jam. YUM! And if you're an avid barbeque-er, the orchard also sells peach wood. Now that sounds like a delicious experiment.
Make it a full weekend at Wind Drift Orchards!
You can also book a farm stay at Wind Drift Orchards! Visitors can book a stay at the farm's six bedroom home that sits on the 72 acre peach orchard. During peach season, every guest will be provided their own box for prime peach picking.
You can also pick your own watermelon at Wind Drift Orchard!
Wind Drift Orchards also grows watermelon! So you can get peaches AND watermelon all in one visit. They also sell watermelon lemonade and watermelon tea, which sound DELICIOUS. Definitely something I need to try this summer.
Wind Drift Orchards sounds like a perfect weekend getaway or a day trip with Nana and the grandkids!
Top Oklahoma Wineries and Vineyards
Wineries and vineyards have been popping up all over Oklahoma over the last few years! Here are some that you should check out.
Oklahoma's Best 4th of July Celebrations
There's nothing like celebrating America's independence in the heartland, and Oklahoma practically overflows with patriotism across the state. While most towns have their own celebrations, some are larger than others. Since it would be hard to catch all of them in one day, they're spread out a bit over two and a half weeks, pick one or more and let your American flag fly.