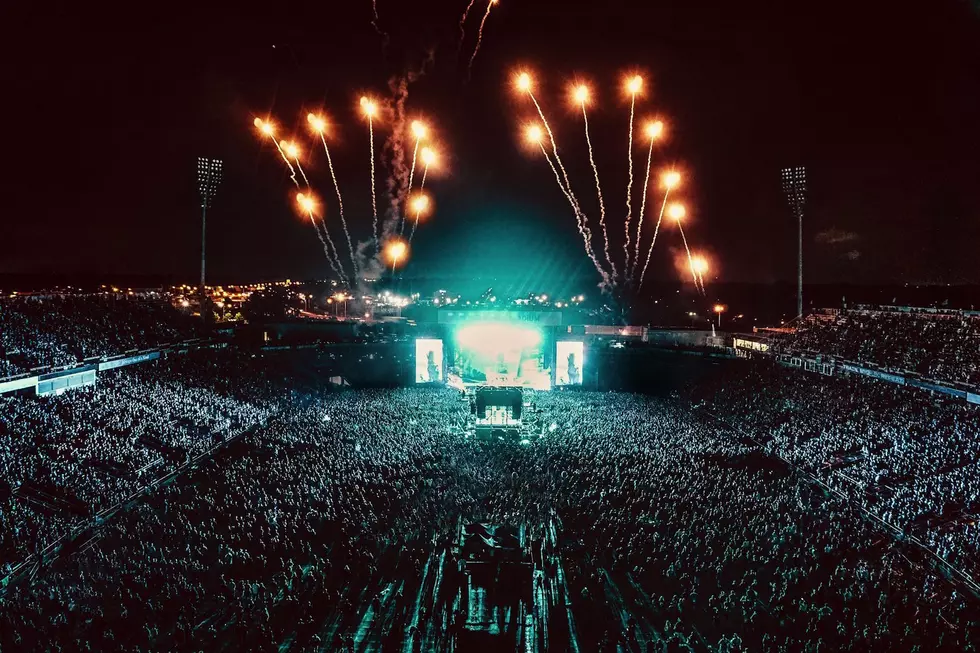 Rock's Not Dead: Inside America's Thriving Rock Festival Circuit
Metallica at Rock on the Range, 2017 // Photo credit: Sam Shapiro
Foo Fighters, Tool, Alice In Chains, Muse, Queens of the Stone Age, System of a Down, Deftones, Halestorm, Stone Sour, At the Drive In, Avenged Sevenfold, Body Count, Quicksand, Power Trip, Code Orange.
They're all among the biggest and most relevant rock bands of the past two decades. And they have something else in common: they're all playing some of America's rock festivals this summer, including Florida's Welcome to Rockville, Ohio's Rock on the Range and North Carolina's Carolina Rebellion. But if you only read mainstream music publications, you might not be familiar with those events. Most websites and print media are likely to spend their resources covering trendier events, like Lollapalooza, the Austin City Limits Festival and, of course, Coachella.
Over the weekend in Indio, California, Coachella kicked off the summer festival circuit. The festival, which started in 1999 with headliners Tool, Beck, and Rage Against the Machine, has been framed over the years as an arbiter of taste. This year's headliners include three of the biggest pop stars in the world: Beyonce, Eminem and the Weeknd. This marked a first in the festival's history: there has always been at least one rock headliner on the bill. In fact, the entire three-day lineup is pretty light on guitar-driven rock acts, although there is a handful, including St. Vincent, X Japan, Highly Suspect, A Perfect Circle, the Bronx and Greta Van Fleet.
Coachella's lineup has led to mainstream headlines questioning the health of rock music: The Los Angeles Times trumpeted, "Coachella is Going Without a Single Rock Headliner for the First Time," saying that the festival is following an "obligation to reflect the true shape of pop at a given point in time. In the streaming era, that means hip-hop and R&B, as opposed to rock." Further, the Times said that this year's lineup "feels like a credible snapshot of music as it's really happening in 2018."
It's a big -- and incorrect -- assumption that a lineup that prominently features the laid-back indie rock sounds of Portugal. The Man and Fleet Foxes, or the commercial hip-hop sounds of Migos and Cardi B, resonates with the entire country. To many, guitar-driven hard rock and metal is still "music as it's really happening in 2018."
The circuit of rock-centric weekend-long music festivals that has thrived over the past decade accentuates that point, although those festivals are somewhat off the radar of most media outlets. Rock on the Range, Carolina Rebellion, Welcome to Rockville, along with Sacramento's Aftershock, Oklahoma's Rocklahoma, Florida's Fort Rock, Las Vegas' Las Rageous, Wisconsin's Northern Invasion and Chicago's Riot Fest are just a few of the weekend-long events that both celebrate rock's past and present, and even looks towards its future.
Danny Wimmer Presents is a festival promoter that produces a number of these events, making no apologies for their love for rock and roll. Where the mega-festivals like Coachella and Lollapalooza have gone from being curated for a specific type of rock fan (i.e. the alternative rock and indie type, who have a sense of nostalgia for critically hailed legends and an openness to dance music and hip-hop), those festivals now feel like top 40 radio concerts with a few rock acts thrown in.
DWP's staff, however, spend little time worrying about what is dominating the pop charts. In a rare interview, the company's namesake and founder Danny Wimmer told Loudwire, "I don't chase pop culture. I don't give a shit about it. Let those other guys go chase that music. We are passionate about rock and roll. We built our career on that."
Their definition of rock and roll covers a lot of ground: DWP VP and main talent booker, Gary Spivack says, "'Rock and roll' could be Lamb of God or it could be Cypress Hill. It could mean Megadeth or The Struts. And that could also mean Tech9 and Machine Gun Kelly. So, in order for rock and roll in America to evolve and thrive, the Foo Fighters and Five Finger Death Punch have to be able to play the same festival. Muse and Godsmack have to be able to coexist together; they don't have to play on the same day. So, the alternative rock fan will go to Carolina Rebellion and they'll check out Godsmack and say, 'They're fuckin' good.' And vice versa."
They started with tried and true rock bands, but as the years went by, they started to look toward the future and get experimental with their bookings. "We really used Aftershock to test the market," Wimmer says. "For the festival's first two years [in 2012 and 2013], it was straight, down the middle typical festival. We said, 'We want to book the Arctic Monkeys one day.' We're huge fans of Arctic Monkeys. But we knew that we weren't gonna get them unless we started making moves [in that direction]. So, in 2014, we booked Weezer, along with AWOLNATION and Rise Against."
"The next year, we came back with Faith No More and Jane's Addiction." The days that featured the more conventional rock and metal bands sold more tickets than the ones with the more alternative-leaning acts. "But we said, 'This is the future,'" Wimmer recalls. "And we got Tool the next year. This was a two-year plan."
"Last year, we got Nine Inch Nails. We really had to curate a day for them. We said, 'We booked A Perfect Circle and Run the Jewels.' And they were like, 'We're in.' And then we went and got Highly Suspect."
A big "get" for DWP in 2018 is Muse, who will play at Carolina Rebellion in May, on an alternative-leaning day that will also feature Queens of the Stone Age, Billy Idol, the Struts, Clutch and Quicksand. Wimmer says, "Let me tell you what it's gonna do. Booking Muse is the reason why that show is gonna grow in two or three years."
Rock on the Range is the company's longest running festival: it started in 2007 as a one-day event, headlined by a bonafide classic rock legend (ZZ Top), and featured some of the biggest rock acts of the day (Evanescence, Velvet Revolver) and a number of developing up-and-comers like Three Days Grace, Black Stone Cherry and Breaking Benjamin.
This year, the three-day lineup will include some of hard rock's biggest acts, including Alice In Chains, Stone Sour, Avenged Sevenfold, Godsmack and both of Maynard James Keenan's bands -- Tool and A Perfect Circle. Additionally, legends like Stone Temple Pilots, Body Count and Quicksand will perform alongside younger acts like Power Trip, Code Orange, New Year's Day and Fever 333. And, notably, the bill includes two bands who played back in 2007: Three Days Grace and Breaking Benjamin. That type of long-term relationship has been crucial to the health of the circuit.
Joe Litvag, Senior Vice President at AEG Presents, who co-produces a number of festivals in partnership Danny Wimmer Presents, told Loudwire, "When we started Rock on the Range, it was about, 'Who do we have relationships with, who can we talk into playing this thing?' Over time, the festival grew and established itself, and we grew to two days, and then three days. Then we started Carolina Rebellion as a one day, and then it became two days, and then three days. The platform started to organically emerge."
Indeed, artists who have played Wimmer's shows tend to regard him as prior generations saw legendary rock promoter Bill Graham and old-school artist-friendly record execs like Ahmet Ertegun. Sure, Wimmer is a business guy, but he "gets it." He's a passionate fan with the power to catapult young bands to the star level and to take established bands and crown them as festival headliners.
M. Shadows of Avenged Sevenfold says, "The festival [offers] that we take really seriously are when Danny calls us because we know that he's really figured out the locations. Danny knows when a market is a huge rock market, right? So he goes into these places, and he kind of curates the food and the alcohol and the craft beer and the bands to that market. And it's important to him to give something that's fresh to that community, and something that community enjoys."
Brent Smith of Shinedown says, "Danny's a real fan. He really genuinely loves rock and roll. He loves the community and he loves those fanbases."
Corey Taylor, who is playing a number of festivals this summer with Stone Sour, and has also headlined many with Slipknot, says, "It's been great to have a circuit like that. It has helped fill in the hole that was left by the loss of a few of those festival tours, like Ozzfest or Mayhem or Uproar."
Another thing that Wimmer and his team clearly enjoy is watching bands progress and grow a following over the years. Wimmer says, "We were the first to make Slipknot and Avenged Sevenfold headliners. And all of the sudden the rest of the world went, 'Wow!' We're very proud about that. We took a big chance on those bands. We really pay attention to momentum. If we see there's momentum behind a band, we'll fight to take them to the next level."
Spivack adds, "Halestorm is a wonderful example of how we gave a band a shot because we had a relationship with the manager, and then two years later they went from playing early in the day on the side stage to be one of the closers on the side stage, and two years later they went to the main stage, and two years later moved up the bill. That means the world to me: when you see a band really break and you're part of that from day one."
Halestorm leader Lzzy Hale verifies this. She tells Loudwire, "Danny Wimmer and his entire team have been a huge piece of the puzzle that kind of makes up where we're at today. I remember the very first time that we played Rock on the Range we were at the stage that was right next to the parking lot. And we were just so excited to even be playing the festival, it was so amazing just to be a part of just such a big event. For whatever reason, these guys saw something in us, they kept booking us, and we kept kind of creeping up [the lineup] year after year."
When festivals take a chance on newer bands, that has a ripple effect that is felt elsewhere in the industry. Toni Gonzalez, the host of Loudwire Nights, says that Frank Carter and the Rattlesnakes got on her radar because of their performance at Rock on the Range last year: "After their set, everyone I spoke with -- musicians and fans -- mentioned how blown away they were. Every single person was talking about them. I don't know that anyone saw that coming."
Vincent Usuriello programs SiriusXM's Octane, another influential launching pad for active rock bands. He says he's always looking at the bottom line of the festival posters; he pays attention to what he calls "the small font" bands. "Last year, I saw Dorothy, who's getting some traction now. She toes the line between active rock and alternative, and I was on the fence whether or not I should play her. Then I saw her at Rock on the Range, and I said, 'You know what? She could play ball with the active rock crowd.' It was that performance that made me think about putting her on the air." He also mentions that catching Beartooth at Rock on the Range last year made a big impact on him: "Seeing that live performance and how insane the crowd was really changed my perspective on them."
Who does Usuriello think is hot this year? A brand new band called the Fever 333, who are booked at a number of festivals this year, including Welcome to Rockville, Carolina Rebellion and Rock on the Range.
Wimmer agrees: he cites the Fever 333 as one of the newer bands who he predicts will have a long career. He also mentions Bring Me the Horizon as a future headliner. Spivack chimes in with some up-and-comers that he thinks will have longevity: "A Day to Remember, Ghost, and definitely Royal Blood."
Unlike the tour promoters of the '90s, today's rock promoters tend to not differentiate between bands that have hipster cred (such as Royal Blood) and those that don't (i.e. most bands who get played on active rock radio). This summer, Rocklahoma's headliners are A Perfect Circle, Godsmack, and Poison. In the '90s there was a kind of "year zero" attitude about older rock acts with mainstream success, particularly those classified as "hair metal." It's hard to imagine that any band featuring Maynard James Keenan would share space on a festival poster with Poison back then. But things have changed, and that kind of elitism no longer seems relevant in 2018.
Corey Taylor says, "Thank God [today's rock festivals] are lacking in snobbery, because that's the last thing that rock and roll needs right now. People need to get over themselves. That's where the pretense needs to stop because we're marginalizing ourselves out of a fuckin' audience for fuck's sake."
Taylor, who grew up in Iowa -- a world away from New York and Los Angeles -- has a pretty inclusive view of music. "I never put stock in the idea that if you like one band, you can't like another. In '92 when I first started getting into Tool, I was still listening to Poison. I think because that kind of snobbery snuck in, it made it impossible for people to listen to different things. And that's such a 'big city' way of looking at metal. In Iowa there was nothing, so we didn't care about [sub-] genres. We were just very thankful that any bands came through at any time to play. It's a very entitled way to cut up your music and say, oh, you can't listen to this if you like Iron Maiden. Shove that up your ass, dude."
For the most part, bands have gotten over that elitism. Litvag says, "In this day and age, we all know that the rock business is difficult. It doesn't get the attention that other genres do. Rock artists have come to that realization over the past five or ten years. And they realize that they have to focus on the fans. What do the fans want to hear and who do they want to see? When it comes to festivals, people vote with their wallet. We can think whatever we want about what's cool and what's not cool, but at the end of the day, the fans vote with their wallet."
Fans voting with their wallets -- not press coverage -- is what keeps rock bands in business. M. Shadows says that "Avenged Sevenfold can sell out arenas, but 90% of the people I talk to have never heard of us," because they don't get a lot of mainstream media coverage. So, rock music's health is in much better shape than the media would have you believe.
Sully Erna of Godsmack points out that there are still lots of huge rock bands on the road, making records and doing quite well: "You still have Disturbed. You have Shinedown, who are growing at a fast pace. You have amazing bands like Halestorm. The Foo Fighters. I really think that the bands that are waving the flag for rock music right now are real strong."
Taylor, who pulls huge crowds with Slipknot, Stone Sour and even as a solo acoustic artist, says, "I think the perception is that rock is not as healthy as it actually is. There's still a giant audience for rock and roll and metal."
Rock groups aren't really made for today's pop culture climate; bands tend to take a long time to make records, whereas pop and hip-hop acts can turn songs around quickly and drop them on SoundCloud that same day. Rock doesn't perform as well on streaming services as other genres. And Taylor says, "The perception is that rock is dying and going away, and that's only because our music and the way the culture is, it's just not designed for the type of fast food streaming bullshit that pop and hip-hop enjoy. We're more of a lifestyle genre. We always have been."
"With us, there's a longevity," Taylor says, and there's truth to that. Alice In Chains and Tool were relatively new bands when they toured together on Lollapalooza in 1993, and both bands still play large venues. That's not true of most stars of pop music, dance music, or hip-hop from '93. " We've outlasted every fucking trend. Rock never dies, and it never 'comes back.' It just ebbs and flows. It peaks and it lowers."
Lzzy Hale adds, "I'm literally the busiest I've ever been, and we're playing all over the world. I get to see, first-hand, the people that show up to these festivals and just how massive it is. So from my perspective, rock is doing just fine. Is it the most popular thing in the world like it was back in the mid-1980s and early '90s? No. but that's just because there's always a cycle."
"Nothing drives the fact home that rock is alive and well more than walking into a sold-out Mapfre Stadium for Rock on the Range year after year," Gonzales says. "I love the sense of community. There's a place for those other festivals, but a Danny Wimmer Presents rock festival feels like home with your buddies."
So: yes, rock is still healthy. As Wimmer says, "There was an open lane in rock and roll, and we saw it. And, everybody was ignoring it, and everybody was saying, 'Rock is dead.' We banned that phrase."
Danny Wimmer and Gary Spivack were interviewed by Josh Bernstein.
Brent Smith and Sully Erna were interviewed by Chad Childers.