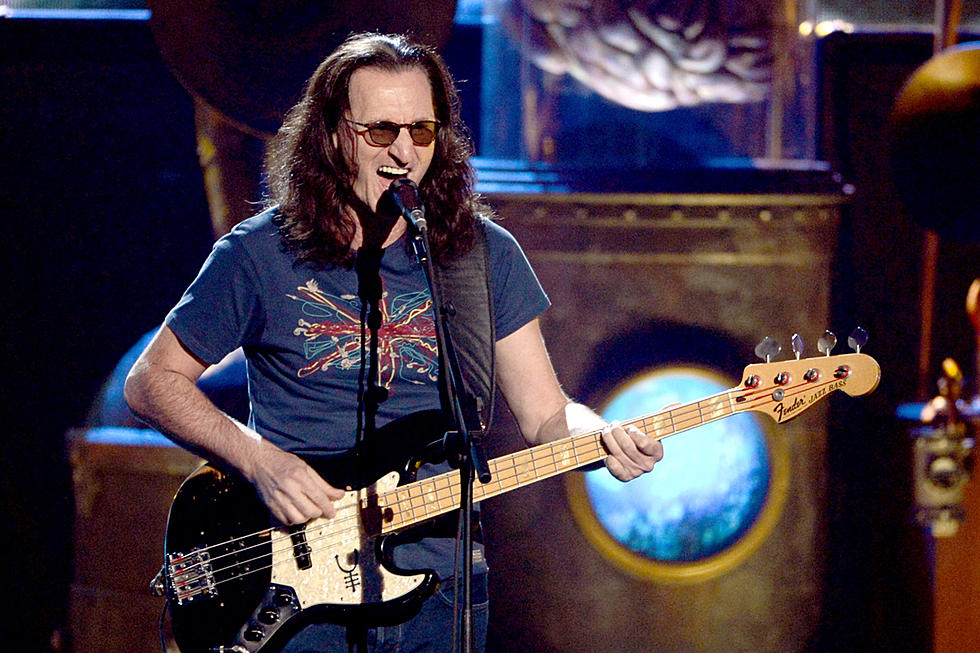 Rush's Geddy Lee Auctioning Six Stellar Guitars From His Collection
Kevin Winter, Getty Images
"For the words of the prophets were written on the studio wall / Concert hall / And echoes with the sound of salesmen," Geddy Lee once sang with Rush. Now Lee is ready to part with some of the tricks of his trade, turning "salesman" himself for a new auction.
The iconic Rush bassist has teamed up with Mecum Auctions to make available select instruments from his prized guitar collection, and someone's going to walk away with some pretty stellar instruments.
While working on a book detailing his own collection, Lee stated that he felt it was time "to reunite a select few of his finest string instruments with talented musicians around the world who can help these works of art fulfill their original and intended purpose of making art," according to the press release on the auction.
The bassist is serving up a small selection of six blue-ribbon, coveted classic guitars from his private collection at the Las Vegas-based auction this Oct. 10-12. It's highlighted by a "holy grail" Les Paul Gibson from 1959, while other items on the block include a 1960 Gibson ES-345 electric guitar, a 1955 Fender Stratocaster electric guitar, a 1960 Gibson ES-355 electric guitar, a 1965 Gibson ES-335 electric guitar and a 1967 Gibson Flying V electric guitar. You can get a closer look at the items below.
"For me, the bass was a tool for most of my career," Lee explained. "I only wanted to use basses that fit into my idea for the sound I wanted to achieve. It was a sound that served my identity as a bass player, so I disregarded any instrument that didn't fit into my parameters of how I saw my sound coming across." But after Rush's final tour in 2015, the longtime bassist started to evolve his fascination with collecting classic guitars.
Lee said his initial goal in seeking out historic and collectible guitars was to acquire a dozen or so guitars that would each pay homage to his personal bass-playing heroes. But over time, his interests grew, and he soon found himself purchasing guitars from brands he'd never even experimented with, some of which were built before he even knew how to play.
The highlight of his upcoming offering in Las Vegas is a special-edition Gibson often referred to as the holy grail of guitars: a 1959 Les Paul Standard with Sunburst finish. Produced for just three years, the Les Paul Standards, built by Gibson, are considered by many to be the pinnacle of the American electric guitar, and they rank as the most collectible vintage guitars on the market. All six of the instruments are considered to be worthy investments that now also have a tie to Lee in their history.
To dig a little deeper on the look and specifications of each instrument and to place your bid, head over to the Mecum auction site here.
Geddy Lee Mecum Auction Guitars
Where Does Geddy Lee Rank Among the Top 66 Hard Rock + Metal Bassists of All Time?