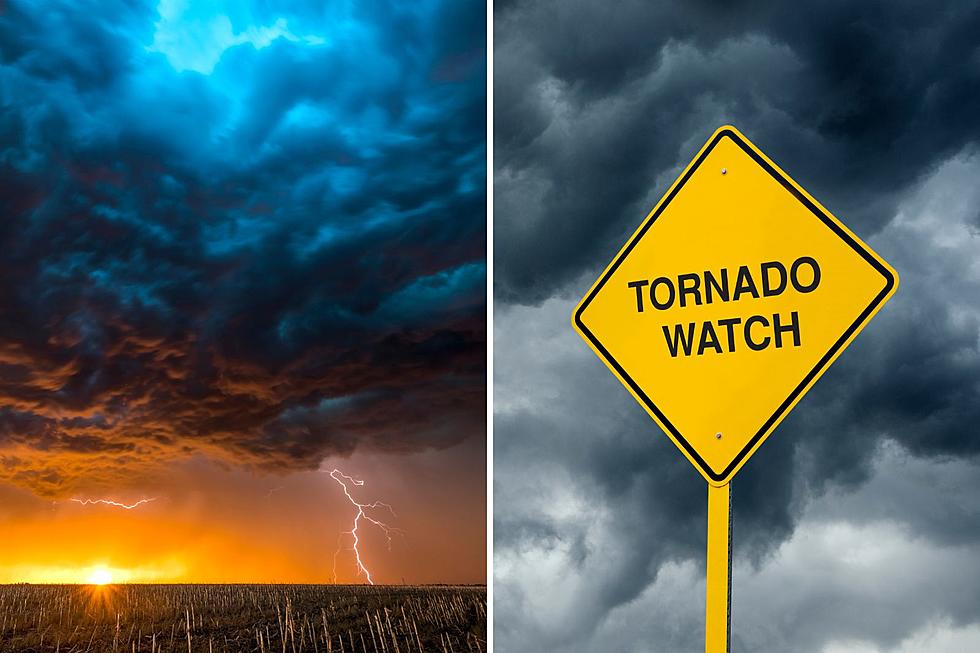 Severe Storms And Low Tornado Risk Predicted For Oklahoma Thursday
Canva
It's looking like Thursdays are the preferred days for severe weather in Oklahoma this spring. For this week, Thursday, March 30, is predicted to bring in severe storms with a low tornado risk for most of Oklahoma.
According to the National Weather Service in Norman, storms are expected to ramp up after 6 p.m. Thursday, last through the overnight hours and into Friday. As of Wednesday, March 29, the storms are expected to bring golf-ball-size hail and wind speeds anywhere from 60-80 miles per hour. These storms are expected to affect much of Oklahoma to end the week.
And as of Wednesday, the tornado potential for Thursday is low or very low. But, of course, during spring in Oklahoma, you can never 100 percent rule out the possibility of a tornado. I've seen Oklahoma spring days where it starts out beautiful and sunny, and then in a blink of an eye it gets dark and the sirens go off. Oklahoma weather definitely keeps you on your toes! Which is probably why we talk about it so much...
After the severe storms move through, dust storms and fire danger are on tap for Friday.
And in true Oklahoma fashion, we'll finish out the week with high winds, which will increase the chances for fire and dust storms in some places. Wind gusts for much of the state are expected to get up to 50 miles per hour Friday, March 31. High winds plus dry conditions makes it the perfect recipe for wildfires. So be careful not to cause any sparks Friday!
Also, high winds and dry conditions can cause dust storms! Some are predicting that the Oklahoma panhandle and Northwest Oklahoma are most likely to see dust storms Friday.
Things You'll Need in Your Oklahoma Tornado Prep Kit
Even though the odds of your life being affected by a tornado are extremely thin, there's no harm in being prepared with basic necessities. Even if the storm misses your home you could still find yourself without power or water for days to weeks. Here's a quick rundown on the basics every home should have for tornado season in Oklahoma.
The Very Best Out-of-Context David Payne Quotes
Oklahoma's favorite weatherman gets so excited when tornadoes break out, he lets his mouth run just as wild as the weather.