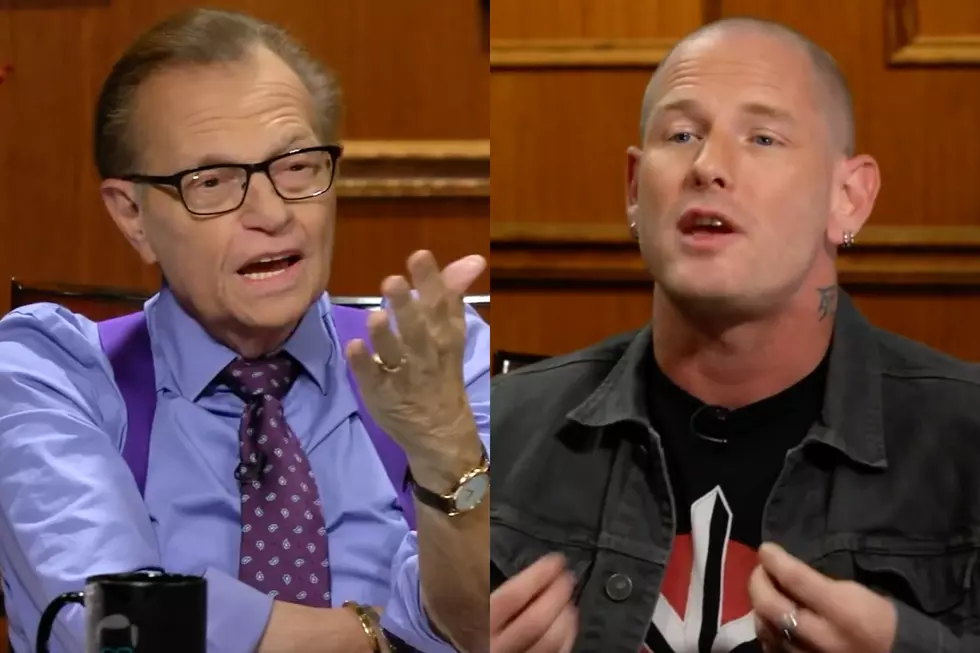 Slipknot's Corey Taylor Shows Off His Mask + Discusses Paul Gray During Larry King Interview
YouTube: Larry King
Slipknot frontman Corey Taylor sat down with Larry King to discuss the band's new album, moving on with new bandmates, comparisons to Stone Sour and more. Taylor also answered fan questions via social media and showed off his new Slipknot mask.
Taylor opened up on Larry King Now about the emotional roller coaster of recording Slipknot's first new album in six years following the death of bassist Paul Gray and the ousting of drummer Joey Jordison. He unveiled his new mask, which King called "considerably scary" and put it on, giving fans a unique opportunity to see him strap it on his face and show off its multiple layers.
Later, King directly asked Taylor about the death of Paul Gray. Taylor called the time "very dark and very, very heavy." He said when they found out there was a "dense numbness that kinda descended on us."
He also asked what Gray would think of the new album. "I think he would've loved it," Taylor said. "I mean, it's essentially the story of the last four years, dealing with the aftermath of his death and all of us trying to kind of get back to a place where we wanted to make music again."
Taylor also shared his goal for Slipknot's new album '.5: The Gray Chapter' saying, "I want it to show that our genre is still very much alive. Obviously, Gene Simmons is very famously quoted as saying, 'Rock 'n' roll is dead.'" He continued, "I think he's got a point but at the same time you have to use the new technology to your advantage and I think we are going to show people that you can still use the technology and still have something in rock and roll."
The singer fielded questions from fans via social media. One asked which song is the most personal on the new album. Corey said, it is a toss up between 'Skeptic,' which is "pretty much about Paul [Gray]," and 'Goodbye,' which is about the day he died.
Another asked how hard it was moving forward with a new bass player and drummer. Taylor said, "When you're writing and recording you kind of have to develop a so you can communicate and get to the point be able to create the music."
Corey Taylor on Larry King Now
"The