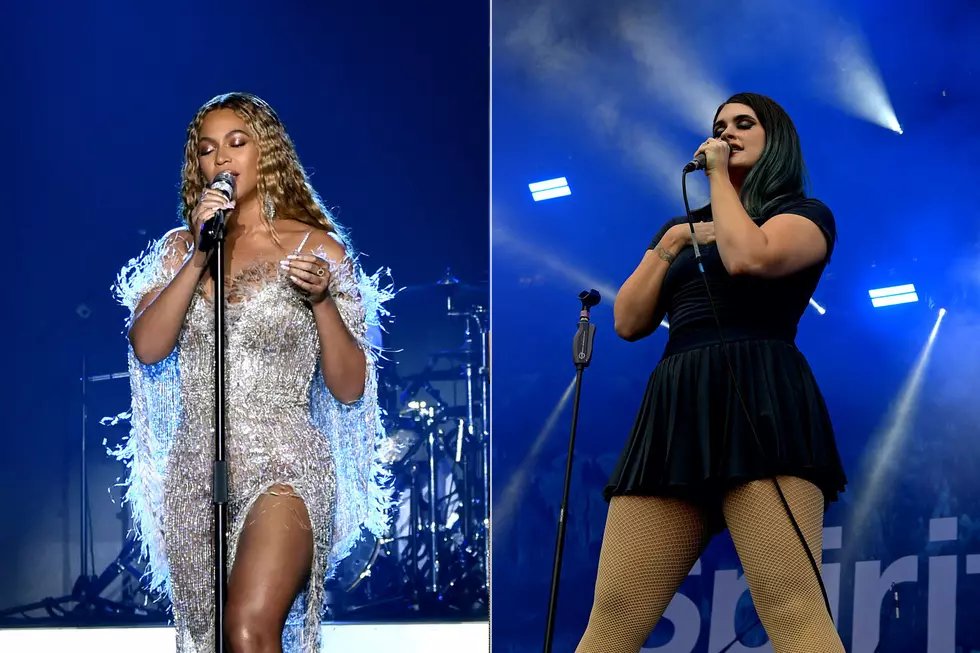 Spiritbox's Courtney LaPlante Responds to New Beyonce Song
Kevin Mazur / Didier Messens, Getty Images
Spiritbox lead vocalist Courtney LaPlante is undoubtedly a big Beyonce fan, going by the metalcore musician's effusive Twitter reaction to the pop singer, actress and cultural figurehead's new dance single "Break My Soul" after it emerged on Monday (June 20).
And LaPlante's fandom seemingly goes beyond the surface. Because in the house music-indebted new Beyonce tune, the lyrics' narrator attempts to overcome the drudgery of everyday work life. Indeed, the former Destiny's Child member sings, "I just quit my job / I'm gonna find new drive / Damn, they work me so damn hard."
In her tweets this week, LaPlante suggests she agrees.
"NEW BEYONCE AHHHHHHHH," the Spiritbox vocalist jokingly tweeted Tuesday (June 21). In a follow-up, she added, "I hereby quit my job as she tells me to in this song thank you for all the support but I quit." (Editor's note: LaPlante is clearly joking and not leaving Spiritbox.)
It's been a good run. Spiritbox's Eternal Blue was Loudwire's 2021 Album of the Year, not to mention a favorite debut of that year. It features the songs "Holy Roller," "Constance," "Circle With Me, "Secret Garden" and "Hurt You." Spiritbox also made Loudwire's 2021 Best Metal Songs and Best Metal Albums lists. See Spiritbox tour dates here.
Hear the Beyonce song and read its lyrics under LaPlante's tweets.
Spiritbox's Courtney LaPlante Reacts to New Beyonce - June 21, 2022
Beyonce, "Break My Soul"
Beyonce, "Break My Soul" Lyrics
You won't break my soul
I'm telling everybody

Now I just fell in love
And I just quit my job
I'm gonna find new drive
Damn, they work me so damn hard
Work by nine
Then off past five
And they work my nerves
That's why I cannot sleep at night

I'm looking for motivation
I'm looking for a new foundation, yeah
And I'm on that new vibration
I'm building my own foundation yeah
Hold up, ooh baby baby baby

Imma let down my hair
'Cause I lost my mind
Bey is back
And I'm sleeping real good at night
The queens in the front and the doms in the back
Ain't takin' no flicks
But the whole click snapped
It's a whole lot of people in the house
Trying to smoke with the yak in your mouth

And we back outside
You said you outside
But you ain't that outside
Worldwide hoodie with the mask outside
In case you forgot how we act outside

Got motivation
And I found me a new foundation, yeah
I'm taking my new salvation
And Imma build my own foundation yeah
Ooh baby baby

If you don't seek it
You won't see it
That we all know
If you don't think it
You won't be it
That love ain't yours
Trying to fake it
Never makes it
That we all know
You can have the stress
And not take less
I'll justify love

We go 'round in circles
Round in circles
Searching for love
We go up and down
Lost and found
Searching for love
Looking for something that lives inside me
15 Rock + Metal Bands Featuring Kids of Rockstars