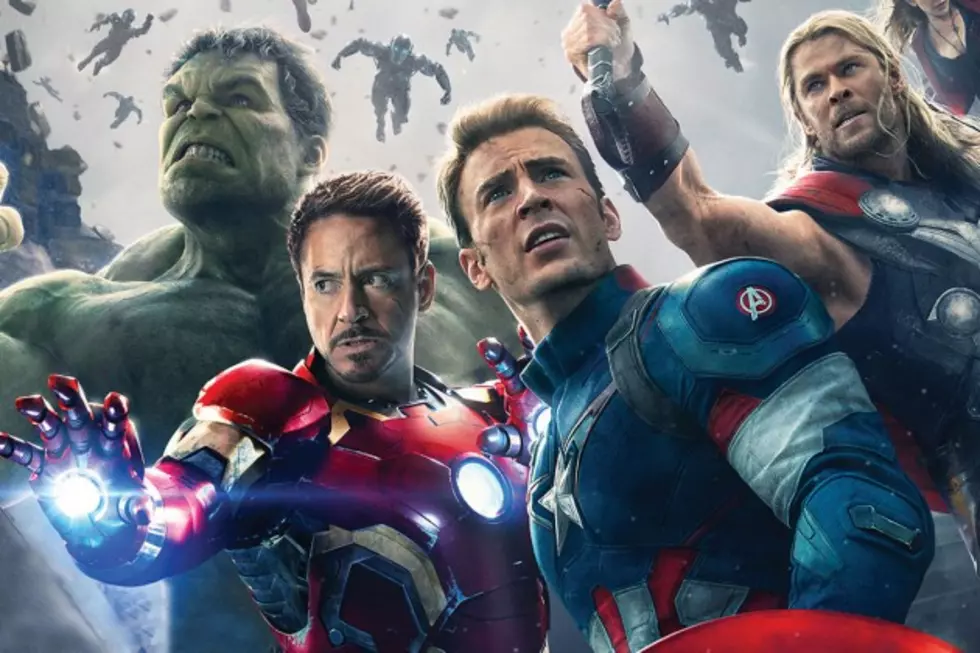 Weekend Box Office Report: 'Avengers: Age of Ultron' Has the Second Biggest Opening of All Time
Marvel
There's a bizarre narrative floating around the internet: Avengers: Age of Ultron is already a disappointment because it didn't open higher than The Avengers in its first weekend. This seems to be ignoring the fact that The Avengers had the biggest opening of all time and Avengers: Age of Ultron now has the second biggest opening of all time, which is nothing to scoff at. Sure, the sequel may not match the numbers of the first movie in the end, but it's already well on its way to becoming one of the biggest movies of the year. And of all time.
Film
Weekend
Per Screen
1
Avengers: Age of Ultron
$187,656,000
$43,886
$187,656,000
2
The Age of Adaline
$6,250,000 (-53%)
$2,090
$23,424,000
3
Furious 7
$6,114,000 (-66%)
$1,850
$330,538,000
4
Paul Blart: Mall Cop
$5,550,000 (-62%)
$1,564
$51,186,000
5
Home
$3,330,000 (-59%)

$1,157
$158,132,000
6
Cinderella
$2,357,000 (-15%)
$1,670
$193,650,000
7
Ex Machina
$2,230,000 (-58%)
$1,744
$10,868,000
8
Unfriended
$1,987,000 (-68%)
$895
$28,531,000
9
The Longest Ride
$1,700,000 (-60%)
$804
$33,240,000
10
Woman in Gold
$1,681,000 (-50%)
$1,493
$24,588,000
With an opening weekend of $187 million, Joss Whedon's superhero epic fell $20 million short of the $207 million made by The Avengers in its first three days. Since Iron Man 3 opened to $174 million in 2013, that means that the top three biggest openings of all time are films from Marvel Studios. That's impressive before you take international grosses into account and Avengers: Age of Ultron has already made more than half a billion dollars around the world.
Right now, the big question is how much the film is going make in the long run. The first film tripled its opening weekend, earning $623 million when all was said and done. If the sequel manages to triple its opening, that would mean a rough estimate of $561 million, which would launch it into the top 10 highest grossing moves of all time. However, that is far from a sure thing. This is looking like a very busy summer for massive movies and while $400 million is guaranteed, $500 million may very well turn out to be a battle. After all, this Avengers outing lacks the same element of freshness that accompanied the original, and reviews and audience reactions have been a bit more fickle. It's going to do well. It's going to crack a billion and then some worldwide. It just won't match the first one. And that's okay. No one at Marvel is going to get too angry when their movie only a makes a little over a billion.
As expected, the arrival of Avengers: Age of Ultron kneecapped the rest of the box office and almost every film in release suffered a drop of 50% or more. However, there were a few noteworthy surprises.
First, Age of Adaline managed to outgross Furious 7 with $6 million, bringing its current total to $23 million. Granted, it outgrossed it by pennies, but that's still an accomplishment for a smaller film surrounded by such behemoths. Meanwhile, Furious 7 cracked $330 million.
Interestingly, Cinderella found itself catapulted back into the top 10, dropping only 15% and grossing over $2 million. Suddenly, the film's quest to reach $200 million suddenly seems totally achievable. It just needs another weekend in the top 10 to all but secure it.
And while Paul Blart: Mall Cop 2, Home, Unfriended and The Longest Ride simply took up space, Ex Machina and Woman in Gold continued to to do solid business in their smaller releases, acting as counter-programming to all of the superheroes. A Helen Mirren drama and a tiny indie sci-fi movie making $24 million and $10 million, respectively, in the face of the Avengers is downright heroic.