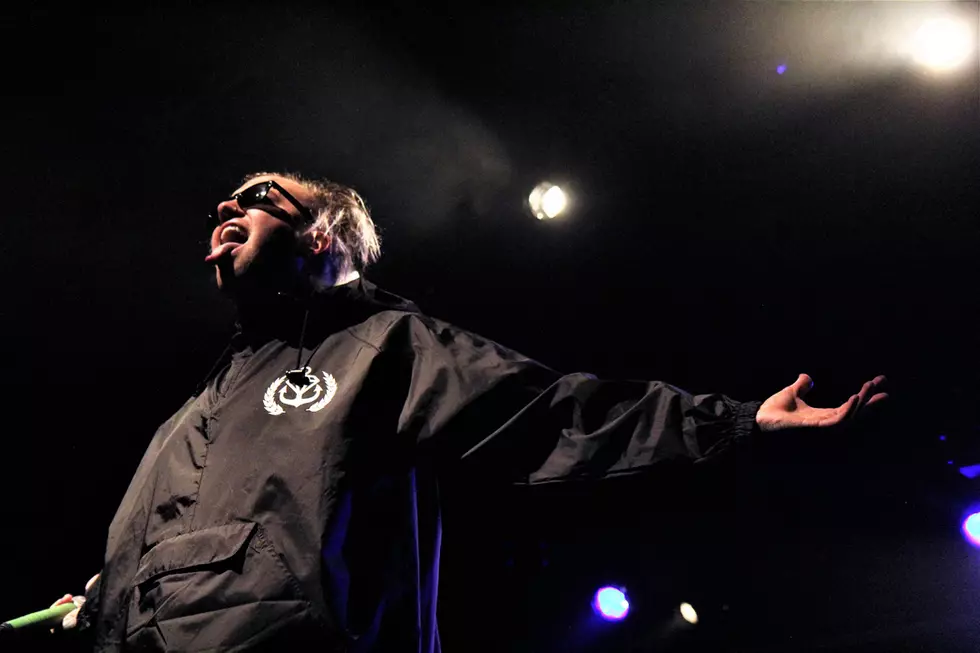 Attila Bring 'Chaos' to New York City With Bad Omens, Cane Hill and Vesta Collide [Photos + Review]
Liz Ramanand, Loudwire
The first rule of an Attila show is that there are no rules. Known as villains, Attila fans flocked to Irving Plaza in New York City for a party during the band's Let's Get Abducted Tour.
Detroit band Vesta Collide opened up the show, jumping on the tour in place of New Years Day, delivering a lively set. After performing tracks from their debut album, New Obsession, they might even be the new music obsession of some Attila fans that were in the crowd.
Next up were New Orleans metal group Cane Hill, who mix elements of nu metal and metalcore from the Slipknot, Marilyn Manson and Korn schools of music. Frontman Elijah Witt flipped the script on fans as he said that he expects better from them and the New York crowd certainly delivered. The band's forceful set brought crowdsurfers alive and the fans eventually won over Witt as he said "I'm so f—ing proud of you" to the sweaty swarm.
The air in Irving Plaza became thicker and hotter as Bad Omens hit the stage. With only a few years under their belt, the band performed like a well-oiled machine, cranking out tunes from their self-titled debut. Tracks like "Broken Youth" and "Glass Houses" bring memorable Bring Me the Horizon-esque choruses that are bound to get stuck in your head. These Los Angeles boys certainly recruited some New York fans to their Bad Omens cult, leaving fans anxious to see what comes from them next.
Attila hit the stage and aptly began with their new track "Let's Get Abducted," cut from their latest release, Chaos. Other fresh tunes that filled Irving Plaza included "Bulletproof, "Moshpit," "Ignite" and "Public Apology." Attila's little villains began to chant the infamous lyrics "Suck My F--k!" but the humorous frontman Chris "Fronz" Fronzak shut it down, telling the crowd to suck his f--k.
Fronz continued to joke throughout the set, but one thing he didn't joke about was inviting fans onstage. Two fans, one known as "The Horny Chicken Dance Guy" and the other known as "Birthday Boy" sang "Payback" with the band onstage. The night ended with "Proving Grounds" off of the Guilty Pleasures album.
The band's live atmosphere is one of chest-beating bravado and the rage-aholic villains showed up to sing, drink, smoke and party because Attila and their fans are just all "About That Life."
Check out our photos in our gallery above of all of the bands performing in NYC and check out remaining "Let's Get Abducted" tour dates here.
Attila, "Lets Get Abducted" Music Video