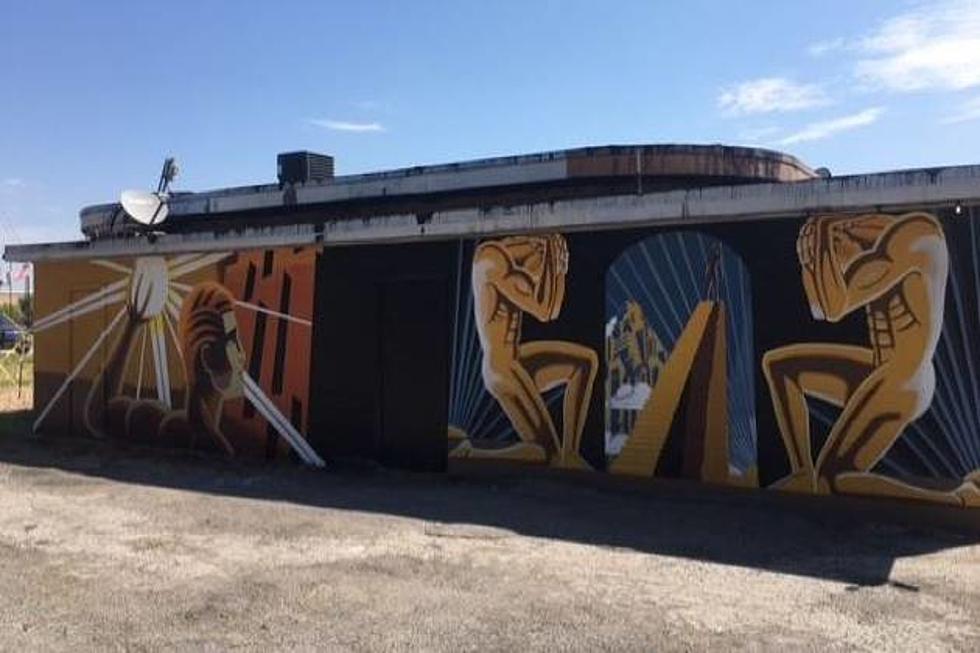 Check Out Lawton, Fort Sill's Newest Mural
TSM Lawton: Critter
There's a new mural in Lawton, Fort Sill. I'm pretty sure it's the Shaw Brothers' work, but I could be wrong. It's an amazing piece and you'll find it right off 2nd street. This one takes up the whole back of the building.
SCROLL DOWN TO SEE LAWTON, FORT SILL'S NEWEST MURAL
It's located on the rear of The Side Bar at 201 N.W. Arlington Avenue, near the corner of 2nd and Arlington. We stopped by there today to take a look around and see it for ourselves. Pictures don't do it justice.
Not too sure if they plan to paint the remaining parts of the building and wrap the mural around. If so it would be the first full four-wall mural in town. Or at least I think so. We have some incredible murals in Lawton.
You'll find Lawton, Fort Sill's newest mural at The Side Bar

201 N.W. Arlington Avenue
I love driving around town and seeing all the murals and every so often a new one pops up like magic. Somehow I always miss seeing them work on these murals and end up seeing them when it's all finished.
KEEP SCROLLING TO SEE MORE MURALS AROUND LAWTON, FORT SILL
They're like paint ninjas. One day there's a blank wall, the next a fully painted mural, or two. I'm blown away by the detail and color of the mural, it's epic. The Shaw Brothers have outdone themselves once again.
Stop by The Side Bar

201 N.W. Arlington Avenue

to check out Lawton's newest murals
If the Shaw Brothers sound familiar that's because they've painted several of the murals around town. Both are accomplished artists and if you've been in Lawton a while I'm sure you've heard of them before.
CHECK OUT THE DREADFUL DOWNTOWN HAUNTINGS OF LAWTON, FORT SILL BELOW
They are responsible for some of the most incredible murals and are always on the lookout for new places and walls they can paint. I'm a big fan and always look forward to seeing their work.
Makes you wonder what's next. We're lucky to have such talented artists in Lawton, Fort Sill. Even luckier to be able to enjoy all their hard work and murals while out and about. Looking forward to the next one.
Where to Find the many murals by Justin Hackney's Spreading PAINT in Lawton, Fort Sill.
If you've driven around town you've probably seen all the murals we have in Lawton, Fort Sill. If you take the time to look you'll notice that they're everywhere. We're lucky to have so many talented artists that share their work with us regularly by painting murals. One name you've probably heard before is Justin Hackney and
Spreading PAINT
. His work of masterful murals can be found all over town. He's done some of the very best and has painted everything from rock stars to celebrities and everything in between. He has a style all his own and has painted murals in full color, vivid transposed negative style, and in black and white. Be on the lookout for his latest mural masterpiece he's going to keep painting them so long as people want them and there's wall space. Looking forward to seeing his next one! Check out the gallery below of Justin Hackney's Spreading PAINT murals and where to find them. We'll continue to add to the gallery as he paints them.
The Dreadful Downtown Hauntings of Lawton, OK.
When it comes to ghost tales and hauntings Lawton, Fort Sill has more than a few scary stories to tell. The most active hauntings and paranormal/supernatural occurrences that have been reported seem to be centered around downtown Lawton. If you've lived here a while I'm sure you've heard a few of these terrifying tales yourself. If not check out the photo gallery below of the dreadful downtown hauntings of Lawton, OK.
Things To Do In Lawton - Fort Sill
Odds are, if you live here long enough, you'll simply forget how much awesomeness surrounds this community. It's like getting tired of an old toy, the new simply wears off... but, no matter what time of year it is, here are some things to do when you come to Lawton - Fort Sill
16 Oklahoma Phrases That Would Stump Out-of-Towners
Every state seems to have its own way of talking. Here are a few of the more common phrases that'll have you wondering what Okies are saying.