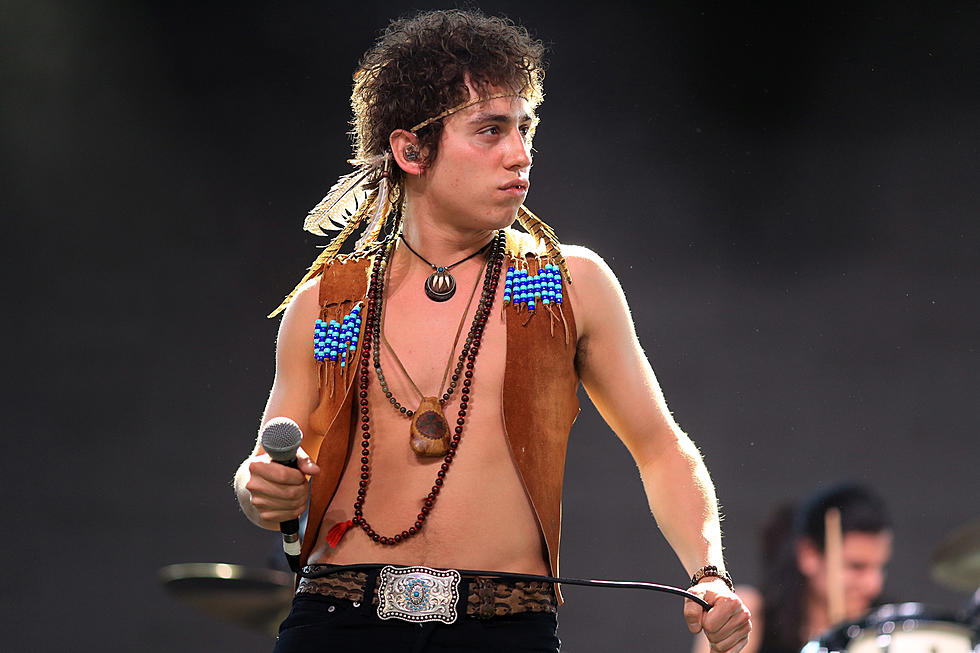 Greta Van Fleet + X Japan Rock Coachella, Plus News on Brian Vodinh, From Ashes to New + More
Christopher Polk, Getty Images
In addition to the big stories we covered today, Wire-to-Wire provides you with some of the other key rock and metal news items from April 17, 2018:
- Footage from Greta Van Fleet's Coachella performance has arrived, with video of "Black Smoke Rising" and "Lover Leaver Taker Believer" now posted. The band will return for their second Coachella appearance this Friday (April 20).
- It was also a big Coachella debut for X Japan this past weekend, with the band joined onstage by Wes Borland and GN'R's Richard Fortus also making a guest turn. The group's set also included holograms of two of their deceased band members -- Hide and Taiji. The band will be back at Coachella this Saturday (April 21), with Yoshiki promising even more surprises. They're filling the time in between this week with a screening of We Are X at the Grammy Museum tomorrow (April 18) night.
- 10 Years guitarist Brian Vodinh is stepping out for a new solo album. Under the moniker Brave the Royals, he's released a new EP titled Dreamer. "Now that 10 Years has been around for a long time and has deeply planted roots, it's comfortable for me to embrace a side project and all my brothers in the band as well as professional associates have welcomed it as well, which is great to have that support," says the guitarist. A video for the title track can be seen here, and you can pick up the EP via iTunes.
- From Ashes to New are closing in on the release of their latest album The Future and they've just dropped another new song. Take a listen and look at the lyric video for the title track right here. The disc arrives this Friday (April 20).
- Another day, another new Pennywise song. Take a listen to "She Said" from the band's upcoming Never Gonna Die album right here. The album drops this Friday (April 20).
- With TesseracT's Sonder album set to drop on Friday (April 20), the band has unleashed another new song from the disc. Take a listen to the increasingly aggressive rocker "Smile" right here.
- Smile Empty Soul have issued a performance-based video from the studio for their moody new rocker, "Stars." Watch the clip here and look for the song on the band's Oblivion album, due May 25.
- While Ghost's leader has often been surrounded by "nameless ghouls," at least one of the ghouls now has a look differentiated from the others. In a new photo posting, you can spot the band's female member sporting a different mask from her cohorts. See here.
- Animals as Leaders are prepping a new live album release taken from their 2017 touring. Live 2017 is available in both trans orange with white splatter vinyl and coke bottle with black splatter vinyl. A late July release is expected.
- Melechesh founder Ashmedi has become the protagonist of a new interactive, graphic novel. Metal Depot have taken some of the band's lyrical content and come up with 130-page epic titled Emissary of the Anunnaki: The Tale of the Fire King. It's set to be released July 1 and you can get more details here.
- In a new posting from Stahl Entertainment, it's been revealed that Joe Lynn Turner has postponed all touring activities over the next few months. Turner was recently hospitalized in Belarus over a heart issue and according to the statement, the musician has not been allowed to travel or fly at the moment. Management is currently working to reschedule Turner's upcoming shows.
- The Rockin' 1000, who became viral sensations while trying to capture the attention of Foo Fighters to bring a show to Italy, will play a show in Florence, Italy on July 21 with special guest Courtney Love. More details can be found here.
- Here come Yob, chugging along with their brand new song "The Screen." Take a listen to the song here and look for the track turning up on the June 8 release of their Our Raw Heart album. You can pre-order the disc here.
- Vendetta Red are back and packing a punch with their new lyric video for "Encantado." Check out the clip here and look for the song on their Quinceañera album.
- Get that double kick going! It's time to rock out to the new video from LIfecurse for their song "Buzzard Bait." Watch the clip here and look for the song on their upcoming album, The Wolf You Feed.
Loudwire Rock News