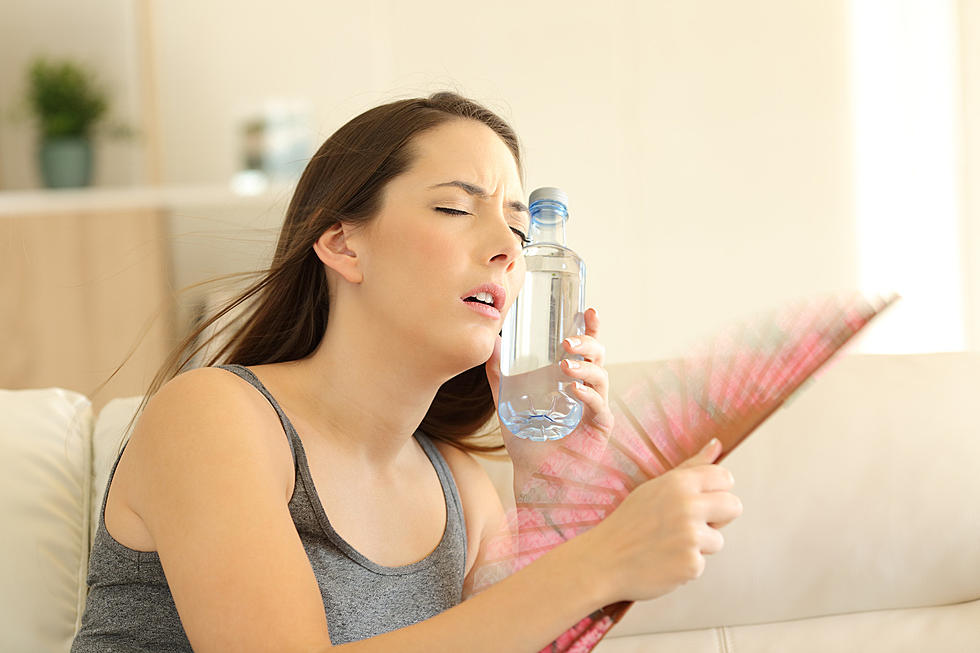 Have You Turned On Your Air Conditioner Yet?
AntonioGuillem
April is always a weird time of the year in my home. It's usually not hot enough to warrant using the air conditioner... but it's also not cold enough to use the heater either... so I leave the whole HVAC system off for the month and the whole thing becomes a sort of game of how long can I withstand not spending that energy money.
Before you ask, because everybody does, yes... There is a weird stale-air smell in a home where the air isn't moving around throughout the day. It's nothing to be ashamed about, you just let the plug-in air fresheners do their thing and the problem is solved.
Also, yes... It does get a little warm inside on those warmer days of the month. Particularly the day or two before a big cold front comes blowing in. How does one cope with a warm house, ceiling fans, and sleeping with only the top sheet.
Again, yes... I know your initial instinct is to say something like "I could never do that..." because that's usually what the first instincts are followed by at least one sister calling me "crazy" because I spend at least two months each year with the HVAC turned off... but it's ideal in my particular situation.
One of the big reasons I bought my house was the flooring, it's 100% tile throughout. The previous owners mistakenly bought and installed natural outdoor travertine tile for the inside, but it seals up just fine and acts as an energy battery... or at least I think the tile has something to do with why the house is naturally cool. I also had more-or-less sixteen inches of fluff insulation blown into the attic when I first purchased the home, so even on those extremely hot days the inside temp only sways four or five degrees when the system is off during the power hours during the summer.
Curiously enough, the last house I rented in town was the same. Good air conditioning system, lots of blown-in insulation, but it had those sticker-type fake-wood floors... It stayed cool even on those blisteringly hot days. Makes me wonder how many people are able to do the same thing.
I have a 91-year-old grandma that will be 92 in June that still lives in a home without air conditioning in Southwest Oklahoma. It was her parents' home and it's probably a hundred years or so old. Like most old homes, it has really tall ceilings to take hot air away from you at sitting level, and the doors and windows all have identical doors and windows directly across the home so you can take advantage of the cross-breeze.
Believe it or not, when it's 115° on a scorching August day, it's actually refreshingly cool in her house as the breeze flows through it with outside air. Of course, it's still too dang hot to sleep at night, but that's what the tiny little window unit in the living room is for, and why I always preferred the couch over the two other bedrooms.
While I still believe that air conditioning isn't a "requirement" to living in SWOK, I will say that most modern homes don't allow simple living like that. They're built too closed up and weather tight. If air can't move through the home, you need central air to do it for you. I once lived in a rental home here where the AC kicked on in March and didn't cycle off until Thanksgiving. I thought the low rent would save me money, but that $300 utility bill each month ate up those savings.
If you're renting and constantly seeing really high utility bills, it might be worth looking at getting into a nicer home. Yes, the rent will likely be higher, but if your savings on electricity and gas can offset that, you'll likely live on the same budget you're comfortable with, but in a nicer home.
Who wouldn't want that?
This last home is twice as big as that energy-killer home I rented... With something as simple as tile floors and an insulated attic, my level-pay is $58 a month keeping the thermostat on 68° year-round. You can find that too with the better landlords of Lawton.
If you decide to go looking for a new place to call home, instead of focusing on how fancy the decor is or trying to keep up with the (rival family), look at the HVAC system to see how new it is. Climb up the ladder to the attic to check for insulation. If it all adds up, imagine having a bigger, nicer home on exactly the same budget you're surviving on now...
15 More Amazing Southwest Oklahoma Hole-In-The-Wall Eats
It's far too easy to be lulled into thinking the same old chain restaurants are the "good" places to eat across Southwest Oklahoma. You won't find a single franchise on this list. It's all locally owned, locally run, sometimes a little run down, but you'll agree the meals are outstanding when you walk away with a belly full of the good stuff.
Fun & Kid Friendly Oklahoma Vacation Destinations
Far too often, some bored Karen whose only personality trait is complaining about everything will say something along the lines of "There's nothing to do in Oklahoma..." That's simply not true. There is a ton of stuff to do in Oklahoma that you and the kids will love, you just have to know where to find that stuff and have the gumption to hop off the couch and go do some of it.
New Oklahoma Laws On The Books In 2022
Over 350 new laws have taken effect in Oklahoma this year. It's practically impossible to keep them all organized and well known. Here's a shortlist of the new Oklahoma laws that will most likely affect you.