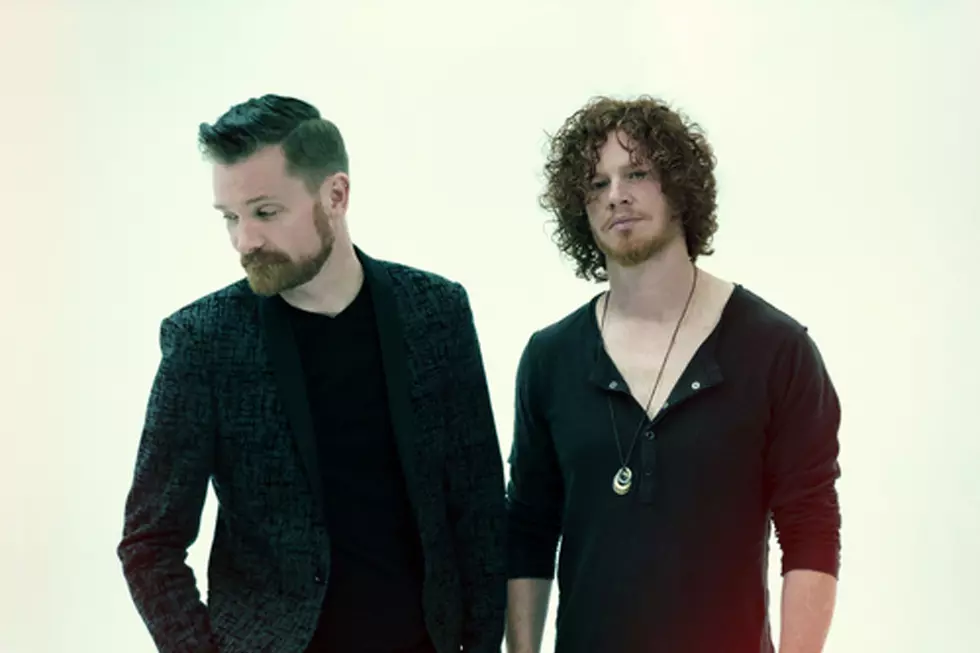 Hinder Duo Step Out for Dangerous Hippies Side Project
Courtesy of Dangerous Hippies
Two members of Hinder's lineup are spending the time between records launching a new side project. Drummer Cody Hanson and frontman Marshal Dutton have formed Dangerous Hippies, unleashing a new song titled "Whoa" that will be the first of more music to come.
The decision to form the group came about organically, with the pair initially approached to write music for a commercial in 2011 that was in the vein of The Black Keys. After the song was finished, they got feedback from friends that inspired them to further continue what they had started.
Hanson recalls, "We were very inspired and were having a blast, so we decided to write more in the same style. It seemed to come naturally and since it had a more raw feel, we could spend more time on writing and less time polishing in the studio."
In the years since that initial commercial pairing, the duo have evolved their sound to include a variety of influences from rock to pop, from hip-hop to folk and even incorporating some reggae into the mix. Their initial offering that they're sharing is a track called "Whoa" that can be heard in the Spotify player below.
Meanwhile, Hanson says Hinder fans shouldn't worry about their outside work as they intend to continue with their primary gig. "Dangerous Hippies was never intended to be a replacement for Hinder. Hinder will continue to tour," says the drummer, adding, "However, Marshal and I feel that we have grown as songwriters and producers. We don't want to be stuck in the box of the 'active rock' genre forever. We feel that it's time to get some of the music that we've been working on for so many years out to the world."
The pair reportedly have a full album's worth of material and want to release it as soon as they can. "We don't want this to be just another side project that releases a song/album and then disappears," says the drummer. "We plan on taking the time to build this the right way and to build the fan base that will appreciate this new style of music."
Stay tuned for more info to come from Dangerous Hippies, while Hinder are expected to also have some major announcements in 2020. In the interim, both Hanson and Dutton will be in their familiar spots, closing out Hinder's year on the road in December. See their tour dates below and get ticketing info here.
Dangerous Hippies, "Whoa"
Hinder Tour Dates
Dec. 7 - Harrison, Ohio @ Blue Note
Dec. 28 - Fort Wayne, Ind. @ Flashback Live
Dec. 29 - Flint, Mich. @ The Machine Shop
Dec. 31 - Grand Bend, Ore. @ Gables in the Bend
Jan. 2 -  Nashville, Tenn. @ The Basement East
Jan. 3 - Little Rock, Ark. @ The Revolution Music
Jan. 29 - Las Vegas, Nev. @ Craig Ranch Park
Mar. 21 - Houston, Texas @ Warehouse Live
Top 100 Hard Rock + Metal Albums of the 21st Century