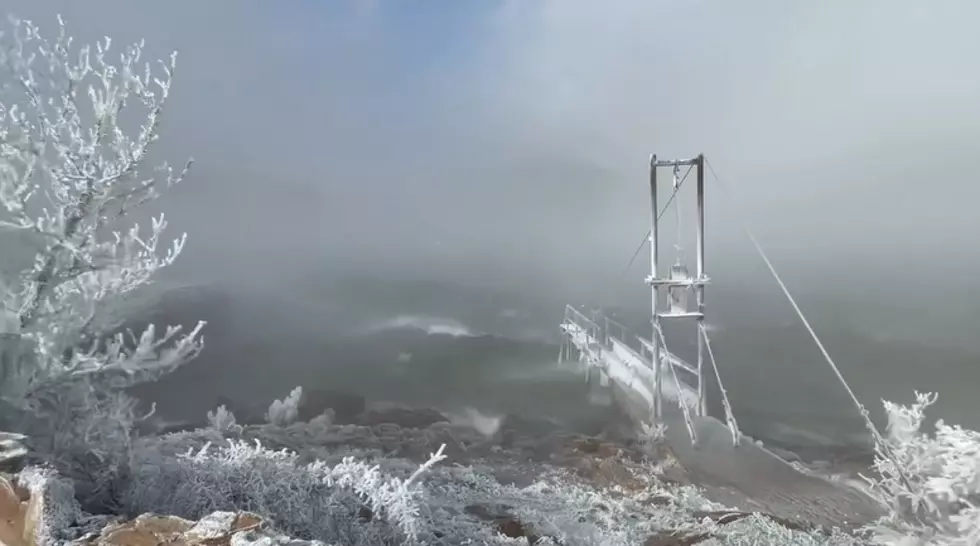 Lake Lawtonka Looks Like the Apocalypse
Discover Medicine Park Oklahoma
This wild arctic weather is creating quite a stunning situation at Lake Lawtonka.
Between the rolling white-capping waves, the unrelenting wind, and shockingly cold air and windchill temperatures, Lawtonka looks like the apocalypse is happening in real time.
You have to give credit where credit is due and praise the camera person. To be brave enough to go out in this weather to share a crazy spectacle with the people is somewhere on the scale between foolish and courageous.
If you're like most people, you're looking out the window thinking "I have to travel in this stuff..." looking into the weekend.
I have to make a drive a few hours north to be home for the holidays this weekend. While Lawton is unbelievably getting the light version of this storm, my entire route home is clogged with slick roads and tragic fatal wrecks.
As bad as it seems, odds are things will return to a more normal level by Saturday when the winds die down.
If you're planning on traveling, be smart and wait out this arctic blast. When you are finally able to get on the roads, dress as if you'll be stranded. Warm clothing, lots of layers. Plan for the worst in case Uncle Murphy tries to give you a Darwin Award.
The Frozen Wichita Mountains
When Southwest Oklahoma gets a rare blizzard with serious snowfall, the mountains take on a fresh and stunning look. It's something we all get to experience thanks to the video and camera work of a few awesome locals with a stellar YouTube channel,
The Pemberton Boys
. They flew their drones and explored the mountains across SWOK while the views were grand, putting it online for everyone to enjoy.
16 Oklahoma Phrases That Would Stump Out-of-Towners
Every state seems to have its own way of talking. Here are a few of the more common phrases that'll have you wondering what Okies are saying.
Top 10 Best Christmas Towns In Oklahoma
While Christmas may not always feel like Christmas in Oklahoma, we put on that holiday spirit all over the Sooner State. Here are the top destinations to find a little holiday cheer.
10 Oklahoma Hallmark holiday hometowns you can visit
Looking for someplace special to spend the holidays? The Sooner State has you covered with some of the best towns and cities to get into the Christmas spirit. If you've ever wanted to visit a place that feels like it came out of a Hallmark movie you're in luck! Check out these ten Oklahoma Hallmark holiday hometowns to experience the small-town charm and friendliness of some of Oklahoma's best-known holiday destinations. Each has its own unique traditions and holiday events that will surely get you into the spirit of the season. From amazing lights and displays to performances and festive family fun you'll find in the Sooner State.