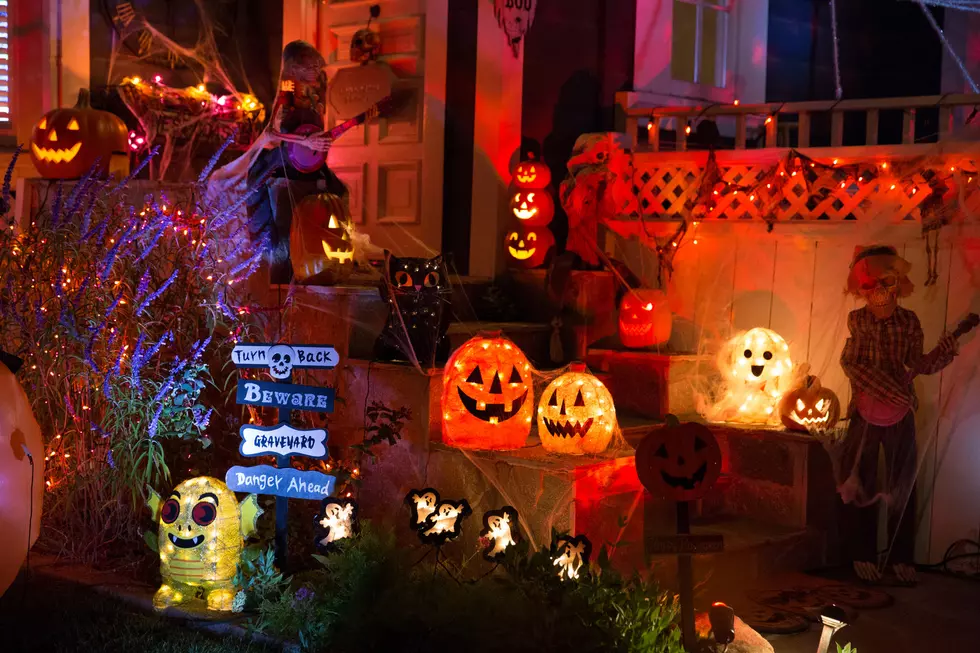 Lawton, Fort Sill 2022 'Halloween Happenings' Going on This Week
vzphotos
The City of Lawton has announced the 'Trick-or-Treating' hours for 2022 along with 2 special 'Halloween Happenings' that are going on this week. Looking forward to All Hallow's Eve and planned events. With Halloween falling on a Monday this year we'll be celebrating for several days.
The City of Lawton announced that trick-or-treating is scheduled for this Saturday, October 29th (10-29-22) from 6:00-pm to 9:00-pm. You can click here to get all the details.
Along with posting the official trick-or-treating date and hours, the City of Lawton also announced a couple of 'Halloween Happenings' that are scheduled for 2022. The first is 'One Night at Owens' this Friday, October 28th (10-28-22) from 4:00-pm until 7:30-pm. Check out the official event poster below:
Sounds like a great time and fun for the entire family. The upside to Halloween being on a Monday is we get the entire weekend. There will be all kinds of different events and opportunities to wear our costumes and score some candy! Instead of just one day, we'll get three whole days and nights to celebrate Halloween!
That's not all, the City of Lawton also announced the first ever 'Trunk-or-Treat' on Halloween night Monday, October 31st (10-31-22) from 5:00-pm to 7:00-pm at the Owens Center. So right now we have something scheduled for Friday, Saturday, and Monday!
There are TONS of local and area organizations, schools, businesses, and groups that will be hosting community events for Halloween. You might want to clear your calendar!
What's great is more often than not everyone tries to schedule their events to not overlap with each other. That way you can hit several 'Halloween Happenings' and not miss out on any of the candy, and fun. It's going to be a solid three to four days of costumes, candy, and family fun. Halloween 2022 is going to be EPIC!
Wait there's more! The City of Lawton will be hosting its annual Halloween Bash this Friday, October 28th (10-28-22) from 2:00-pm to 4:00-pm in the Banquet Hall at City Hall located at 212 S.W. 9th Street to kick off 2022 All Hallow's Eve weekend. To stay up to date with all the 'Halloween Happenings' hosted by the City of Lawton visit the official website, or you can check them out on Facebook. Have a happy Halloween!

Have some fall family fun at this Lawton, OK. pumpkin patch
Did you know Lawton, Fort Sill has a real pumpkin patch that you can visit to pick a pumpkin right off the vine? Not only that you can enjoy all kinds of fall family fun like a hay maze, photo areas, corn pits, and more!
Heritage Farm & Ranch
is located at
26432 State Highway 58 in Lawton, OK.
near the Wichita Mountains Wildlife Refuge and across from Lake Lawtonka. It's the perfect place to go for a quick day trip and to pick up some amazing eats, treats, gifts, and some of the best hot sauces, salsas, jellies, and jams. For more information and to plan your visit
check them out on Facebook
or at the
Heritage Farm & Ranch website
.
The top 10 Oklahoma scream parks & haunted attractions
From truly terrifying to kid-friendly and everything in between. Oklahoma has some of the biggest, best and scariest haunted attractions and scream parks in the country. If you're looking for some fall family fun check out these amazing attractions for a frighteningly good time! If haunted houses aren't your thing you could always
hit the pumpkin patches & corn mazes by clicking here
.
In alphabetical order here are your top 10 "best" or "scariest" Oklahoma haunted attractions & scream parks to check out this Halloween if you dare:
2022's Most Popular Halloween Costumes
It's not hard to guess which Halloween costumes will be the most likely to win you contest gold, you just have to look at the last year of entertainment out of Hollywood. With massive hits like Stranger Things, Top Gun, and whatever Jurassic Park their on now, 2022's Halloween costume offerings are a breeze.
The top 10 Oklahoma pumpkin patches & corn mazes
If you're looking for a place to go for a little fall family fun you're in luck! Oklahoma is home to some of the biggest and best pumpkin patches and corn mazes in the U.S. People from all over travel to the Sooner State every fall to visit these incredible farms. Not only do they offer pumpkin patches along with corn and hay mazes, they also have all kinds of other activities like petting zoos, rides, arts & crafts, food, games, haunted attractions, and a whole lot more. So no matter what your idea of fall fun is, you can find it all in one place!