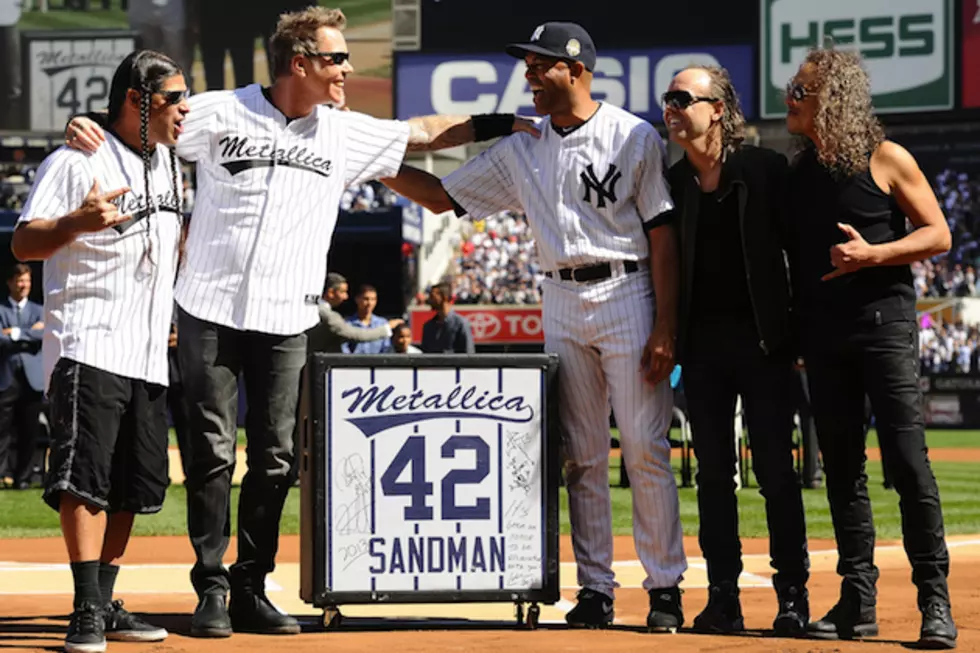 Metallica Rock 'Enter Sandman' for Mariano Rivera During Yankee Stadium Ceremony
Maddie Meyer, Getty Images
The day after rocking New York City's famed Apollo Theater, Metallica made their way to another historic Big Apple venue when they showed up Sunday (Sept. 22) at Yankee Stadium to rock 'Enter Sandman' in honor of New York Yankees great Mariano Rivera, who is retiring at the end of this season.
Between the Apollo gig the night before and an elaborate retirement extravaganza set to honor the Yankees dominant pitcher on Sunday, there was buzz in the air that Metallica might play the Rivera ceremony -- although it was never officially announced.
But after a bevy of Rivera's old teammates and family members were introduced near the pitcher's mound, Metallica appeared on a stage in center field and ripped their way through 'Enter Sandman' as Rivera walked from the outfield fence to the pitching mound. The live performance was more than fitting, as Rivera's entrance music has been 'Enter Sandman' since 1999.
After the their performance, which whipped the Yankee Stadium crowd into a frenzy, Metallica made their way down to home plate, where they presented Mariano Rivera with a custom amplifier that reads "Metallica 42 Sandman" in honor of the pitcher's uniform number. In addition, the San Francisco Giants, who played against the Yankees on Sunday, gave Rivera a custom guitar designed by Kirk Hammett and signed by baseball great Willie Mays.
Check out fan-filmed video of the Yankee Stadium performance below, followed by a link to our full recap of Metallica's Apollo Theater the night before.
Metallica Perform 'Enter Sandman' for Mariano Rivera at Yankee Stadium