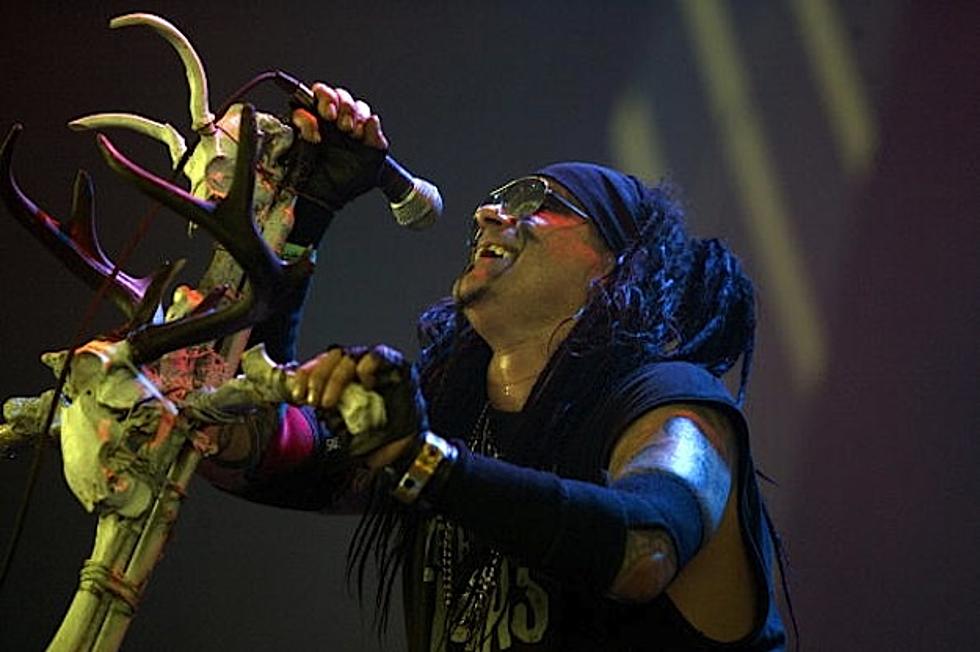 Ministry To Release Final Album 'From Beer to Eternity' in September
Paul Bergen, Getty Images
The death of Ministry guitarist Mike Scaccia hit the metal community like a brick to the face last year, as Scaccia succumbed from heart failure after collapsing onstage while performing with his other band, Rigor Mortis. Although the news was tragic for his fans, it was infinitely more heartbreaking for Ministry frontman Al Jourgensen, who has just announced that due to his best friend's death, Ministry's next album, 'From Beer to Eternity,' will undoubtedly be the band's last.
Jourgensen has made claims of finality in the past, having promised that both 'The Last Sucker' (2007) and 'Relapse' (2012) would both act as the second bookend for Ministry's discography. With the death of Mike Scaccia, however, it appears that Jourgensen's new claims are truly genuine.
"Mikey was my best friend in the world and there's no Ministry without him," Jourgensen tells Noisey. "But I know the music we recorded together during the last weeks of his life had to be released to honor him. So after his funeral, I locked myself in my studio and turned the songs we had recorded into the best and last Ministry record anyone will ever here. I can't do it without Mikey and I don't want to. So yes, this will be Ministry's last album."
Ministry jumped into the studio in December, working on riffs for a total of 18 songs only days before Scaccia's death. "This was one of the most creative Ministry tracking sessions ever. The band was on fire!" Jourgensen says. "We were having fun, we were coming up with great ideas and experimenting with everything we've ever wanted to do, from Stones-y blues to dub and, of course, heavy guitar-based rock. It was too easy. No fighting, no problems. Nothing goes that well without the floor eventually falling out."
Jourgensen returned to the studio in 2013, producing and mixing what would become 'From Beer to Eternity,' while penning the album's lyrics and laying down vocal tracks. "It was the most emotionally difficult project I've ever done, but it was the most rewarding," says Jourgensen. "Mikey was amazed with the songs when he was working on them, and I know he's looking down at us now and he's totally stoked with what we came up with."
As for live performances, Ministry chose to call it quits in mid-2012 after Jourgensen himself collapsed onstage, suffering from severe dysentery and exhaustion. Jourgensen has walked a thin line with his health for years, almost facing death from a ruptured ulcer in 2007. Although Ministry were, and still are, done with touring, Jourgensen is still open for one more night dedicated to Mike Scaccia. "Maybe we'll do one big show with Tommy and Sin and the guys who made this band possible for the past few years," ponders Jourgensen. "That would be a nice tribute to Mikey. But I can't do a whole tour without him. Ministry was his life almost as much as mine, and I'm afraid it has to die with him. But damn if we didn't go out with a bang!"
'From Beer to Eternity' is scheduled to drop in September. Check out Ministry's in-studio footage of the album's recording sessions below.
Ministry, The Making of….From Beer to Eternity