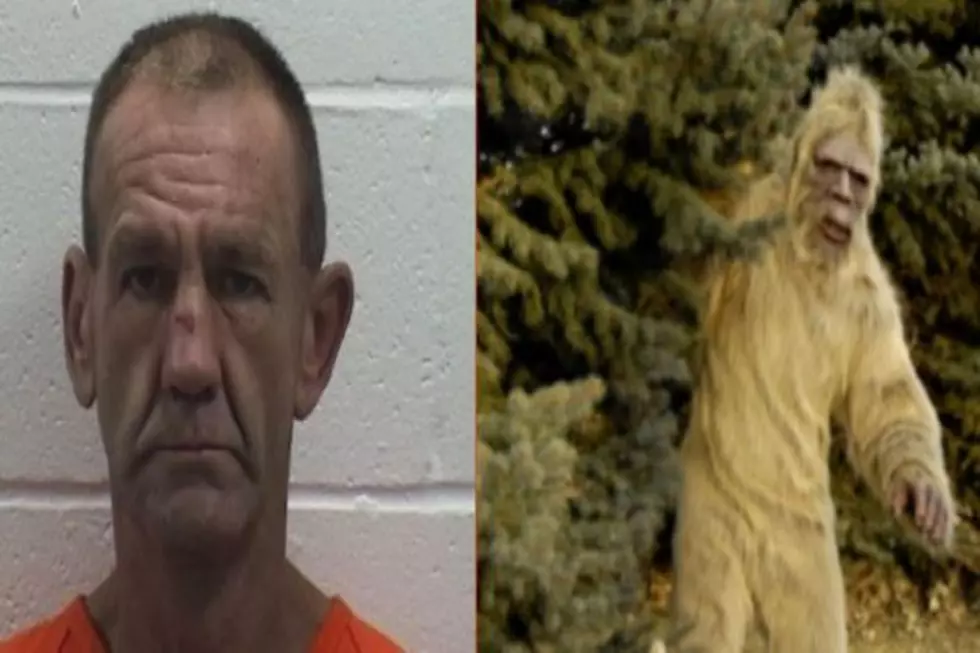 Oklahoma Man Kills Friend on Noodling Trip for Summoning Bigfoot!
OSBI- Larry Doil Sanders mugshot / Chris Rogers- Getty Stock, ThinkStock
This has to be one of the most bizarre, crazy, and messed-up murder cases in Oklahoma history! Normally when you hear a story like this your first thought is "well, more than likely this happened in Florida, that makes sense."  I feel bad for Florida, more often than not any stupid criminal story or crazy happening starts with, a Florida man or woman. Not to be outdone this Okie upped the bar bringing home the win for Sooners!
wwwSo what happened? Well, last weekend Larry Doil Sanders and his friend Jimmy Knighten were noodling on the South Canadian River right outside Ada, OK. If you don't know what noodling is it's catching catfish by hand, basically. Click here to learn all about the fascinating and wonderful world of noodling. Anyway, at some point, the 2 men got into a heated argument that turned violent. In the end, Jimmy Knighten was killed.
I know what you're thinking "This doesn't sound that weird." Well, you haven't heard the whole story yet, it gets better, or I should say worse. When Larry Sanders returned home from his noodling trip he told his family that he had killed Jimmy Knighten because he was trying to, and I quote "Summon Bigfoot to kill him so he had to defend himself." Needless to say, the authorities got involved quickly and the OSBI (Oklahoma State Bureau of Investigation) arrested Sanders and charged him with first-degree murder. I told you it was a crazy story!
Hit play on the video below from KTEN ABC Texhoma for the full report
So a guy who was out noodling with his friend killed him because he thought he had summoned Bigfoot. Does it get any more redneck and epically strange than that? I think not! I first heard about this while browsing the interwebs this morning. I stumbled across it on my Facebook feed. The story came from KTEN ABC Texhoma's official Facebook page and I couldn't believe what I was reading. I immediately thought "The Sooner State has just passed Florida in the weird as S#!t crazy criminal department...HANDS DOWN!"
The Pontotoc County Sheriff's Department stated "He appeared to be under the influence of something," Sheriff John Christian said about Sanders. "His statement was that Mr. Knighten had summoned 'Bigfoot' to come and kill him; that's why he had to kill Mr. Knighten." So Sanders was under the influence of something. This, this right here is why meth and noodling don't mix! Someone may attempt to summon Bigfoot!
I have to say this is the very first time I can ever recall hearing about a murder being committed due to someone trying to summon Bigfoot after a fight broke out while noodling. I could be wrong but I'm betting it's a first! Sadly Jimmy Knighten was killed and I feel terrible for his family and friends. Police were able to recover his body over the weekend on Sunday. From what it sounds like he was strangled to death.
See How The Ten Most Dangerous Cities In Oklahoma Rank
While some of Oklahoma's most dangerous cities may not be a total shocker, there are some real surprises on this Top Ten list.
Funny, Crazy & Unusual Street Names Found in Oklahoma
One thing's for sure, Oklahoma has a ton of funny, unusual, and downright crazy street names. Across the Sooner State in every town, city, and rural community you'll find hilarious streets and roads with some of the most bizarre names you can think of. When they were named, more than likely years ago, I'm sure no one thought they would be considered crazy or funny at the time. Well, times have changed! Now some of these street names had to be deliberately named by someone with a great sense of humor. At least in my opinion anyway. Scroll through the photo gallery to check out some of Oklahoma's funniest and craziest street names. If you know of a funny or crazy street or road name in Oklahoma take a quick photo of the sign and submit it to critter@townsquaremedia.com and we'll include it in the photo gallery below.
Top Mispronounced Towns That Show You're Not From Oklahoma
Just for funs, try to pronounce these town names before hopping to the phonetics...
Top 10 most terrifying towns & scary cities in Oklahoma
While Oklahoma is well known for its beauty and friendly people there are a few places in the Sooner State you'll want to avoid. These are the most terrifying towns and scary cities in the state. It's not that they're bad places, or plagued with crime and other negative factors. The towns and cities below have one single thing in common. They all have active paranormal and supernatural phenomenons. From ghost stories to urban legends and tragic tales. A lot of these places are well known to those who live in Oklahoma and even all over the nation. If you're looking to get scared or do a little ghost hunting you can start with the list below.