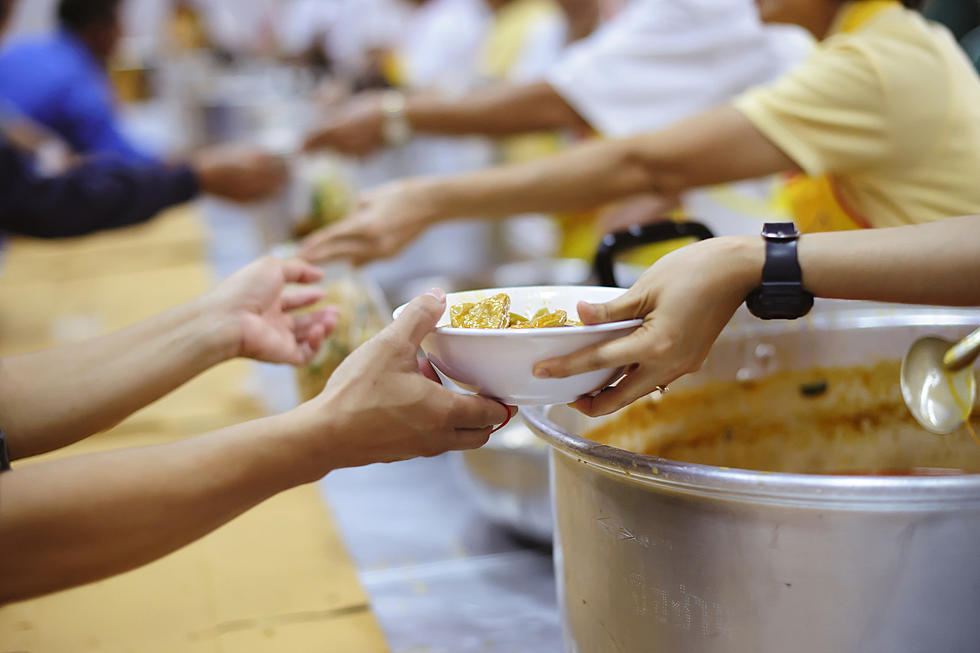 This Oklahoma Town Now Requires a Permit to Feed the Homeless
kuarmungadd
The citizens of this Oklahoma town are very angry and upset with their city government. Recently a new ordinance was passed that requires a special permit to anyone who helps feed the homeless in the city.
KEEP SCROLLING TO SEE THE WORST TOWN IN OKLAHOMA YOU'LL WANT TO AVOID
The new permit ordinance is primarily for groups and organizations of 4 or more people who feed the homeless. It's also specific on the location of feeding operations within the downtown area and at city parks.
The city of Shawnee, OK. now requires a permit to feed the homeless
So what town passed this ordinance? The city of Shawnee, OK. and from the reaction of its citizens it isn't very popular. According to the city government, it was passed to reduce the amount of trash and waste.
CHECK OUT THE TOP 10 BEST OKLAHOMA HOLIDAY HOMETOWNS BELOW
At least that's the rationalization behind the new ordinance. Evidently feeding operations in and around downtown Shawnee and in city parks are causing a liter problem and this is how it's being addressed.
Hit play on the video below to learn more about Shawnee's new controversial permit
Needless to say, the new ordinance has angered a lot of citizens. Some agree, but most disagree with the city government's decision. The general opinion is that this will harm the homeless and the feeding operations.
SCROLL DOWN TO SEE OKLAHOMA'S MOST BEAUTIFUL TOWNS & CITIES
The new ordinance goes into effect on Thursday, November 16th (11-16-23). The good news is there are no fees for getting a permit. However, if you violate the ordinance and feed the homeless without a permit it's a $250.00 fine for the first offense and $500.00 for the second offense. Time's running out to get a permit.
Top 12 trashiest Oklahoma towns & sleazy cities
It's a top 12 list you don't want to be on. Unfortunately, these 12 towns and cities have been selected as some of the worst and by worst I mean trashiest and sleaziest in the Sooner State. These dirty dozen were selected by Google using factors like crime, violence, drug abuse, unemployment, income rates, and even the overall appearance of the town or city. It factored in things like rundown or abandoned properties and vehicles when ranking how trashy or sleazy a town or city is. Scroll through the photo gallery below.
Gallery Credit: Don "Critter" Brown
10 Oklahoma Hallmark holiday hometowns you can visit
Looking for someplace special to spend the holidays? The Sooner State has you covered with some of the best towns and cities to get into the Christmas spirit. If you've ever wanted to visit a place that feels like it came out of a Hallmark movie you're in luck. Check out these ten Oklahoma Hallmark holiday hometowns to experience the small-town charm and friendliness of some of Oklahoma's best-known holiday destinations. Each has its own unique traditions and holiday events that will surely get you into the spirit of the season. From amazing lights and displays to performances and festive family fun you'll find in the Sooner State.
Gallery Credit: Don "Critter" Brown
Oklahoma's Top 24 Terrific Towns & Prettiest Cities
It's the delightful double dozen, the top 24 most terrific Oklahoma towns and prettiest cities in the Sooner State. These incredible places are just as friendly and inviting, as they are beautiful and picturesque. While Oklahoma has more than just a few terrific towns and pretty cities these are the crème de la crème, and more than deserving of making the top 24 list. The list was created by using Google. It ranked each city by beauty, lifestyle, friendliness, scenery, entertainment, and overall positive feedback from those who have experienced their charm firsthand. Scroll through the photo gallery below to see the top 24 towns & cities in Oklahoma.
Gallery Credit: Don "Critter" Brown
What To Know When Moving To Oklahoma
Against popular in-state belief, Oklahoma is currently growing. In fact, the Sooner State has been steadily growing for the last thirty-ish years. We haven't had a population dip since the mid-90s.
As of 2023, native-born and adopted Okies now make up a wolfpack of over 4 million people, and if trends continue, we'll just keep adding new residents to the mix. Whether Americans are coming to Oklahoma for a more cost-effective lifestyle or just for work, here are a few things they can expect when they get here.
Gallery Credit: Kelso