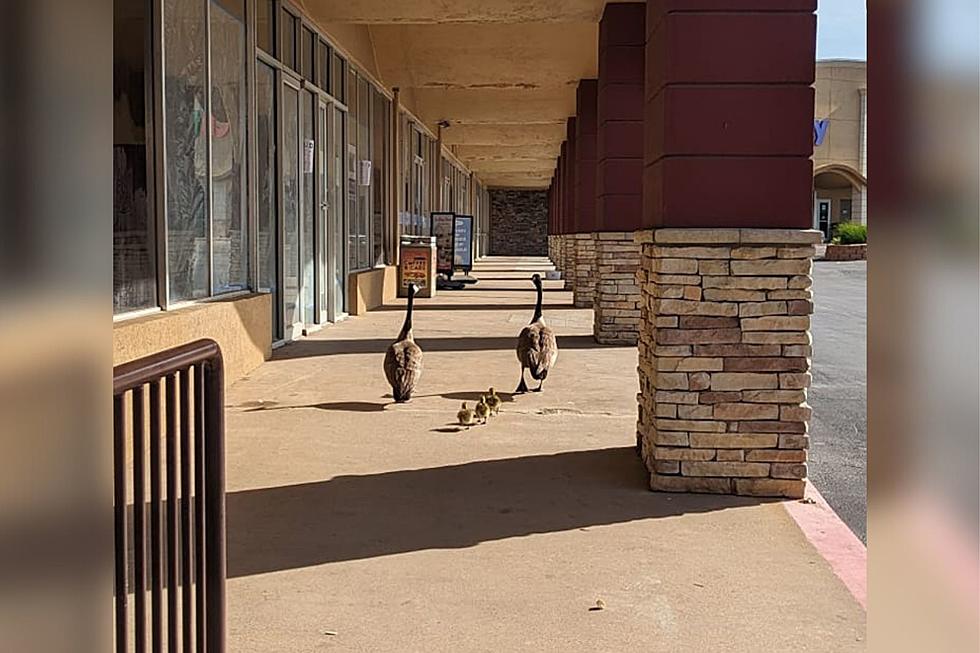 Shopping Center In Lawton, Oklahoma Welcomes Baby Geese
Cache Road Square Facebook
In the spring time, we welcome back flocks of geese to our area lakes in Lawton, Oklahoma. Sometimes those geese make other areas homes, like parks and parking lots. Recently, Cache Road Square has had a geese family move in!
On April 4, the Cache Road Square Facebook posted about two geese that had been roaming the shopping center's parking lot. The geese were affectionately named Gus and Gertrude by the staff at Nothing Bundt Cakes. Although they didn't bother anyone, besides leaving presents of poop, employees of the various shops in the shopping center noticed that Gertrude had been returning to the same spot each day.
It was quickly discovered that Gertrude and Gus had made a family! The nest was coned off and shoppers were urged not to disturb the eggs and to keep a distance from the protective daddy, Gus.
Gus and Gertrude welcomed three baby chicks!
Well, the day has finally come, and Gus and Gertrude's three baby chicks hatched! Today, May 2, Cache Road Square posted on its Facebook that the family has been seen out for a stroll. The baby chicks have been named Wallie, Willow and Waverly. How cute!
The shopping center asks that shoppers be cautious while driving through the parking lot as mom and dad are teaching the babies their footing. You also may want to watch your step as we're sure there will be more poop presents about.
Congratulations to Gus and Gertrude on their growing family!
Best Date Nights in Lawton, Oklahoma
Looking to plan a fun or romantic date night in Lawton, Oklahoma?? Check out these activities and restaurants right here in Lawton!
Best Mexican Food Restaurants in Lawton, Oklahoma
Nothing's better than a complimentary bowl of chips, queso and salsa. 😋 We've put together a list of the best locally owned Mexican food restaurants in Lawton!