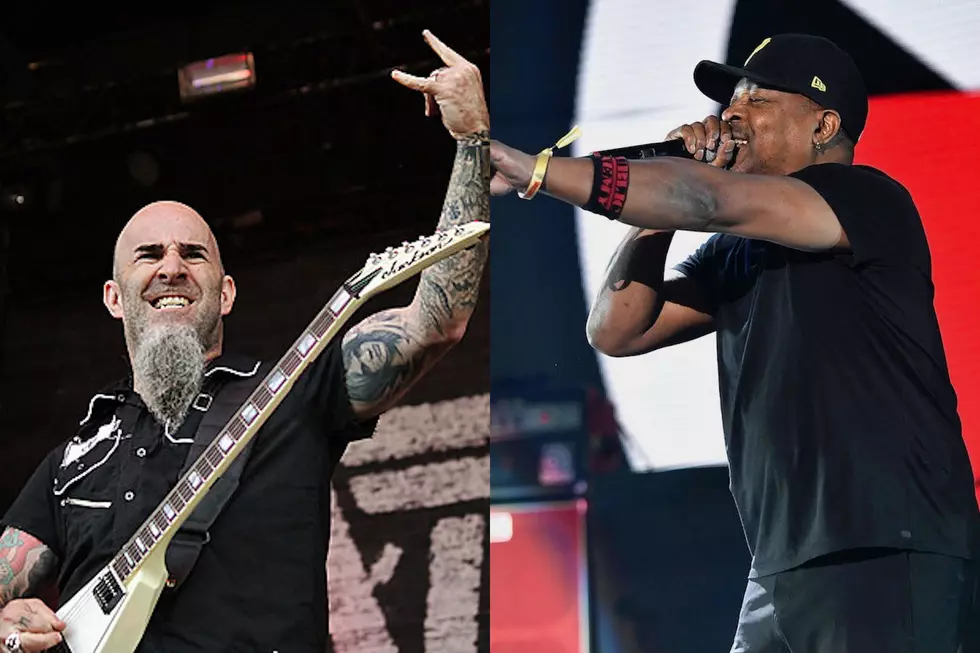 The 10 Most Unexpected Rock and Metal Collaborations
Liz Ramanand, Loudwire / Scott Dudelson, Getty Images
Rock and metal artists regularly get together and collaborate on some musical awesomeness. Be it sole tunes such as Bring Me The Horizon's work with Dani Filth on recent single "Wonderful Life" or full-blown supergroups such as The Damned Things or Them Crooked Vultures, the alternative world has a long history of kick-ass collabs. But the news that Mötley Crüe have teamed up with rapper Machine Gun Kelly for a song to coincide with the release of the new movie, The Dirt, got us thinking about some of the more unlikely alliances rock and metal bands have formed over the years. From alt.pop to avant-garde metal, here are 10 times rock and metal acts worked with artists from outside our world…
Aerosmith and Run DMC, "Walk This Way"
We're kicking things off with probably the most well-known collaboration on this list: classic-rock legends Aerosmith and NY hip-hop group Run DMC's "Walk This Way." Originally intended to be a simple cover of the Aerosmith track of the same name, Run DMC eventually convinced Steven Tyler and Joe Perry to add their iconic vocals and guitar playing to "Walk This Way" Version 2.0. Produced by Rick Rubin––you know, the guy who's helmed killer records by LITERALLY EVERYONE––the Run DMC version of "Walk This Way" introduced a generation of hip-hop fans to Aerosmith and breathed new life into the careers of Tyler, Perry, Tom Hamilton, Brad Whitford and Joey Kramer.
Alice In Chains and Elton John, "Black Gives Way to Blue"
He's also worked with Fall Out Boy on their album 'Save Rock And Roll', but Elton John's most interesting rock collaboration has to be that of "Black Gives Way To Blue," taken from the Alice In Chains album of the same name. A tribute to late singer Layne Staley, the vocals come from Jerry Cantrell, but John lends his skills as a pianist to raise the song to another level. Profound and heartfelt, "Black Gives Way To Blue" is one of Alice In Chains' most touching releases.
Anthrax and Public Enemy, "Bring the Noise"
An early example of the rap-metal genre, Anthrax's collaboration with Public Enemy on this re-recording of "Bring The Noise," was, in many ways, a turning point for metal. Opening up the possibility for riffs to exist alongside rap in the same song, it opened the door to a decade that was characterized by a wave of metal bands who held hip-hop in high esteem. And with Chuck D continuing to flirt with the metal world by way of his involvement with Prophets Of Rage, "Bring The Noise" is proof that, sometimes, opposites really do attract.
Bring Me The Horizon and Grimes, "Nihilist Blues"
One of the stand-out moments from UK rockers Bring Me The Horizon's awesome, genre-bending new album, Amo, "Nihilist Blues" finds the Sheffield quintet collaborating with alt.pop artist Grimes. Described as a "dark-rave" song by the band––frontman Oli Sykes saying Grimes likened it to platinum-selling dance number "Sandstorm" by Darude in an interview with Alternative Press––"nihilist blues" is representative of Bring Me The Horizon's refusal to be shackled by the constraints of traditional rock and metal.
Gerard Way and Deadmou5, "Professional Griefers"
Who knew Joel Thomas Zimmerman––aka electro musician Deadmou5––was secretly an emo at heart? Teaming up with My Chemical Romance leader Gerard Way for "Professional Griefers" proved an inspired move, the pair crafting a hard-hitting electronic banger. This collaboration was an example of how Way's musical horizons are far broader than the emo-punk of My Chem for which he's best known, the vocalist having produced a shoegaze and grunge-inspired solo album in the form of 2014's 'Hesitant Alien,' as well as recently releasing covers by artists such as Simon & Garfunkel to coincide with Netflix's adaptation of his Umbrella Academy comic.
Jack White and Alicia Keys. "Another Way To Die"
Produced for the 2008 James Bond film Quantum Of Solace, "Another Way To Die" was the first time a duet had been used as the Bond theme song. Written by Jack White, who also handles production duties on the track, this duet with Alicia Keys received a mixed reception from Bond fans, but there's no denying it's got the grandeur and atmospherics associated with a big blockbuster tune. Jagged, sultry and somber, "Another Way To Die" demonstrates White's widescreen vision.
Linkin Park and Jay-Z, "Collision Course"
2004 EP Collision Course saw Jay-Z and Linkin Park get together and hash-out some reworked versions of LP classics. A huge success upon its release––the record hitting No. 1 on the Billboard charts––Collision Course was an EP that found Mike Shinoda flexing his production muscles, while it also spawned a Grammy for "Numb/Encore." Critically, this one got a mixed reception, but its status as a brave coming together of genres will surely outlive the cries from the detractors.
Metallica and Lou Reed. "Lulu"
A much maligned partnership, Metallica's work with Lou Reed on Lulu will go down as one of metal's more bizarre collaborations. The last full album Reed put his name to before he passed away in 2013, Lulu is based on the work of German playwright Frank Wedekind and finds Metallica putting their riffs to Reed's spoken-word vocals. Legend has it that David Bowie was a big fan, but for many, the avant-garde experiment that was Lulu never really took flight. Whatever your opinion on its quality, though, this LP is the sound of its creators doing, quite literally, whatever the fuck they want. And fair play to them for that.
Ozzy Osbourne and Lita Ford, "Close My Eyes Forever"
The result of some studio time together, which Ozzy ended up forgetting about before being dragged in to shoot a video, "Close My Eyes Forever" finds the Black Sabbath legend getting deep with glam-rocker Lita Ford. Managed by Osbourne's wife, Sharon, Ford's collaboration with Ozzy is one of her most successful solo endeavours. Seemingly, the Prince of Darkness' influence can make anything turn out pretty darn good.
Within Temptation and Xzibit, "And We Run"
Symphonic metal and…rap? It doesn't sound like the most seamless of matches. Rumor has it that's certainly how Within Temptation's record label felt when the band floated the idea of working with a rapper on "And We Run." But boy, does this collab between the Dutch collective and the Detroit native work. A collision of serene atmospherics, vibrant rapping and Sharon den Adel's stunning vocals, this is an unlikely triumph.
Top 100 Hard Rock + Metal Albums of the 21st Century