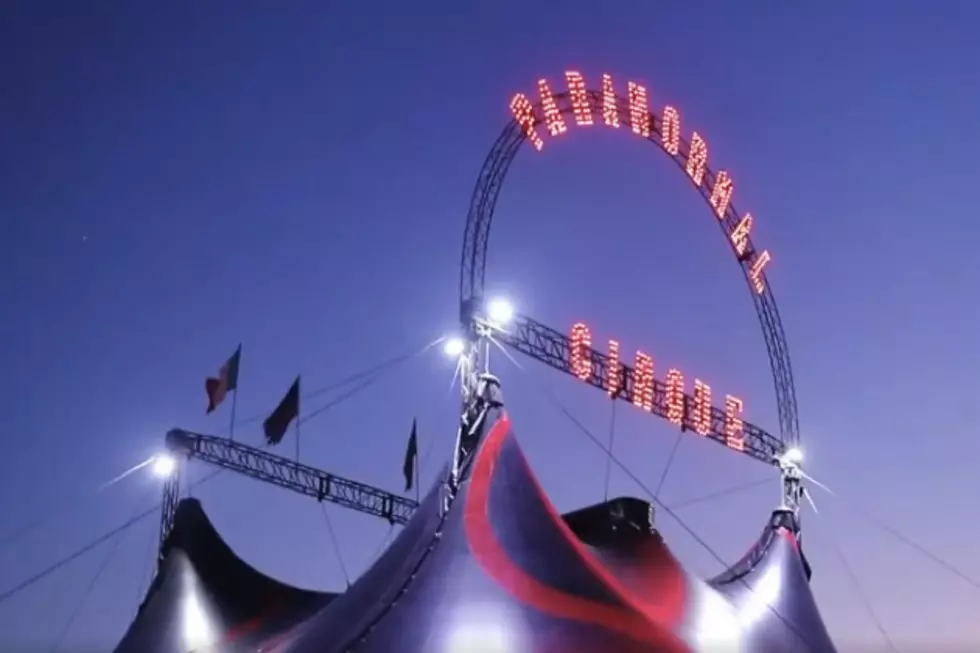 Get Ready Lawton, OK. Paranormal Cirque is Coming Back
Facebook.com- Paranormal Cirque
The Paranormal Cirque is returning to Lawton, Fort Sill next week on Friday (11-24-23) through Sunday (11-26-23) in downtown at the Central Plaza parking lot. You won't want to miss this one-of-a-kind special event.
Hit play on the video below for a sneak peek of what to expect from Paranormal Cirque
The Paranormal Cirque combines circus, theater, and cabaret together in a mind-bending mix of magic, acrobats, freaks, illusionists, and mysterious creatures all under the big top. This isn't your parent's circus. It will be an evening of fantasy, frights, fear, and fun the likes of which you've never experienced before. The show is for mature audiences and is rated [R]. You must be 17 years of age or older to attend or be accompanied by an adult 21 or older to enter the Paranormal Cirque. Sorry kids you'll have to sit this one out.
Paranormal Cirque announced their return to Lawton on Facebook
Tickets are on sale now. You can order online just click here or click on the picture below to visit the official ticket site. You can also call (941)-704-8572 to charge by phone. Use the promo code "FACE5OFF" to get a special Black Friday discount. Tickets start at just $15.00 If you miss it there's no telling when or if they'll be back in town. Experience a Black Friday like none other this year with Paranormal Cirque.
The Top 5 most frightening Oklahoma myths & monsters
These five frightening Oklahoma myths and monsters will keep you up at night. We're talking about pure nightmare fuel. No matter what you believe or where you live you aren't safe from these legendary fiends of absolute terror. You can find these sinister creatures in the deep woods, lakes, and even within city limits across the Sooner State. Even your home isn't safe from these monstrous beasts. If you've lived here for a while you may have heard of some, maybe even all of these mythological and supernatural monsters below.
Gallery Credit: Don "Critter" Brown
The Dreadful Downtown Hauntings of Lawton, OK.
When it comes to ghost tales and hauntings Lawton, Fort Sill has more than a few scary stories to tell. The most active hauntings and paranormal/supernatural occurrences that have been reported seem to be centered around downtown Lawton. If you've lived here a while I'm sure you've heard a few of these terrifying tales yourself. If not check out the photo gallery below of the dreadful downtown hauntings of Lawton, OK.
Gallery Credit: Don "Critter" Brown
10 Oklahoma Hallmark holiday hometowns you can visit
Looking for someplace special to spend the holidays? The Sooner State has you covered with some of the best towns and cities to get into the Christmas spirit. If you've ever wanted to visit a place that feels like it came out of a Hallmark movie you're in luck. Check out these ten Oklahoma Hallmark holiday hometowns to experience the small-town charm and friendliness of some of Oklahoma's best-known holiday destinations. Each has its own unique traditions and holiday events that will surely get you into the spirit of the season. From amazing lights and displays to performances and festive family fun you'll find in the Sooner State.
Gallery Credit: Don "Critter" Brown
Top 10 Snobbiest Towns & Cities in Oklahoma
Don't shoot the messenger. I'm not calling these places snobby, the internet is. A recent report by
Roadsnacks.net
identified 10 of the
snobbiest towns and cities in Oklahoma
. The methodology behind the study used median household incomes, the percentage of the population with college educations, and median home prices in determining just how snobby a town or city is. Most would agree with the results below. Unless you live in one of these places, then you may disagree. Also, keep in mind this list was all done in good fun. Sure there's some truth to the findings but like most places, you'll find both good and bad.
Keep scrolling to check out Oklahoma's top 10 snobbiest towns and cities to see if your hometown made the list.
Gallery Credit: Don "Critter" Brown