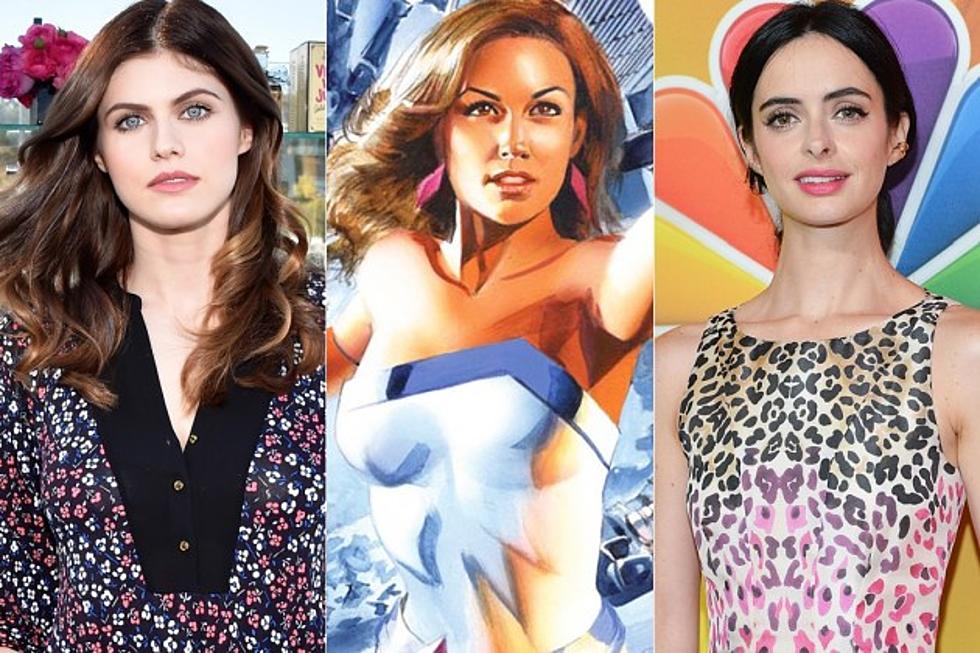 Update: Marvel's 'Jessica Jones' Testing Alexandra Daddario, Krysten Ritter and More, Plus 'Luke Cage' Choices!
Marvel Comics / Frazer Harrison-Slaven Vlasic, Getty Images
UPDATE – 11/20 - More names have been added to those testing for the roles of 'Jessica Jones' and 'Luke Cage,' including 'Homeland' and 'Girls' season 4 star Marin Ireland, and 'Transparent' star Cleo Anthony.
Marvel's Netflix 'Defenders' have only been seen through brief glimpses at the forthcoming 'Daredevil' TV series, but with 'Jessica Jones' to follow, casting news couldn't be long behind. 'True Detective' breakout Alexandra Daddario, Krysten Ritter and more are reportedly under consideration for Marvel's newest female superhero, plus, find out who's testing for the role of 'Luke Cage'!
Per Deadline, Daddario has quietly been testing for the 'Jessica Jones' role alongside Ritter, 'Warm Bodies' star Teresa Palmer, and 'Arrow' heroine Jessica De Gouw, though no clear frontrunner has yet emerged. Equally exciting, is that the report specifies that 'Luke Cage' will appear in 6-7 episodes of 'Jessica Jones,' for which 'Crisis' star Lance Gross and 'The Following' star Mike Colter have apparently tested.
For those unfamiliar with the Marvel character, 'Jessica Jones' emerged in comics as a superhero suffering from post-traumatic stress disorder, leading her to hang up the costume and opening a detective agency, wherein she helps both super and human clients. The character has also frequently been seen to share a romantic relationship with Luke Cage, himself a "hero-for-hire" with super-strong, invulnerable skin.
Whomever lands the 'Luke Cage' role would then headline the titular series (after 'Iron Fist'), ultimately uniting all of Marvel's Netflix heroes in the 'Defenders' miniseries. For the moment at least, 'Jessica Jones' has only writer and showrunner Melissa Rosenberg locked in, for an unknown production date.
'Daredevil' won't kick off the "street-level" heroes of Hell's Kitchen until May 2015, but in the meantime, what do we think? Who between Alexandra Daddario, Krysten Ritter, Teresa Palmer, Jessica De Gouw or others do we like for the role of 'Jessica Jones'? What about the 'Luke Cage' choices? Tell us what you want from Marvel's Netflix 'Defenders' in the comments!