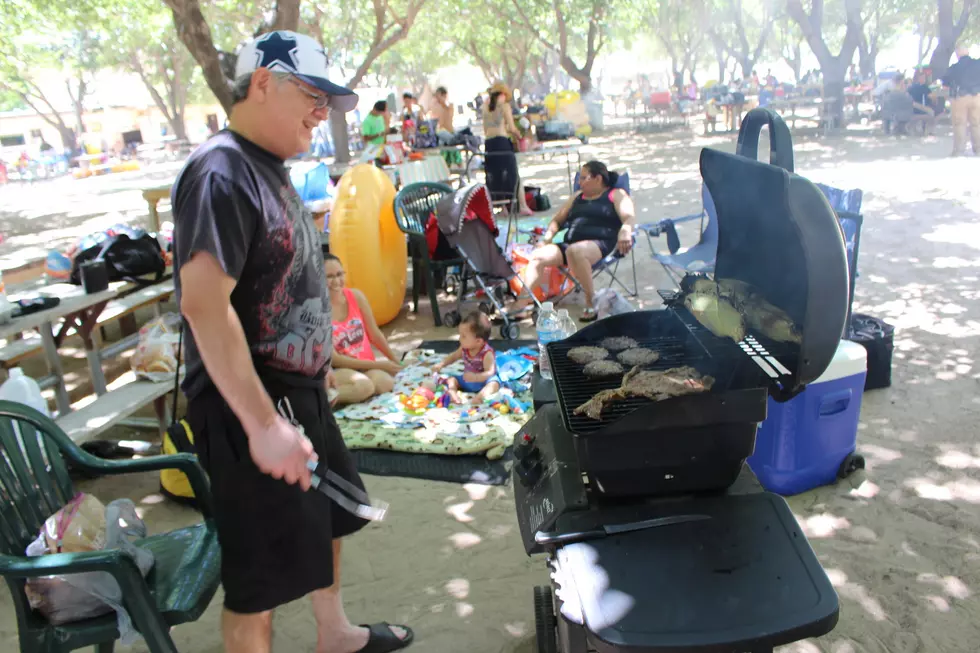 The Most Popular Grilled Food in Oklahoma for Labor Day Weekend is…
Scott Lewis
A question that has plagued mankind from the very beginning is, "What's the most popular grilled food during Labor Day weekend?" Well, let's get to work and find out! Since we all have our favorites there's no wrong answer! Unless of course, it's all vegetables and no meat. Then there's definitely a wrong answer. Take the quick poll below and let's see what the most popular grilled food in Oklahoma is for Labor Day weekend.
It's hard to believe, but Labor Day weekend is almost here! For the fair weather griller, this will be the last big cookout of the season. For the rest of us, it's just another great weekend that we'll be grilling out and a three-day weekend at that. Personally, I don't care what Mother Nature's up to. I'll light the grill in the rain, snow, day, night, good or bad weather. In my honest, humble, non-bias opinion any time is a good time to grill out!
So what are you planning on grilling this Labor Day weekend? Take the poll below, you can select as many choices as you'd like. Or click "Other" and fill in what you're grilling this weekend. Whatever your plans are, whoever you're with, whatever you end up throwing on the grill, I hope you have a happy and safe Labor Day!
The family and I will once again be heading to Pryor, OK. for Rocklahoma. It's an annual thing and we bring with us all the meats, sides, and even the grill so we don't miss out on the Labor Day cookout. We'll be doing it up at Rocklahoma and since we have family in the area we'll hit their houses too for even more grilled meats and treats. Nothing beats a three-day weekend of live music and grilling out. Now that's a holiday!
One last thing. Remember to drink responsibly and not get behind the wheel after you've been drinking, even a little. You can't celebrate Labor Day weekend in jail for DUI or DWI and others can't celebrate if they're worried about drunk drivers. Plus, don't forget, the judge won't be back in until Tuesday...Keep that in mind!

Take a look inside this epic 1960s retro motel in Oklahoma!
It's the ultimate retro vintage motel stay in the Sooner State! If you've ever wanted to step back in time and experience the "good old days" once again, or maybe for the very first time, you're in luck. Take a break from the usual, boring, and mundane hotel room by booking a stay at this 60s-style motel in Oklahoma City, OK.
The Classen Inn
is one of the most unique and colorful motels in the state, if not the entire nation. It was originally built back in 1963 and has been completely remodeled, refurbished, and reimagined. If you're looking for a place to stay while on vacation, staycation, or on a weekend getaway why not make your accommodations a part of the vacation fun by staying at the Classen Inn in OKC.
You can click here to book your stay.
Scroll through the photo gallery below to take a virtual tour of this EPIC 1960s retro motel!
See the Most Epic & Unusual Oklahoma Airbnb Rentals!
Take a break from the boring and ordinary and make your next overnight stay more spectacular and memorable. These rentals are a lot more than just a place to stay, all of them could easily be a vacation destination and experience all on their own! If you're planning a staycation or vacation in Oklahoma you should definitely check out these epic and unusual
Airbnb
rentals versus booking just a plain old room at a hotel or motel. You could make your accommodations a part of the experience itself by staying at any of these amazing places in the Sooner State.
Scroll through the photo gallery below to check them out.
Getaway, Relax, Unplug & Unwind at Oklahoma's Premier & Most Luxurious "Glampgrounds" Located in Lawton, OK.
Peek inside this EPIC Oklahoma castle that's for sale!
Take a virtual tour of this EPIC medieval-style castle in Oklahoma City, OK. that's for sale. If you have
$1,999,999
you could be the proud new owner, better yet king or queen of this one-of-a-kind estate! It's located at
6424 S.W. 104th Street in Oklahoma City, OK.
It's listed by
Karl W. Oltermann
and
Rhonda Oltermann
of
Coldwell Banker Select
. Can you imagine actually living here and being this kingdom's ruler?
Scroll through all the pictures below to take a quick look inside this incredible one-of-a-kind home.