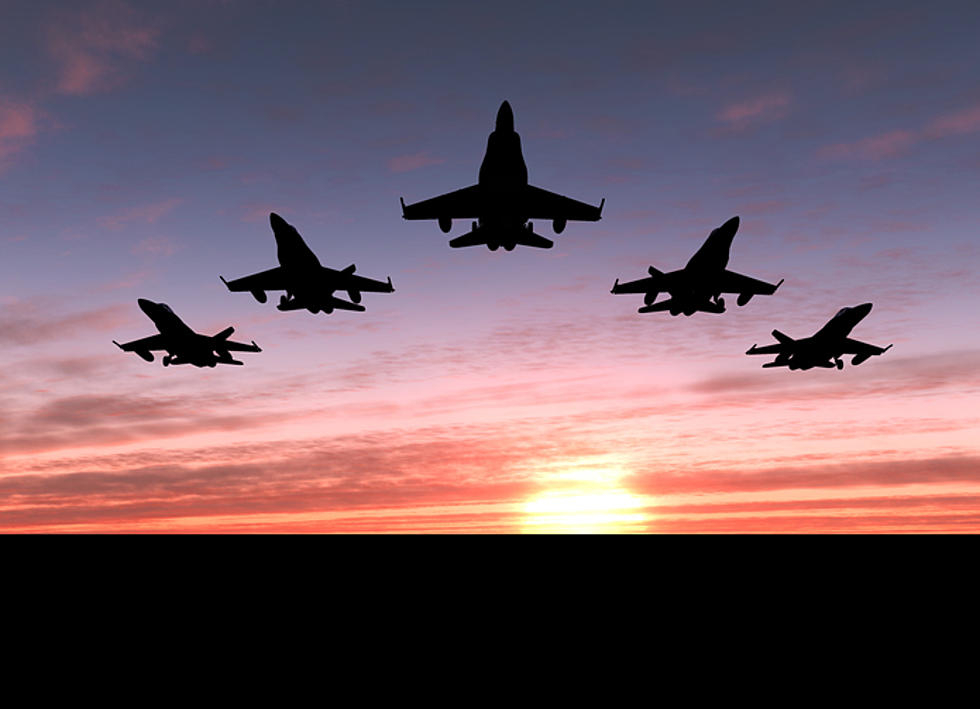 Oklahoma's Biggest & Best Air Show is Back in 2023 with the Legendary U.S. Navy Blue Angels
Svetl. Tebenkova
Get ready Oklahoma, one of the biggest and best air shows is finally returning after a long four-year hiatus in 2023. You'll get to see some of the coolest and most incredible military and civilian aircraft in the world.
SCROLL DOWN TO LEARN MORE ABOUT OKLAHOMA'S PREMIERE AIR SHOW
If that wasn't cool enough, the legendary U.S. Navy Blue Angels will be headlining the aerial performances in the skies above. The Tinker Air Force Base air show is an award-winning event and you won't want to miss it.
Make plans now to attend the FREE air show at Tinker Air Force Base this July
This award-winning air show will take place at Tinker AFB on Saturday and Sunday, July 1st and 2nd (07-01-23 & 07-02-23) from 8:00 a.m. to 5:00 p.m. both days. Here's the best part, it's TOTALLY FREE!
GET UP CLOSE AND PERSONAL WITH SOME OF THE COOLEST AIRCRAFT AROUND
Tinker AFB is located in Midwest City just outside of OKC and is easy to find and get to. The aerial performances including the U.S. Navy Blue Angels are scheduled for 11:00 a.m. to 4:00 a.m. on both days.
Strap into the cockpit with the legendary U.S. Navy Blue Angels for a virtual flight
It's going to be an amazing weekend at the 2023 Tinker Air Show and with FREE admission and FREE parking you can't beat that. Not only will we get to see the Blue Angels in action but all kinds of other cool airplanes.
DON'T MISS THE 2023 TINKER AIR FORCE BASE AIR SHOW ON JULY 1ST & 2ND
The F35A Lightning II Demo Team will be in attendance with both an aerial performance and ground displays. We'll also get to see the E-3 Sentry AWACS in action and the U.S. Navy E-6B Mercury Strategic Communications Wing 1. Along with the KC-135 Stratotanker 507th Air Refueling Wing take to the skies.
Get up close and personal with some of the most incredible military aircraft in the world
That's just a few of the planes we'll get to see in action and up close at the 2023 Tinker Air Show. Along with all the military aircraft, there will be a lot of civilian-owned and operated planes performing and on display.
STAY UP TO DATE WITH THE TINKER AFB AIR SHOW AT THE OFFICIAL WEBSITE
You can get all the details on the 2023 Tinker AFB air show by visiting the official website here. You'll also want to check out their Facebook page here for additional information and for event updates prior to show.
Unique Things to Do in Oklahoma City
There is no shortage of things to do in OKC. While there are a handful of things everyone knows about--OKC Zoo, Myriad Gardens, Bricktown, etc-- there are even more lesser-known places to experience one-of-a-kind Oklahomaness. Some things cost a little money, others are completely free, but it's all fun for the whole family.
Take a look inside this epic 1960s retro motel in Oklahoma!
It's the ultimate retro vintage motel stay in the Sooner State! If you've ever wanted to step back in time and experience the "good old days" once again, or maybe for the very first time, you're in luck. Take a break from the usual, boring, and mundane hotel room by booking a stay at this 60s-style motel in Oklahoma City, OK.
The Classen Inn
is one of the most unique and colorful motels in the state, if not the entire nation. It was originally built back in 1963 and has been completely remodeled, refurbished, and reimagined. If you're looking for a place to stay while on vacation, staycation, or on a weekend getaway why not make your accommodations a part of the vacation fun by staying at the Classen Inn in OKC.
You can click here to book your stay.
Scroll through the photo gallery below to take a virtual tour of this EPIC 1960s retro motel!
Fun Kid Friendly Oklahoma Vacation Destinations
There is a ton of stuff to do in Oklahoma that you and the kids will love, you just have to know where to find that stuff and have the gumption to hop off the couch and go do some of it.
See the Most Epic & Unusual Oklahoma Airbnb Rentals!
Take a break from the boring and ordinary and make your next overnight stay more spectacular and memorable. These rentals are a lot more than just a place to stay, all of them could easily be a vacation destination and experience all on their own! If you're planning a staycation or vacation in Oklahoma you should definitely check out these epic and unusual
Airbnb
rentals versus booking just a plain old room at a hotel or motel. You could make your accommodations a part of the experience itself by staying at any of these amazing places in the Sooner State.
Scroll through the photo gallery below to check them out.