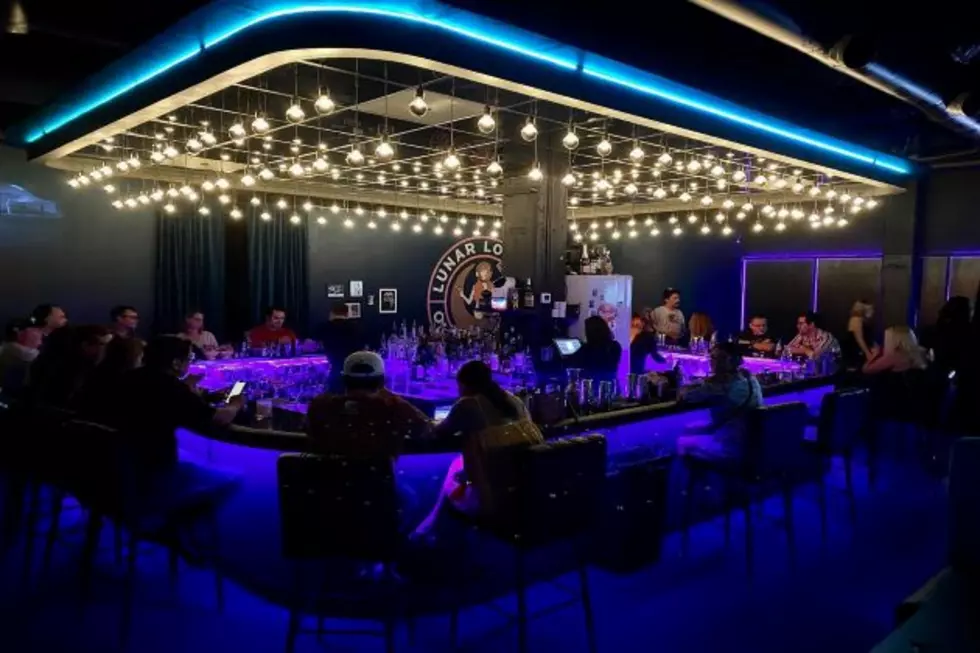 Take a Look Inside This Oklahoma Hidden Speakeasy That Just Opened!
Facebook.com- Lunar Lounge
There's a brand new nightclub, more like a speakeasy located in Oklahoma City, OK. that just opened up recently. An amazing place to enjoy a tasty beverage or two, kick back, relax and hang out with friends. But first, you're going to have to find it! That's right, just like the old days this speakeasy is well hidden.
The Lunar Lounge in OKC has been the talk of the town and the rest of the state for the past couple of weeks. It's a hidden club located in the Midtown Plaza Court at 1114 Classen Drive Oklahoma City, OK. Once you arrive at the Midtown Plaza Court you'll have to find the hidden entrance into Lunar Lounge.
The secret entrance into the Lunar Lounge at Midtown Plaza Court in OKC 
When you first walk into the Midtown Plaza Court the hallways are all lined with wood paneling. You'll see the sign for Lunar Lounge in the hall, just past that start looking for a small moon-shaped button or knob. Press it and you'll be able to enter the speakeasy. It's hidden in plain sight but you'll need to know what to look for.
Once inside you'll see an amazing bar and all the colorful mood lighting. The atmosphere looks awesome and welcoming. Just the right amount of light and tone. They just opened last weekend and from what it sounds like people are really enjoying it. Lunar Lounge has great drinks and second-to-none service.
An inside look at Oklahoma's newest & hidden speakeasy, the Lunar Lounge in OKC
The place looks EPIC and everyone who's been so far has reported back saying it's a great place and that the bartenders and everyone else who works there are top-notch. Looks like they also have darts and other games to entertain. So if you're looking for a unique and fun place to go the Lunar Lounge is now open!
It sounds like the Lunar Lounge will quickly become one of Oklahoma's hidden gems, literally! You can see the photo below of the hallway inside the Midtown Plaza Court in OKC where the speakeasy is located. Again you'll need to look for the moon-shaped button or knob to find the club and gain access to what's inside.
Find the moon-shaped button or knob on the wall to locate the hidden Lunar Lounge
So if you can make the trip to OKC to the Midtown Plaza Court and find the hidden entrance you can enjoy an evening at the Lunar Lounge. They're currently open Tuesday through Saturday from 4:00-pm to 2:00-pm and Sundays from 4:00-pm to 12:00-am. So the next time you're in Oklahoma City stop by and check it out!
For more information on the Lunar Lounge check them out on their official Facebook page. You could make a weekend of it by staying in OKC's one and only vintage 1960s retro motel, the Classen Inn. Take a quick virtual tour of this one-of-a-kind overnight stay by checking out the Classen Inn photo gallery below:
Take a look inside this epic 1960s retro motel in Oklahoma!
It's the ultimate retro vintage motel stay in the Sooner State! If you've ever wanted to step back in time and experience the "good old days" once again, or maybe for the very first time, you're in luck. Take a break from the usual, boring, and mundane hotel room by booking a stay at this 60s-style motel in Oklahoma City, OK.
The Classen Inn
is one of the most unique and colorful motels in the state, if not the entire nation. It was originally built back in 1963 and has been completely remodeled, refurbished, and reimagined. If you're looking for a place to stay while on vacation, staycation, or on a weekend getaway why not make your accommodations a part of the vacation fun by staying at the Classen Inn in OKC.
You can click here to book your stay.
Scroll through the photo gallery below to take a virtual tour of this EPIC 1960s retro motel!
Oklahoma Diner's, Drive-In's, and Dive's Guy Fieri Raved About On TV
We all know Guy Fieri is the self-proclaimed Mayor of Flavortown, and as such, we generally trust his discerning palate to guide us to the best food any place has to offer. At least the places he tends to go often offer up some really good eats, and in looking at this list, having eaten at most of these places a handful of times, he's not wrong. Here are the Oklahoma original restaurants that have been featured on Triple-D.
See the Most Epic & Unusual Oklahoma Airbnb Rentals!
Take a break from the boring and ordinary and make your next overnight stay more spectacular and memorable. These rentals are a lot more than just a place to stay, all of them could easily be a vacation destination and experience all on their own! If you're planning a staycation or vacation in Oklahoma you should definitely check out these epic and unusual
Airbnb
rentals versus booking just a plain old room at a hotel or motel. You could make your accommodations a part of the experience itself by staying at any of these amazing places in the Sooner State.
Scroll through the photo gallery below to check them out.
15 More Amazing Southwest Oklahoma Hole-In-The-Wall Eats
It's far too easy to be lulled into thinking the same old chain restaurants are the "good" places to eat across Southwest Oklahoma. You won't find a single franchise on this list. It's all locally owned, locally run, sometimes a little run down, but you'll agree the meals are outstanding when you walk away with a belly full of the good stuff.