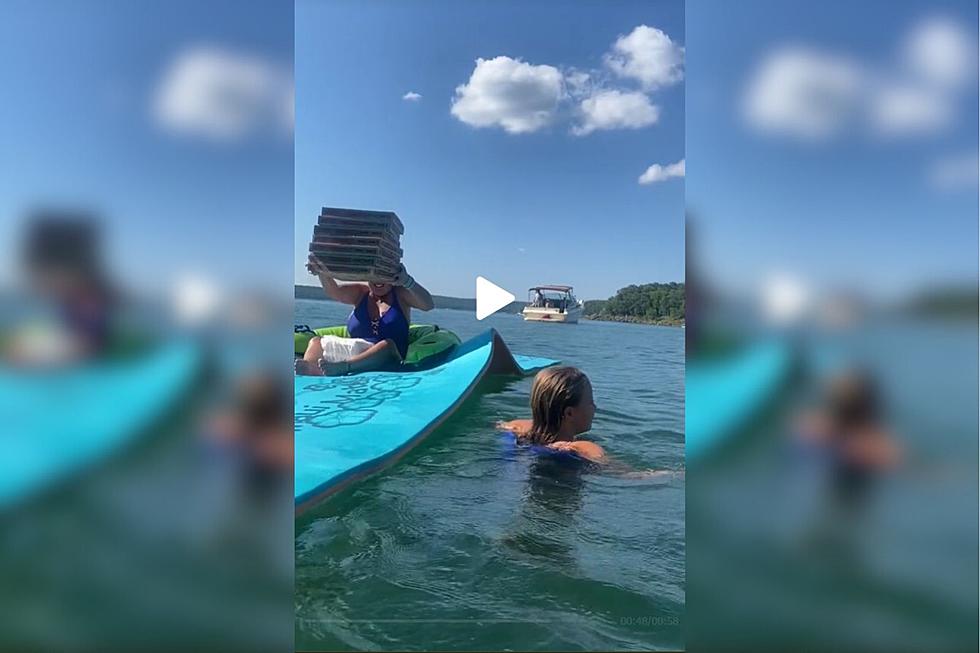 Oklahomans Have Pizza Delivered To Their Boat On Lake Tenkiller
TikTok Screenshot
It's summer time, so Oklahomans are spending as much time as they can out on the lake. But if you're having a good time out on the water, you don't want to have to bring your boat in when everyone gets hungry. So one family on Lake Tenkiller decided to have pizza delivered to their boat.
I know what you're thinking. There's no way a pizza delivery service is that dedicated to delivering pizza to have its employees swimming pizzas out to boats. Or that can afford to have a boat just for pizza deliveries.
So one Oklahoma family decided to take matters into their own hands to get the pizzas out to their boat. Oklahoma TikToker @lavmarket got great video of the whole process. Starts out with dad calling in the pizzas, of course, then the family preps for their float to shore to get the pizzas safely back to the boat. Looks like they used all kinds of different floaties for this mission, including a giant float pad.
They get to shore just in time for the pizza delivery guy to pull up in his car. It was bit of trek for the family from the road back to the water, but they made it! Despite a lot of rocks and maneuvering back into the water, the pizza was safely secured on the big floating mat. They swam back to the boat with delicious, and dry, pizza!
Watch the adventure below!
Lake Altus-Lugert and SWOK's Underwater Ghost Town
Like most rare things, conditions have to be just right to see one of Oklahoma's hidden gems. In years of good and average rainfall, the lost town of Lugert stays buried beneath the waves... but in dry years, especially those stricken by drought, you can walk around this pre-statehood townsite while enjoying one of Oklahoma's prettiest areas, Quartz Mountain State Park.
Oklahoma's Ten Best Fishing Lakes
If you know, you know. When it comes to fishing, not all lakes are equal. While you can fish and catch fish in just about every body of water in the Sooner State, there are only a handful of lakes Oklahoma anglers get serious about.
Here are the top fishing lakes in Oklahoma.