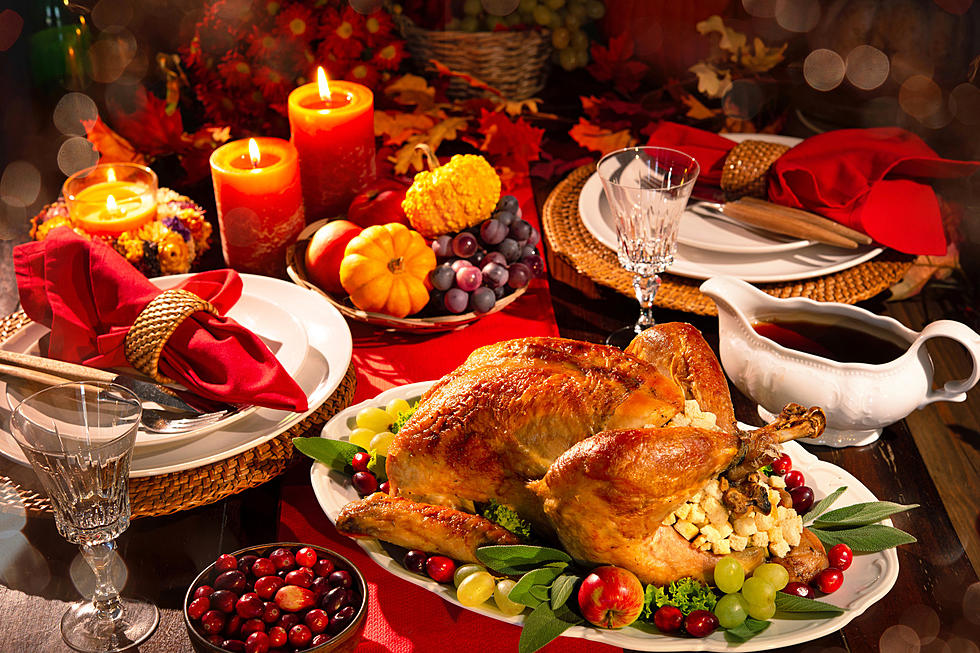 It's Time to Fry Oklahoma Thanksgiving is Almost Here
AlexRaths
It's time to hit the stores and get your bird and trimmings, Thanksgiving is on the way. It's one of my all-time favorite holidays and I'm getting everything bought and ready for the big meal.
SCROLL DOWN TO SEE OKLAHOMA'S WEIRDEST THANKSGIVING FOODS
It's been really difficult to find the big Butterball turkeys, at least in Lawton, OK. Size does matter when it comes to turkey. You have to have enough for the Thanksgiving meal and leftovers for at least a day or two. Or at a minimum a turkey sandwich or two on Thanksgiving night.
While there are several name brands of turkeys available, Butterball is the best
After an exhaustive search of various grocery stores in town, I finally managed to find the big birds at Walmart, a twenty-five-pound Butterball. I usually fry 24 to 26-pound turkeys all month long for family, friends, and co-workers. The bigger the better, if it won't fit in the fry pot, find a bigger pot. That's my motto.
CHECK OUT THE TOP 10 HOLIDAY HOMETOWNS IN OKLAHOMA BELOW
While I prefer Butterball turkeys if given a choice, I will say the Honeysuckle White birds and even the Walmart Great Value turkeys aren't bad. But Butterball turkeys are the best. They fry and carve like a dream and always deliver the very best flavor in my honest, humble non-bias opinion.
Don't forget the propane, peanut oil, and Tony Chachere Creole Butter Injectors
Along with the turkey I got all the other stuff to fry. Lou Ana Peanut Oil, Tony Chachere Creole Butter injectors, Slap Ya Mama Cajun seasoning, and fresh bottles of propane and propane accessories.
KEEP SCROLLING TO SEE OKLAHOMA'S FAVORITE COLD-WEATHER FOODS
Over the years fried turkey has become more and more popular, and for good reason. It's the fastest, easiest and juiciest way to prepare turkey. If you've never tried it you're really missing out. Think about it, fried chicken is much juicier & tastier than when it's baked, BBQ, or smoked, which is exactly why we fry it.
Heat the oil to 325 degrees and fry for 3 1/2 minutes a pound for the most epic turkey
Turkey is the same way, just bigger. You can fry a 24-26lb turkey in about an hour and thirty-five minutes vs. baking it for hours and hours. Plus you won't heat the house up.
TAKE A VIRTUAL TOUR OF OKLAHOMA'S BEST CHRISTMAS LIGHT DISPLAYS BELOW
Luckily with the popularity of fried turkey, you can find a decent fry kit that includes everything you'll need to get started. You can find them at Walmart, Sam's Club, Cabela's, Bass Pro Shop, and even Lowe's and Home Depot have kits available to purchase. Shop around and you'll find one pretty quickly. Whatever your plans are and whoever you're with I hope you have a Happy Thanksgiving.
Oklahoma's Weirdest Thanksgiving Foods
There is no shortage of weird Thanksgiving traditions around the Sooner State. Even my own family celebrates in our own unique way. Half of us hate turkey, and the others hate ham. Mom hates to spend days cooking for a 20-minute meal, and we all get tired of the leftovers. Instead, we have either a taco fiesta or a Chef Boyardee pizza kit party. Nobody complains.
We're not the only family with a weird Thanksgiving tradition, just take a look at these shockingly common Oklahoma TG dishes. It's amazing what the cooks come up with. The list is heavy on gelatin and jello molds, if anything it'd be worth trying at least one this year. They range from mild to wild, best of luck to you.
Gallery Credit: Kelso
10 Oklahoma Hallmark holiday hometowns you can visit
Looking for someplace special to spend the holidays? The Sooner State has you covered with some of the best towns and cities to get into the Christmas spirit. If you've ever wanted to visit a place that feels like it came out of a Hallmark movie you're in luck. Check out these ten Oklahoma Hallmark holiday hometowns to experience the small-town charm and friendliness of some of Oklahoma's best-known holiday destinations. Each has its own unique traditions and holiday events that will surely get you into the spirit of the season. From amazing lights and displays to performances and festive family fun you'll find in the Sooner State.
Gallery Credit: Don "Critter" Brown
Eleven Things Oklahoman's Eat When It's Cold
When it comes to the favorite foods in Oklahoma, most of them revolve around a grill. Whether it's steak, burgers, dogs, BBQ, beer can chicken, etc... If it can be grilled, it will be an instant favorite across all palates in this state. But what do Okies survive on when it's cold enough to require the wearing of pants and a hoodie? Here's the quick list of things every Oklahoma home should be pumping out when the endless Summer finally ends.
Gallery Credit: Kelso
Top 10 Best Christmas Towns In Oklahoma
While Christmas may not always feel like Christmas in Oklahoma, we put on that holiday spirit all over the Sooner State. Here are the top destinations to find a little holiday cheer.
Gallery Credit: Kelso