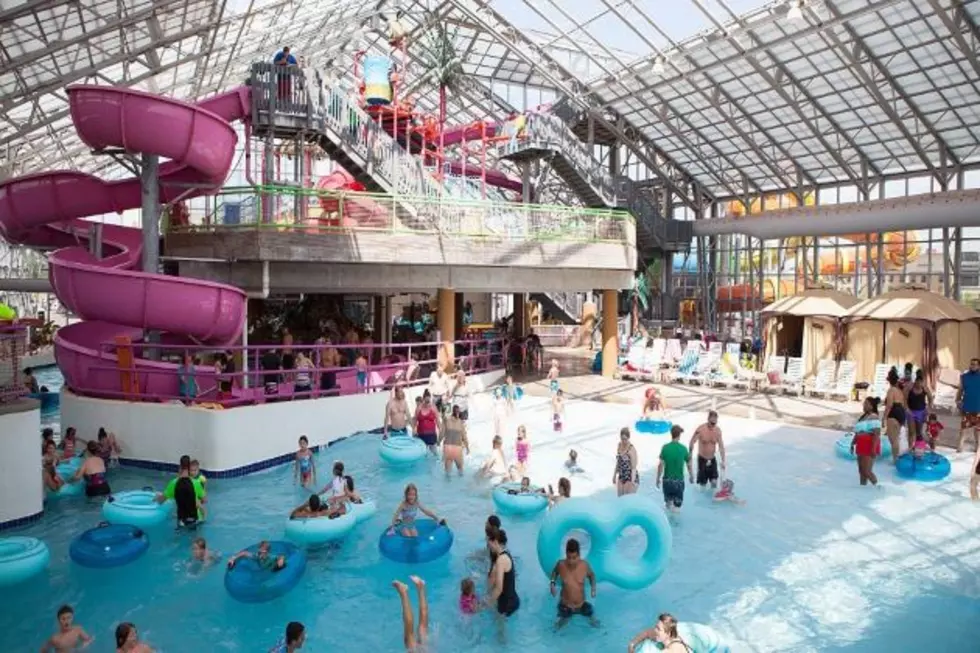 Water Zoo Indoor Waterpark is One of Oklahoma's Coolest Places to Cool Off
Facebook.com- Water-Zoo Indoor Water Park
It's already been a long, hot summer and we aren't even halfway through it yet. We have to be setting and breaking records for the heat. If not, I hate to think how much hotter and longer this will go on. It's been a brutally hot summer in the Sooner State and we could all use a break from Mother Nature's moodiness.
WATCH THE VIDEO ABOUT OKLAHOMA'S COOLEST INDOOR WATER PARK BELOW

If you're looking to get a reprieve from the sweltering and oppressive heat head to Clinton, OK. and visit the Water Zoo Indoor Water Park. It's one of Oklahoma's coolest places to cool off. A year-round tropical paradise where the sun is shining and it's always 83 degrees. It's an amazing and refreshing good time.
Water Zoo Indoor Water Park in Clinton, OK. is the perfect place to cool off this summer
Here's the best part, you won't have to worry about the heat and getting sunburned. The Water Zoo Indoor Water Park in Clinton, OK. will keep you protected from Mother Nature's moodiness and the sun. So you can enjoy all the water slides, pools, lazy rivers, and all the other water attractions without all the summer heat.
KEEP SCROLLING TO WATCH THE VIDEO ABOUT WATER ZOO INDOOR WATERPARK
Right now we could all use a short break from the day-to-day grind, not to mention a break from the heat. This place looks amazing and refreshing. It's just a short hour and a half drive from Lawton, Fort Sill so it won't take long to get there depending on where you live. You can opt for a day-pass or the stay-and-play.
Hit play on the video below to learn more about Clinton, OK's Water Zoo Indoor Water Park
With TONS of slides, pools, splash pads, and other water attractions the Water Zoo Indoor Water Park has something for the entire family, young and old alike. It's located at 1900 Boulevard of Champions in Clinton, OK. right off I-40 use Exit 65A. Their summer hours of operation are 10:00-am to 8:00-pm 7 days a week until Sunday, August 6th (08-06-23). Then the hours will change for the water park's fall and winter schedule.
SCROLL DOWN TO SEE OKLAHOMA'S COOLEST 1960S RETRO MOTEL
Not only is Clinton's Water Zoo Indoor Water Park the perfect place to cool down this summer but anytime. It's open year-round so if you were wanting to go swimming and hit the slides during the bitter cold of winter you can. How cool is that? Before the summer's over and the kids are back in school the family and I have to make the trip and take a quick weekend mini-staycation at the Water Zoo Indoor Water Park in Clinton, OK.
It's an indoor tropical paradise where it's always sunny and 83 degrees all year round
If you're looking to beat the heat you can get all the ticket information and specials by visiting the Water Zoo Indoor Water Park official website. Again they have day passes and special offers for later afternoon hours. You can also stay and play. There's a Holiday Inn Express and Hampton Inn right next door to the water park. You can get a discount, of up to 25% off by purchasing the stay-and-play package online. Click for details.
CHECK OUT OKLAHOMA'S MOST UNUSUAL & EPIC AIRBNB STAYS BELOW
The Water Zoo Indoor Water Park also offers special group pricing for birthdays, reunions, graduations, and just about every other kind of get-together you can think of. You can stay at one of the hotels, or at the nearby campsite. You can stay up to date with everything that's going on at the water park including special discounts and offers by visiting the official website or by checking them out on their Facebook page.
Take a look inside this epic 1960s retro motel in Oklahoma!
It's the ultimate retro vintage motel stay in the Sooner State! If you've ever wanted to step back in time and experience the "good old days" once again, or maybe for the very first time, you're in luck. Take a break from the usual, boring, and mundane hotel room by booking a stay at this 60s-style motel in Oklahoma City, OK.
The Classen Inn
is one of the most unique and colorful motels in the state, if not the entire nation. It was originally built back in 1963 and has been completely remodeled, refurbished, and reimagined. If you're looking for a place to stay while on vacation, staycation, or on a weekend getaway why not make your accommodations a part of the vacation fun by staying at the Classen Inn in OKC.
You can click here to book your stay.
Scroll through the photo gallery below to take a virtual tour of this EPIC 1960s retro motel!
Five epic & unusual Oklahoma Airbnbs you should check out
Take a break from the boring and ordinary and make your next overnight stay more spectacular and memorable. These rentals are a lot more than just a place to stay, all of them could easily be a vacation destination and experience all on their own! If you're planning a staycation or vacation in Oklahoma you should definitely check out these epic and unusual
Airbnb
rentals versus booking just a plain old room at a hotel or motel. You could make your accommodations a part of the experience itself by staying at any of these amazing places in the Sooner State.
Scroll through the photo gallery below to check them out.
Fun Kid Friendly Oklahoma Vacation Destinations
There is a ton of stuff to do in Oklahoma that you and the kids will love, you just have to know where to find that stuff and have the gumption to hop off the couch and go do some of it.
16 Unbelievable Sights to Behold in Oklahoma
Long thought of as just a 'fly-over' state, there's a ton of unbelievable destinations in Oklahoma that America is missing out on.