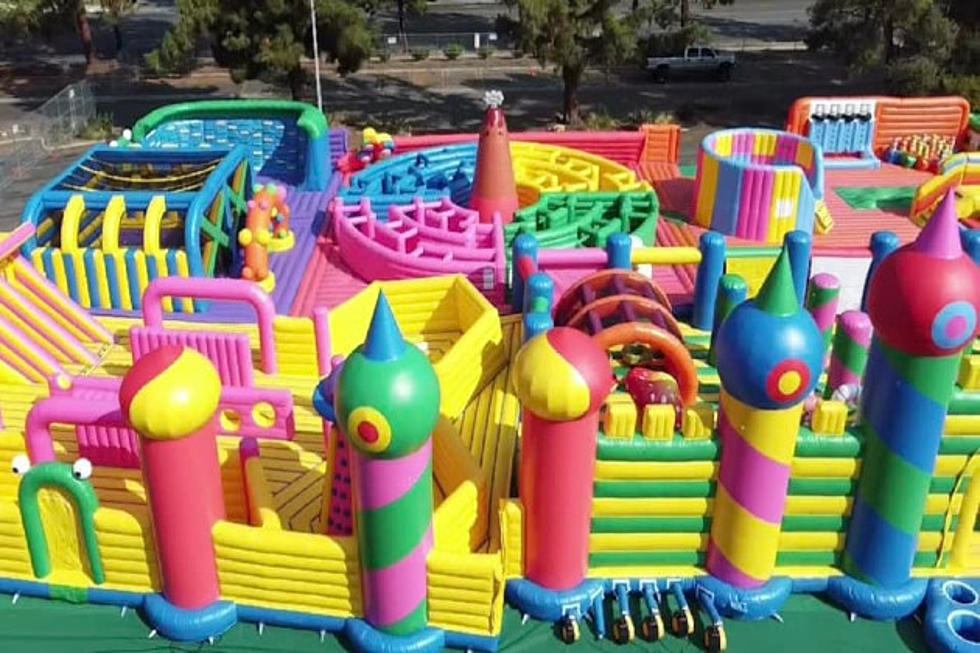 World's Largest Bounce House 'FUNBOX' is Coming to Oklahoma
Facebook.com- Jenks Chamber of Commerce
Imagine a bounce house with 25,000 square feet that features 10 different play zones, and attractions. Well, it's about to be reality. FUNBOX is coming to Oklahoma with the world's largest bounce house so get ready.
FUNBOX has several locations across the U.S. and soon they'll be in Oklahoma. The company created, owns, and operates some of the biggest bounce parks in the world. So where exactly will they be building in OK?
Great Ready Oklahoma the world's largest bounce house is coming to the Sooner State
FUNBOX will be building its next bounce park in the Sooner State on the grounds of the Oklahoma Aquarium located at 300 Aquarium Drive in Jenks, OK. The Jenks Chamber of Commerce announced it on Facebook.
At this time we don't have any confirmed grand opening dates but we do have the official confirmation that FUNBOX is coming and will hopefully open soon. Maybe by this time next summer. *Fingers crossed*
You can stay up to date with everything that's going on with the new FUNBOX location by visiting the official Jenks Chamber of Commerce Facebook page here. They'll be posting updates and keeping us in the loop.
Looks like an amazing place, can't wait to check it out with the family. I know the kids are going to absolutely love it. There's been a lot of questions about the new park and whether it will be a permanent location.
Hit play on the video below to learn more about FUNBOX and what's coming to Jenks, OK.
From everything we've seen and read so far the new FUNBOX inflatable park will be a permanent structure. It's not a traveling or touring park, or something that's set up temporarily that's only around for a limited time.
It's too big to set up and tear down repeatedly that's for sure. The new FUNBOX inflatable park will be built as a permanent location on the campus of the Oklahoma Aquarium. So you don't have to worry about missing it.
FUNBOX features the world's largest bounce houses and incredible inflatables
FUNBOX does a lot for the community and for the kids. Working with local and area foster care organizations to provide needed assistance through donations and other means. So it's a good time and for a great cause.
Visit the FUNBOX official website to learn more about this amazing company, its founder Antonio Nieves, and all they do with and for the kids and communities they're in. You can also check them out on Facebook
Looking forward to FUNBOX opening in Jenks, OK. With it being right next to the Oklahoma Aquarium it's going to be the ultimate day trip, staycation, vacation or weekend getaway destination for Oklahoma families.
As soon as we get an update on progress and the projected opening for the park we'll be sure to let you know. In the meantime, you can watch some videos for a sneak peek on the FUNBOX YouTube Channel here.
Check Out Oklahoma's Planned New Theme Park
American Heartland Theme Park is the latest huge investment announcement for the Sooner State. Slated to open in 2026 up in Vinita, it sure does look incredible from the renderings. With the project spearheaded by 20+ former Disney Imagineers, we'd expect nothing less than spectacular.
Five epic & unusual Oklahoma Airbnbs you should check out
Take a break from the boring and ordinary and make your next overnight stay more spectacular and memorable. These rentals are a lot more than just a place to stay, all of them could easily be a vacation destination and experience all on their own! If you're planning a staycation or vacation in Oklahoma you should definitely check out these epic and unusual
Airbnb
rentals versus booking just a plain old room at a hotel or motel. You could make your accommodations a part of the experience itself by staying at any of these amazing places in the Sooner State.
Scroll through the photo gallery below to check them out.
Fun Kid Friendly Oklahoma Vacation Destinations
There is a ton of stuff to do in Oklahoma that you and the kids will love, you just have to know where to find that stuff and have the gumption to hop off the couch and go do some of it.
Oklahoma's Top 24 Terrific Towns & Prettiest Cities
It's the delightful double dozen, the top 24 most terrific Oklahoma towns and prettiest cities in the Sooner State. These incredible places are just as friendly and inviting, as they are beautiful and picturesque. While Oklahoma has more than just a few terrific towns and pretty cities these are the crème de la crème, and more than deserving of making the top 24 list. The list was created by using Google. It ranked each city by beauty, lifestyle, friendliness, scenery, entertainment, and overall positive feedback from those who have experienced their charm firsthand. Scroll through the photo gallery below to see the top 24 towns & cities in Oklahoma.
Oklahoma State Parks
Get out and enjoy one of Oklahoma's amazing state parks sometime. From the high desert of Black Mesa to the swampy lowlands and tall pines of Southeast Oklahoma, there's a place of recreation for everyone in the Sooner State.