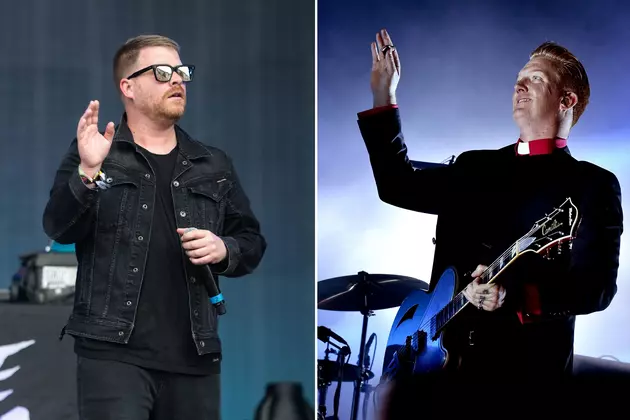 Queens of the Stone Age / Run the Jewels Fan Creates Full Mashup Album 'El-Q'
an Gavan, Kevin Winter/Getty Images
There's been some pretty crazy mashups in recent weeks, from John Lennon and Misfits to Disturbed and Stevie Wonder courtesy of energetic out-of-the-box thinkers. None though have quite stacked up to this inventive individual, who has made an entire album melding together Queens of the Stone Age with music created by Run the Jewels rapper and producer El-P - and both artists are down with it!
Dubbed El-Q, the record is 12 tracks of brilliance that's the brainchild of someone who goes by the name of ToTom. Released a couple weeks back for free download via his Bandcamp site, the album - which can be listened to below - has apparently been gestating for quite some time.
"It's been a long time this album has been cooking, probably two years since the first mashup was produced, until recently where I put my hands on new Queens of the Stone Age vocals," ToTom says, adding that he pulled the Josh Homme vocals mainly from Queens of the Stone Age but also his material with Them Crooked Vultures and UNKLE. These cuts were layered over tracks produced by El-P on his own, with Run The Jewels and the work he did on Killer Mike's 2012 album, R.A.P. Music. There's also interviews with both artists used at various points on the LP.
In response to the mashup, El-P tweeted, "Someone did a mash up album of @qotsa vocals over various music I've made and it's kind of awesome. Thanks for this weird gift." Queens of the Stone Age responded via its own Twitter account with the fire emoji.
Whether it's your cup of tea depends on personal taste, but there's little doubt the  mashup game has been upped quite a bit with El-Q. And if you really enjoy it, ToTom has t-shirts available too.
Queens of the Stone Age Albums Ranked