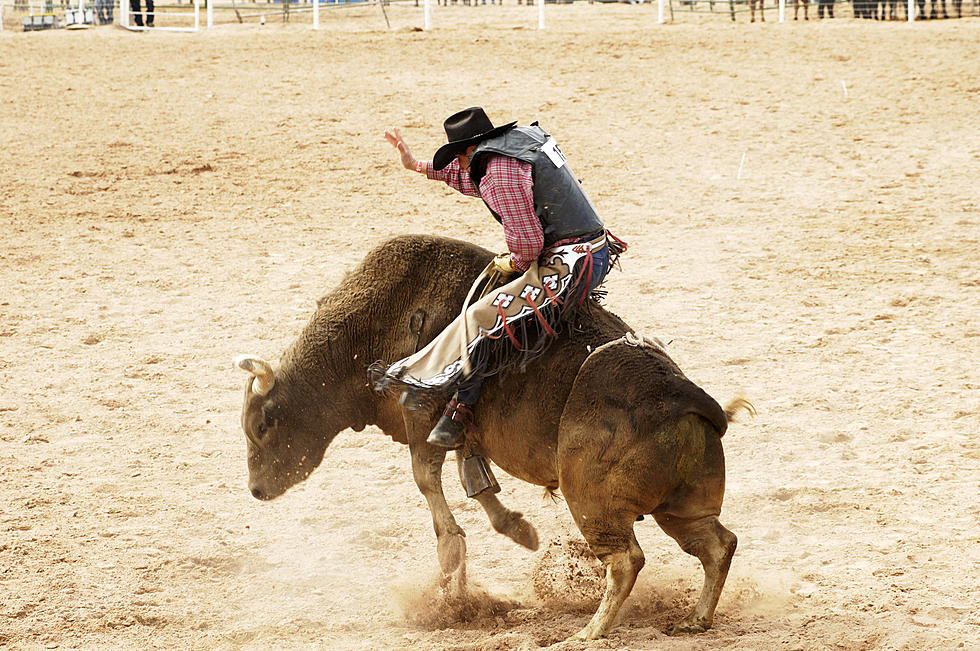 Xtreme Bulls Return to the Great Plains Coliseum in Lawton, OK.
photosbyjim
Get ready for Xtreme Bulls tonight and Saturday night (03-31-23 and 04-01-23) at the Great Plains Coliseum. The nation's top bull riders will go head to head with some of the toughest, rankest bulls around.
GET ALL THE DETAILS ON XTREME BULLS AT THE GREAT PLAINS COLISEUM BELOW
You won't want to miss it! It's a full evening of nothing but bull riding and bullfighting both nights. From what we're hearing around 100 bull riders will be there each competing for top cash prizes and bragging rights. We'll be seeing close to 50 riders vs bull matchups per night as the list narrows to the best of the best!
For more information on Xtreme Bulls 2023 see the official event poster below
Advance tickets are on sale now at Crutcher's Western Wear located at 313 S.W. C Avenue across the street from the Central Plaza in the heart of beautiful downtown Lawton. You can also get tickets at Crutcher's in Duncan 3049 North Highway 81 in the Elk Plaza. Tickets are also available online at www.stubwire.com.
SEE THE GALLERY OF THE JOHN WAYNE AN AMERICAN EXPERIENCE MUSEUM BELOW
You can purchase a 2-day pass or a single-day ticket. 2 day passes or tickets are $40.00 to $50.00 and a single-day ticket is $20.00 to $25.00 Tickets will also be available for purchase at the box office day of.
It's a low-dough show and luckily for us, a payday weekend. Don't miss Xtreme Bulls tonight and tomorrow night at the Great Plains Coliseum located at 920 S. Sheridan Road in Lawton, OK. It's sure to be an incredible evening of unforgettable match-ups featuring some of the Nation's top riders and meanest bulls!
John Wayne: An American Experience museum Ft. Worth, TX.
If you're a fan of the Duke you have to make the trip to Ft. Worth and visit the
John Wayne: An American Experience
museum. It's located in the Ft. Worth Stockyards at 2501 Rodeo Plaza. The gallery below isn't even close to half of what you'll see there. With 10,000 square feet and several rooms, the exhibit has everything from John Wayne's early childhood to his final days. You can get up close and personal with all the costumes, wardrobe, and props that John Wayne used in his films and throughout his career. Along with all the great displays throughout the exhibit, there are quotes from the Duke, interactive video and audio sections, and most, if not all of the walls are covered in photo murals and picture collages of the Duke.
The Best Places to Live in Oklahoma in 2023
When it comes to living in Oklahoma, there is no shortage of opinions on where you should live. If you compare all of the different metrics--schools, cost of living, diversity, amenities, etc--you'll get a slightly different list every time... but if you compound all of them into one, you get this list. The best places to live in Oklahoma in 2023.
Oklahoma's Best Barbeque Joints, In No Particular Order...
I doubt there's a single topic debated more passionately in Oklahoma than who makes the best BBQ. While they all smoke meat, there are some huge differences in how that process is done. Type of wood, length of cook, foil vs paper wrap, and even the hot topics of seasoning and binders come into play. What you like others may not, and vice versa. Since we can't just pick a top five or ten, here are the Oklahoma barbeque joints that have the biggest fans.
Take a virtual tour of the top 5 most luxurious & expensive Airbnb rentals in and around Lawton, Fort Sill
If you're looking for a place to stay for your next staycation. Or maybe you're considering coming to the Lawton, Fort Sill for vacation, military graduation, business, reunion, or family get-together you'll definitely want to check out these incredible Airbnbs. You could make your accommodations a part of the experience itself! Even if you're in town on business instead of pleasure staying at any of these homes would be a welcomed break from the same old, same old. These are some of the most luxurious and expensive Airbnbs in and around Lawton, Fort Sill. Some are in town others are in the mountains, Medicine Park, and Elgin, OK.