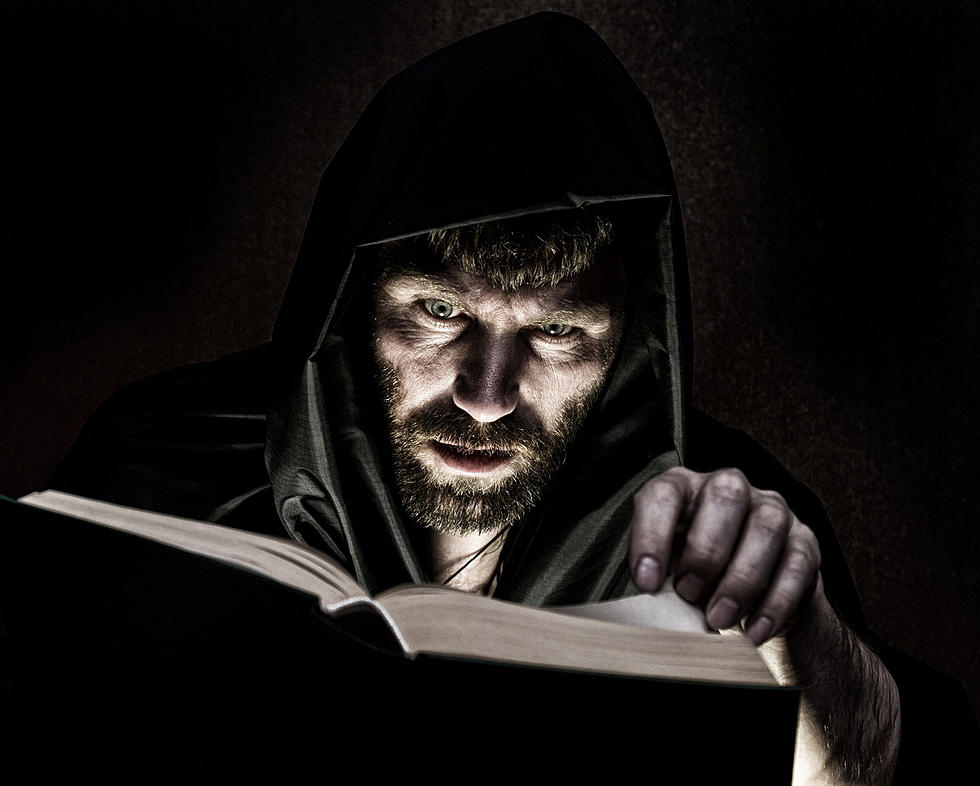 The Oklahoma Giant is a True Sooner State Legend
Alexander-Cherepanov
Have you ever heard the story of the Oklahoma Giant before? This tale is more fact than fiction and features a real-life giant by the name of Lewis W. Wilkins from Enid, OK. He's a true Sooner State legend and was once named the tallest man in the world. Standing at around 8.2 feet tall he literally towered over everyone he met.
SCROLL DOWN TO SEE THE TOP 5 MOST FRIGHTENING OKLAHOMA MYTHS & MONSTERS
Born in 1870 Lewis was one of six Wilkins children. While his other brothers and sisters were of normal or average height Lewis began to grow at an accelerated rate and by age 12 he was already 6 feet tall. By his teenage years, he was already a giant and finally stopped growing once he reached the height of 8.2 feet tall.
Hit play on the video below to learn more about the Oklahoma Giant Lewis W. Wilkins

Once he grew to his full height Lewis began traveling around the country and even overseas and was known as the Oklahoma Giant. People would come from all over to see him and marvel at his amazing height and stature. He weighed around 365 pounds, had a size 24 shoe, wore a size 8 1/2 hat and size 16 gloves, he could pass a silver dollar through one of the rings he wore without touching the sides. Not just tall, a giant.
CHECK OUT THE TOP 24 PRETTIEST CITIES & TERRIFIC TOWNS IN OK. BELOW
Throughout the years there's been some controversy and dispute over just how tall Lewis W. Wilkins actually was. Most newspapers and other media outlets reported him to be 8.2 feet tall, while others said he was 7.4 feet tall. Either way, he was truly an Oklahoma Giant. He's still listed in the Guinness World Records book.
You can visit the grave site of the Oklahoma Giant in Waukomis, OK.
Sadly we lost the Oklahoma Giant after he began suffering from health issues. His sight was going bad and it was discovered that he had a bone tumor in his head that was affecting his sight. It was suggested that he have surgery to remove the tumor in Chicago. Unfortunately, he passed away before doctors could operate.
KEEP SCROLLING TO LEARN ABOUT THE EPIC THINGS INVENTED IN OKLAHOMA
The Enid Daily Wave broke the sad news on July 11, 1902 "Lewis Wilkins Dead. The Largest Man in the World Died at a Hospital in Chicago."  He may be gone but you can visit his gravesite. It's located in the small town of Waukomis, OK. just outside of Enid in the Waukomis Cemetery. He's buried there with his fellow Wilkins family members. The Oklahoma Giant Lewis W. Wilkins is a real Sooner State legend. May he rest in peace.
The Top 5 most frightening Oklahoma myths & monsters
These five frightening Oklahoma myths and monsters will keep you up at night. We're talking about pure nightmare fuel. No matter what you believe or where you live you aren't safe from these legendary fiends of absolute terror. You can find these sinister creatures in the deep woods, lakes, and even within city limits across the Sooner State. Even your home isn't safe from these monstrous beasts. If you've lived here for a while you may have heard of some, maybe even all of these mythological and supernatural monsters below.
Oklahoma's Top 24 Terrific Towns & Prettiest Cities
It's the delightful double dozen, the top 24 most terrific Oklahoma towns and prettiest cities in the Sooner State. These incredible places are just as friendly and inviting, as they are beautiful and picturesque. While Oklahoma has more than just a few terrific towns and pretty cities these are the crème de la crème, and more than deserving of making the top 24 list. The list was created by using Google. It ranked each city by beauty, lifestyle, friendliness, scenery, entertainment, and overall positive feedback from those who have experienced their charm firsthand. Scroll through the photo gallery below to see the top 24 towns & cities in Oklahoma.
Things Invented in Oklahoma
When people think about Oklahoma, they think of what they've seen in movies. Tornadoes, the Murrah bombing, maybe the land runs, and probably meth... our four mountain ranges are as unknown as the contributions Oklahoma has made to modern life. Here are some random things that were invented here.
Oklahoma's Top 10 Most Dangerous & Deadly Animals
Oklahoma is well known for having some of the most dangerous and deadly wild animals to be found anywhere in the United States. The Sooner State is home to several species of wild animals that could quickly and easily harm or kill you. We have it all, from poisonous snakes and spiders to carnivorous predators and everything in between. You'll want to be aware and avoid these dangerous and deadly animals if at all possible. Most aren't looking to harm or kill you but if disturbed or agitated will absolutely attack.