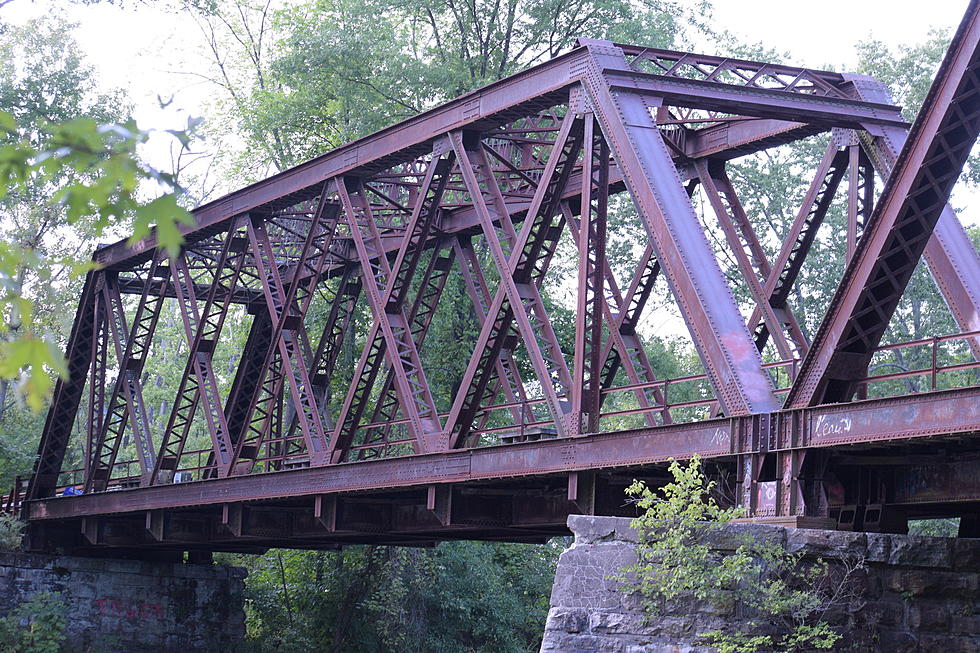 Dead Woman's Crossing- Oklahoma's Most Haunted Bridge
Stephen Harris/Townsquare Media Hudson Valley
If you thought the legend and scary tales of Cry Baby Bridge were disturbing this century-plus-old bridge named Dead Woman's Crossing in Oklahoma is the stuff of pure nightmares. Unlike all the other haunted bridges in the state and across the country that have histories that have been fictionalized and fabricated. The horrific story of Dead Woman's Crossing is actually true and absolutely terrifying.
SCROLL DOWN TO LEARN MORE ABOUT OKLAHOMA'S MOST HAUNTED BRIDGE
The bridge is said to be haunted by the spirit of a woman who was killed and beheaded there back in the early 1900s. This murder actually took place and was never solved. Her restless spirit haunts the bridge and has been seen and heard by those brave or foolish enough to venture onto Dead Woman's Crossing.
So what's the story? Here's a brief history of Dead Woman's Crossing. Back in 1905, a woman named Katie DeWitt James filed for divorce from her husband Martin James. She left him with their child and boarded a train to Ripley, OK. so she could visit her cousin. When she left Custer City her father Henry DeWitt came to see her off but her husband Martin James did not come to the train station to bid her or the baby farewell.
Watch as investigators attempt to unravel the mystery of 'Dead Woman's Crossing'
After a few weeks went by her father Henery DeWitt became worried after not hearing from his daughter. He ended up contacting the local sheriff in the area where his daughter was supposed to be and was told to hire a detective to locate her. He hired Detective Sam Bartell to see if he could find her. The detective began his search and when he was in Weatherford, OK. he found out that she and the baby had stayed with a man named William Moore. She was brought to the house by Moore's sister-in-law Fannie Norton AKA Mrs. Ham.
KEEP SCROLLING TO SEE OKLAHOMA'S MOST FRIGHTENING MYTHS & MONSTERS
However, Katie DeWitt James and her baby had already left the house before the detective could get there. She was seen leaving with her baby daughter Lulu Belle and Fannie Norton heading toward Hydro, OK. to her cousins' house. She never made it there. It was reported that the wagon she was riding in was seen going into a field at Deer Creek. All three passengers got out and went into the field, only Fannie Norton returned.
Hit play on the video below to hear the dreadful tale of Dead Woman's Crossing
While searching the Deer Creek area the detective found Katie's baby. She was given to a boy to take home and care for. The baby, Lulu Belle was unharmed but when handed over she was covered in blood. Detective Bartell went to question Fannie Norton to see if she knew where Katie was and to find out what happened. Fannie was well known by the law and was rumored to be a prostitute who had a reputation for trouble.
SCROLL DOWN TO SEE THE TOP 10 MOST TERRIFYING TOWNS IN OKLAHOMA
Fannie denied having anything to do with Katie's disappearance or the circumstances of what happened to her child. She also denied murdering Katie when asked by the detective. Later that day Fannie Norton was found dead, she had committed suicide by drinking poison. On August 31st, 1905 the body of Katie DeWitt James was found near Deer Creek, and to the horror of all her head was cut from her body. Martin James took custody of their daughter Lulu Belle and the murder of Katie DeWitt James was never solved.
The investigation continues at Dead Woman's Crossing in Weatherford, OK.
The bridge in Weatherford, OK. which is actually named Dead Woman's Crossing is near, if not the exact location where the murder took place and the body of Katie DeWitt James was found. Her body was found under the old wooden bridge that spanned across Deer Creek. The original bridge was torn down and a new bridge was built in the mid-1980s. It's located on Arapaho Road in Weatherford, OK. if you're brave enough to make a visit. You've heard the story of Dead Woman's Crossing, but what about the haunting?
SEE THE TOP 10 SCARIEST HAUNTED ATTRACTIONS IN OKLAHOMA BELOW
Paranormal investigators, ghost hunters, along with the curious and brave have reported hearing a woman screaming under the bridge at night. They've also heard the sound of wagons and wood creaking while on the bridge. As if the bridge were still made of wood and wagons were coming across it. Some have even claimed to see the ghost of Katie DeWitt James wandering the area looking for her baby calling out and wailing. There are even stories of seeing shadow figures and ghosts re-enacting the murder. People have even heard the sounds of a struggle, people running, and the screams of pain. There's no end to the spooky tales and sightings that have taken place at Dead Woman's Crossing. Sounds like a really fun place to hang out.
If you're into the paranormal and supernatural Oklahoma has a ton of haunted places, urban legends, and eerie tales. It seems almost every county, town, and place you can go to in the Sooner State there are ghost stories being told. We've got something for everyone.
Click here for even more Oklahoma hauntings.
The Top 5 most frightening Oklahoma myths & monsters
These five frightening Oklahoma myths and monsters will keep you up at night. We're talking about pure nightmare fuel. No matter what you believe or where you live you aren't safe from these legendary fiends of absolute terror. You can find these sinister creatures in the deep woods, lakes, and even within city limits across the Sooner State. Even your home isn't safe from these monstrous beasts. If you've lived here for a while you may have heard of some, maybe even all of these mythological and supernatural monsters below.
Gallery Credit: Don "Critter" Brown
Top 10 terrifying Oklahoma scream parks & haunted attractions
From truly terrifying to kid-friendly and everything in between. Oklahoma has some of the biggest, best, and scariest haunted attractions and scream parks in the country. If you're looking for some fall family fun check out these amazing attractions for a frighteningly good time! If haunted houses aren't your thing you could always
hit the pumpkin patches & corn mazes by clicking here
.
In alphabetical order here are your top 10 most terrifying Oklahoma scream parks and haunted attractions you'll want to check out this Halloween.
Gallery Credit: Don "Critter" Brown
Top 10 terrifying towns & creepy cities in Oklahoma
While Oklahoma is well known for its beauty and friendly people there are a few places in the Sooner State you'll want to avoid. These are the most terrifying towns and scary cities in the state. It's not that they're bad places, or plagued with crime and other negative factors. The towns and cities below have one single thing in common. They all have active paranormal and supernatural phenomenons. From ghost stories to urban legends and tragic tales. A lot of these places are well known to those who live in Oklahoma and even all over the nation. If you're looking to get scared or do a little ghost hunting you can start with the list below.
Gallery Credit: Don "Critter" Brown
Oklahoma's Infamous Haunted Grisso Mansion
While you've heard spooky tales of Oklahoma's haunted places, this Seminole, OK home might be THE most haunted place in the Sooner State.
Sporting four bedrooms, six bathrooms, a ballroom, and 11,000 square feet of living space, you too could have your own up-close experience with the woman and child ghosts that are rumored to still be wandering the villa today.
Gallery Credit: Kelso
The top 10 Oklahoma pumpkin patches & corn mazes
If you're looking for a place to go for a little fall family fun you're in luck! Oklahoma is home to some of the biggest and best pumpkin patches and corn mazes in the U.S. People from all over travel to the Sooner State every fall to visit these incredible farms. Not only do they offer pumpkin patches along with corn and hay mazes, they also have all kinds of other activities like petting zoos, rides, arts & crafts, food, games, haunted attractions, and a whole lot more. So no matter what your idea of fall fun is, you can find it all in one place!
Gallery Credit: Don "Critter" Brown
The Dreadful Downtown Hauntings of Lawton, OK.
When it comes to ghost tales and hauntings Lawton, Fort Sill has more than a few scary stories to tell. The most active hauntings and paranormal/supernatural occurrences that have been reported seem to be centered around downtown Lawton. If you've lived here a while I'm sure you've heard a few of these terrifying tales yourself. If not check out the photo gallery below of the dreadful downtown hauntings of Lawton, OK.
Gallery Credit: Don "Critter" Brown
Lake Altus-Lugert and SWOK's Underwater Ghost Town
Like most rare things, conditions have to be just right to see one of Oklahoma's hidden gems. In years of good and average rainfall, the lost town of Lugert stays buried beneath the waves... but in dry years, especially those stricken by drought, you can walk around this pre-statehood townsite while enjoying one of Oklahoma's prettiest areas, Quartz Mountain State Park.
Gallery Credit: Kelso