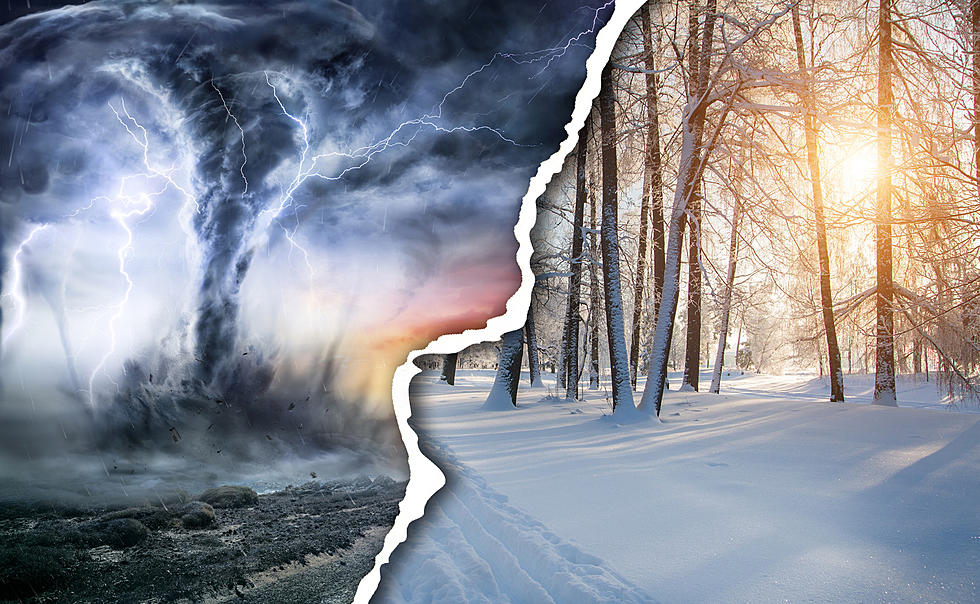 Snow & Tornadoes Will Hit Oklahoma Tomorrow
RomoloTavani/GettyImages
Even though the last few winters have been rather long, the cold season has been wrapping up early across Oklahoma in the last few weeks. We even saw our first big tornado outbreak of the year last Sunday... but Mother Nature is calling for both snow and severe weather in tomorrow's forecast.
While the graphic above doesn't tell the entire story, most people living in the I-44 corridor in Southwest Oklahoma might understandably worry.
The winds we experienced last Sunday were incredible. They came in really fast with a lot of power. I can't tell you how many roofs in my own neighborhood lost shingles, but as it could have been much worse, most of us feel rather lucky... and then there's another wind advisory with tomorrow's weather.
Fortunately, the prediction is the wind will sweep into our state along a line further to our east, but that estimate isn't set in stone.
All the same, after last year's brutal drought we'll welcome any rain that falls.
If you don't follow the National Weather Service in Norman, you should. They calmly tell you what is going on outside without the sideshow antics and insatiable forced panic of the meteorological televangelists on the TV.
The Very Best Out-of-Context David Payne Quotes
Oklahoma's favorite weatherman gets so excited when tornadoes break out, he lets his mouth run just as wild as the weather.
Thing You'll Need in Your Oklahoma Tornado Prep Kit
Even though the odds of your life being affected by a tornado are extremely thin, there's no harm in being prepared with basic necessities. Even if the storm misses your home you could still find yourself without power or water for days to weeks. Here's a quick rundown on the basics every home should have for tornado season in Oklahoma.
Check out Oklahoma's retro 1950s themed hotel
If you're looking to make your accommodations more than just a place to stay, but rather a part of the vacation experience itself then this is for you. There's a 1950s-themed hotel in Oklahoma that's the ultimate retro getaway for the entire family. The
Happy Days Hotel in McAlester, OK.
is like traveling back in time to the 1950s. It's the perfect place to relive or visit the greatest era of music, movies, and television. When rock n' roll was king and the King himself, Elvis Presley ruled! The entire hotel is decked out floor to ceiling in 50s memorabilia, even the rooms. It's more than a great place to stay, it's a vacation destination, Right next door is the
Great Balls of Fire Family Entertainment Center
a 50s-themed bowling alley. There's also a 50s diner on-site as well called
Angel's Diner
. It's your one-stop shop for 1950s-style retro rest and relaxation in OK.