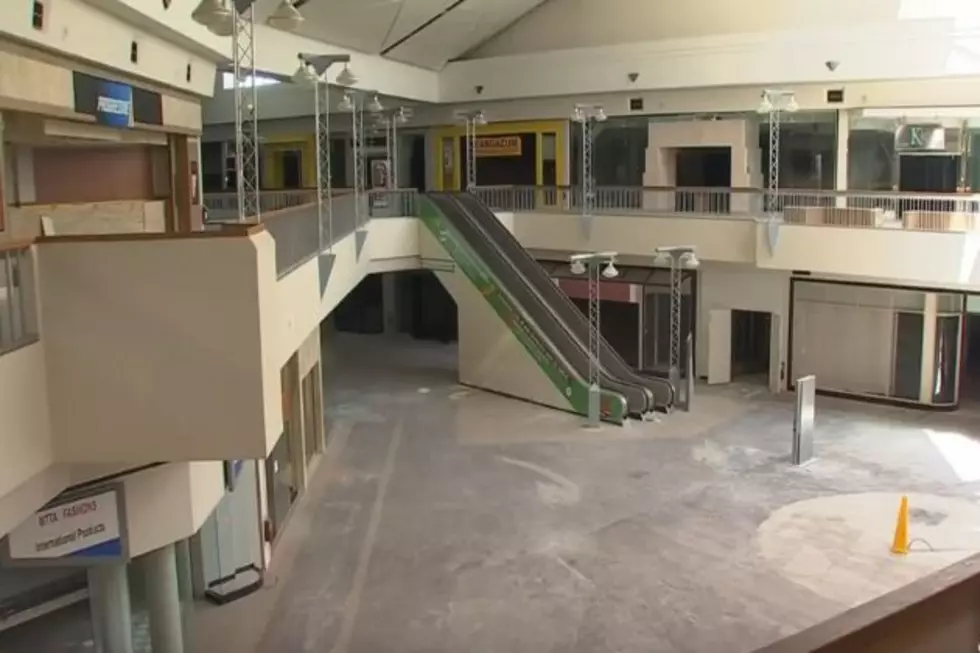 Crossroads Mall in Oklahoma City, OK. is Reopening Sometime This Fall!
YouTube.com- News 9 YouTube
It was once one of the greatest malls in the Sooner State. Crossroads Mall in Oklahoma City, OK. closed its doors back in 2017 and has been near empty, if not abandoned for the past 5 years. A shadow of its former self and we've all wondered if it would ever reopen. Well, if you haven't heard the news yet, Crossroads Mall will return this fall! That's right the old mall is being renovated, rejuvenated, and reopened by its new owners.
SCROLL DOWN TO TAKE AN EERIE TOUR OF THE MALL WHEN IT WAS ABANDONED
The property was purchased by Linn's Crossroads Plaza LLC last year for around 6.5 million with plans to turn it into a marijuana grow. Those plans changed after a school opened up in the mall. The new plans include building one of the largest convention centers in the state. The Crossroads Convention Center will boast a whopping 270,000 square feet and 3 floors of convention space that will offer catering, banquet rooms, and other amenities. Not only that, we'll see the return of retail and restaurants to Crossroads Mall in OKC!
Hit play on the video below for a sneak peek of the reopening of Crossroads Mall
I came across a recent report this morning from KOKH-TV Fox 25 in Oklahoma City, OK. that detailed all the Crossroads Mall rumors and reopening developments. If you'd like to get all the details you can click here to read the article. It goes into full detail with the owners and what their immediate and future plans are for the mall. They've already started leasing spaces. More and more businesses are returning to Crossroads Mall.
KEEP SCROLLING FOR A TERRIFYING TOUR OF THE ABANDONED CROSSROADS MALL
When it closed back in 2017 and was abandoned YouTube Channel Ace's Adventures took their cameras inside Crossroads Mall and explored the remains of what was once a great place to visit and shop. It's super eerie with no stores or people around and all the stuff that was left behind. It's weird that a place that was once so active and inviting can become so scary and foreboding when abandoned. Once empty they almost instantly have that creepy, horror vibe to them and quickly become places you really don't want to go inside.
Watch the video below to take a crepy tour of Crossroads Mall when it was abandoned
When I was a kid Crossroads Mall was the best mall in OKC, at least for me it was. They had the best arcade, food court, music stores, hobby shop, and all the other cool places I wanted to visit and shop at. We used to go all the time in the summer and right before school to do some shopping, get out of town and go to OKC.
It was always a big deal and we always looked forward to going to Crossroads Mall. The other malls in OKC just didn't seem to have as many cool stores, at least for teenagers, and were always more uptown. I'm really looking forward to seeing it reopened and what new stores and restaurants will be there. Maybe it will be ready for holiday shopping this year. I'd love to take the family, especially the kids to Crossroads Mall.
Take a look inside this epic 1960s retro motel in Oklahoma!
It's the ultimate retro vintage motel stay in the Sooner State! If you've ever wanted to step back in time and experience the "good old days" once again, or maybe for the very first time, you're in luck. Take a break from the usual, boring, and mundane hotel room by booking a stay at this 60s-style motel in Oklahoma City, OK.
The Classen Inn
is one of the most unique and colorful motels in the state, if not the entire nation. It was originally built back in 1963 and has been completely remodeled, refurbished, and reimagined. If you're looking for a place to stay while on vacation, staycation, or on a weekend getaway why not make your accommodations a part of the vacation fun by staying at the Classen Inn in OKC.
You can click here to book your stay.
Scroll through the photo gallery below to take a virtual tour of this EPIC 1960s retro motel!
Look Inside This EPIC $6,950,000 Oklahoma mansion!
Take a tour of this incredible mansion in Oklahoma City, OK that's for sale. If you have
$6,950,000
you could be the proud new owner of this one-of-a-kind estate. It's located at
9200 N. Sooner Road in Oklahoma City, OK.
and is listed by
Kermit Brown
of
Chinowth & Cohen Realtors
.Can you imagine actually living here?
Scroll through all the pictures for a look inside and take a virtual tour of this one-of-a-kind OKC mansion.
See the Most Epic & Unusual Oklahoma Airbnb Rentals!
Take a break from the boring and ordinary and make your next overnight stay more spectacular and memorable. These rentals are a lot more than just a place to stay, all of them could easily be a vacation destination and experience all on their own! If you're planning a staycation or vacation in Oklahoma you should definitely check out these epic and unusual
Airbnb
rentals versus booking just a plain old room at a hotel or motel. You could make your accommodations a part of the experience itself by staying at any of these amazing places in the Sooner State.
Scroll through the photo gallery below to check them out.
Getaway, Relax, Unplug & Unwind at Oklahoma's Premier & Most Luxurious "Glampgrounds" Located in Lawton, OK.