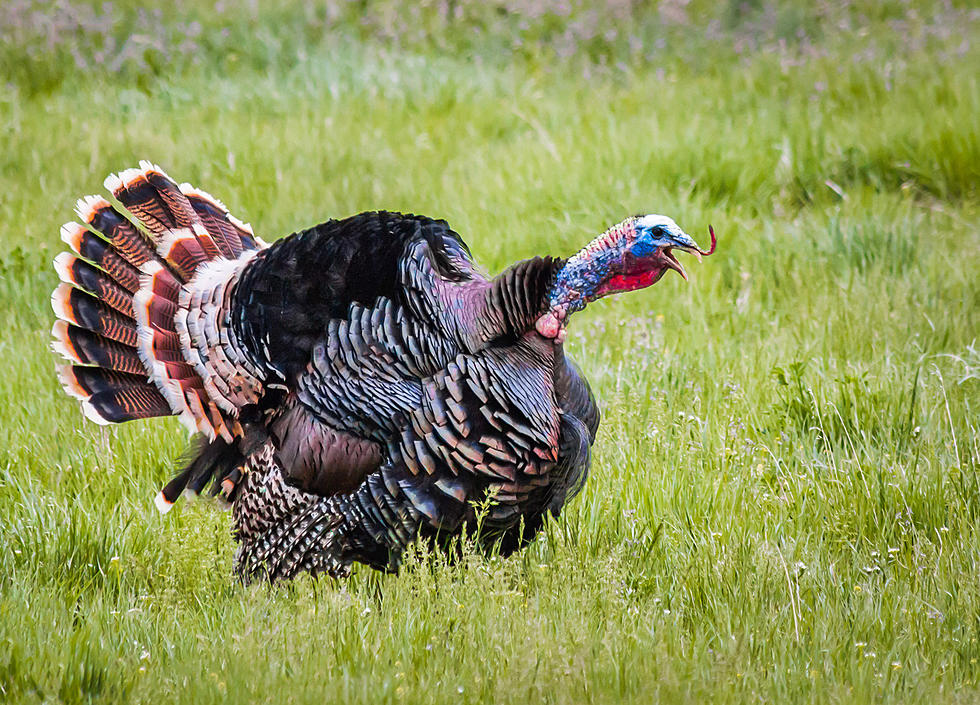 A Warning to Oklahoma- Beware of Wild Turkey Attacks This Thanksgiving
westernphotographs
Thanksgiving is almost here and as we prepare for our annual feast it's only appropriate that we take a moment to recognize the majestic turkey. These birds make the ultimate sacrifice to make our holiday meal possible. It's just not Thanksgiving without turkey, at least in my honest, humble non-biased opinion.
WITNESS THE SHOCKING BRUTALITY OF WHEN WILD TURKEYS ATTACK BELOW
Millions of turkeys will give their lives this year for the cause and I thank them for that. I'm not the only person who thinks highly of this majestic and proud bird. Benjamin Franklin once stated that the turkey should be the National bird. Of course, this all changed when we realized how amazing they tasted.
SCROLL DOWN TO WATCH THE TOP 10 MOST TERRIFYING TURKEY ATTACKS
While I agree with Mr. Franklin that the turkey is without a doubt beautiful, respectable, hearty, and earnest. However, there is a darker, more sinister side to these birds that is rarely seen. Luckily for us, we have video evidence of such behavior. Maybe it's payback for all those Thanksgiving meals or are they trying to dismantle mankind and place themselves at the top of the food chain? These are some ill-tempered toms. Judge for yourself and witness the savage and shocking brutality of when turkeys attack. Oh, the humanity.
THE TOP 10 MOST TERRIFYING TURKEY ATTACKS CAUGHT ON VIDEO:
WARNING: The following videos contain shocking, horrifying, and even graphic images of turkey attacks in vivid full-color detail. The content below is disgusting and disturbing. Viewer discretion is strongly advised.
#01) Psycho Turkey & The Cyclist
#02) The King Of The Road
#03) Turkey Going Postal
#04) Jurassic Turkey
#05) Born To Be Wild
#06) The Presidential Pardon
#07) News Reporter Gets The Exclusive
#08) There Goes The Neighborhood
#09) Peeping Toms
#10) Tom Terrorizes Trail Walkers

You've just witnessed the horrific carnage and terrifying devastation of when turkeys attack. I'd say we're all screwed if they revolt in an all-out war against mankind, it would be the end of civilization as we know it.
KEEP SCROLLING TO SEE THE MOST DANGEROUS ANIMALS IN OKLAHOMA
Payback's a bitch and these pissed-off gobblers are on the rampage. Having said that please don't let these videos negatively affect your opinion or influence your attitude toward turkeys. They're not all bad birds.
Most are hard-working, honest, and rarely hostile toward humans. There are always a few bad birds in the bunch and those are the ones getting all the attention. No need to panic. Unless, of course, they organize.
Oklahoma's Top 10 Most Dangerous & Deadly Animals
Oklahoma is well known for having some of the most dangerous and deadly wild animals to be found anywhere in the United States. The Sooner State is home to several species of wild animals that could quickly and easily harm or kill you. We have it all, from poisonous snakes and spiders to carnivorous predators and everything in between. You'll want to be aware and avoid these dangerous and deadly animals if at all possible. Most aren't looking to harm or kill you but if disturbed or agitated will absolutely attack.
Gallery Credit: Don "Critter" Brown
10 Oklahoma Hallmark holiday hometowns you can visit
Looking for someplace special to spend the holidays? The Sooner State has you covered with some of the best towns and cities to get into the Christmas spirit. If you've ever wanted to visit a place that feels like it came out of a Hallmark movie you're in luck. Check out these ten Oklahoma Hallmark holiday hometowns to experience the small-town charm and friendliness of some of Oklahoma's best-known holiday destinations. Each has its own unique traditions and holiday events that will surely get you into the spirit of the season. From amazing lights and displays to performances and festive family fun you'll find in the Sooner State.
Gallery Credit: Don "Critter" Brown
Oklahoma's Top 24 Terrific Towns & Prettiest Cities
It's the delightful double dozen, the top 24 most terrific Oklahoma towns and prettiest cities in the Sooner State. These incredible places are just as friendly and inviting, as they are beautiful and picturesque. While Oklahoma has more than just a few terrific towns and pretty cities these are the crème de la crème, and more than deserving of making the top 24 list. The list was created by using Google. It ranked each city by beauty, lifestyle, friendliness, scenery, entertainment, and overall positive feedback from those who have experienced their charm firsthand. Scroll through the photo gallery below to see the top 24 towns & cities in Oklahoma.
Gallery Credit: Don "Critter" Brown
Weird and Wild Pets You Can Have In Oklahoma
When it comes to the topic of exotic and wild animals in Oklahoma, there is a very short list of things you can't own as a pet... but there are ways around almost all the red tape in the Sooner State.
Gallery Credit: Kelso